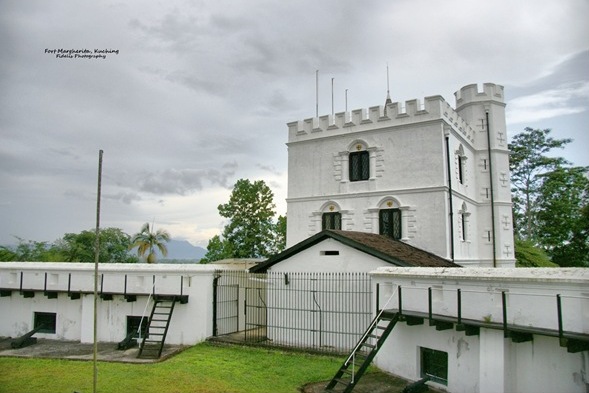 Fort Margherita (photo by: fidelischin)
Fort Margherita, completed in 1879, was built by the then Rajah of Sarawak Charles Brooke to defend the city of Kuching from pirates. The fort is situated on a hilltop just by the Kuching River and was named after the Rajah's wife, Ranee Margaret.
The highlight of Fort Margherita is its fort design, inspired by medieval English castle architecture. Behind the walls of the fort is an open courtyard, which once served as an execution ground for prisoners. Further inside is a 3-storey watch tower, where visitors can get a good panoramic view of the city of Kuching and the riverfront by climbing atop. The fort was never saw battle due to the fact that its then impressively built structure was adequate as a deterrent to approaching pirates of that time. Take a stroll around the fort to appreciate the 19th century English castle ambiance, the work of grand architecture and heritage trail it leaves behind since 1879.
Travel from the Kuching city centre to Fort Margherita takes about 20 minutes by taxi, or 10-12 minutes boat ride across the river from Kuching Waterfront.
Opening hour and entrance fee:
Fort Margherita is opens from 9 am to 5 pm and no entrance fee is required.