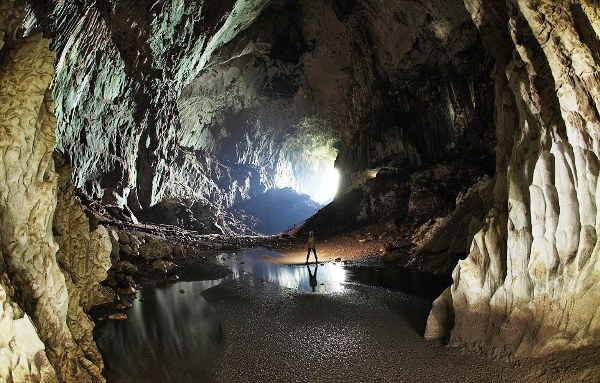 Credit: Says.com
The Gunung Mulu National Park, the largest national park in Sarawak, is a UNESCO World Heritage Site. Covering about 544 square kilometers, it is famous for its spacious caves, within which are limestone formations, as well as cliffs, nature trail, canopy walk and a bat observatory. The park is also a paradise for nature enthusiasts and researchers with over 3500 plant species and 20000 animals call the park their home.
Visitors must indeed be nature enthusiasts as the park offers a list of natural wonders. The park is home to the world's largest cave passage, called Deer Cave, the world's largest natural chamber, named Sarawak Chamber and the longest cave in South East Asia, called Clearwater Cave.
The park features 4 readily accessible show caves, namely Deer Cave, Clearwater Cave, Wind Cave and Lang's Cave. Apart from these, more adventurous visitors can join trips to view more of the park's cave systems. Visitors must be accompanied by Park Rangers for the tour, which will require physical activities such as climbing and scaling down tight passageways and swimming through underground rivers. Other physically demanding activities include the trekking tour to 3 attractions of the park. Visitors can scale The Pinnacles, a series of tall limestone rocks on the slopes of Gunung Api, or go trekking along The Headhunter's Trail, which is a trail through the park that is taken by the Kayan tribe on headhunting trips, or climb atop Gunung Mulu.
Visitors can also be contented with just slow walks around the park to bask in its lush greeneries and voices of the forest. The Mulu Canopy Skywalk offers such an opportunity. At 480 meters long, it is the world's longest tree-based canopy walk, through which visitors can do tree watching and maybe come across with the biodiversity that the park offers.
Gunung Mulu National Park is world-renown and internationally recognized, there are not many places that will be able to match its uniqueness.
The park is accessible via 30 minutes flight from Miri. Alternatively, visitors can take a boat trip from Miri. First, take a cab to Kuala Baram before switching to an express boat to go upstream of Baram River to Marudi. From Marudi, take another boat ride to Long Terawan and switch to another boat ride to reach the park. Journey by flight is recommended as boat trip services are uncertain and may be canceled without warning.
Opening hour and entrance fee:
The park offers a 5-day unlimited entry and exit pass that costs RM 30 for non-Malaysian adult and RM 10 for non-Malaysian children (aged between 7 and 18 years). Malaysian adults need only to pay RM 15, while Malaysian seniors (aged 60 and above) and child (aged between 7 and 18 years) pay RM 7 and RM 5 respectively.