The state of Sarawak is the largest state in Malaysia. This state, which is also known as the Land of the Hornbills is an amazing tourist destination that offers diversity like no other. Sarawak has more than 20 different minor ethnic groups. Its people speak more than 40 different languages and dialects that are unique only to this part of the world. If you are looking for a quiet gateway where you can be free from all the bustling about in the large major cities, then you should make Sarawak your vacation destination.
Sarawak is dotted with some of the finest beaches. The Hawaii Beach is definitely no exception. The feature of this white sandy beach is the beautiful palm trees that sway gently in the ocean breeze. It's no wonder that the beach got its name from the beautiful island of Hawaii. Standing on the beach, it is easy to imagine yourself in Hawaii. The beach is only a half an hour bus ride from the town of Miri. The public bus number 13 will take you there for a very minimal fare. Of course, taxis are always available from wherever you are coming from. Do note that the last bus to that takes passengers back to the main town leaves at five in the evening so it is advisable to plan your transport arrangements well before your day at the beach.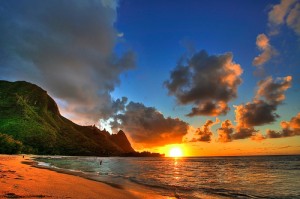 The Hawaii beach in Miri is a great place to head down to watch the sun rise and the sun set. This beach is slightly more secluded and the best time to come to the beach is during the weekdays. This is when the schools are in session and most of the locals are away at work. There is nothing better than having a secluded beach to enjoy.
At the Hawaii Beach, one special feature that you will notice is the Panaga Tree. This Panaga Tree has lived for over 50 years and is the pride of the locals. As with most Panaga Trees, the tree is sturdy, big and provides a great deal of shade. This makes the tree an amazing and ideal spot to sit under to enjoy a picnic with the family as you look out to the clear waters. Sunsets here like any other beach are perfect and you can watch the sun set in the evenings under the Panaga Tree; certainly a sunset to be remembered for forever.