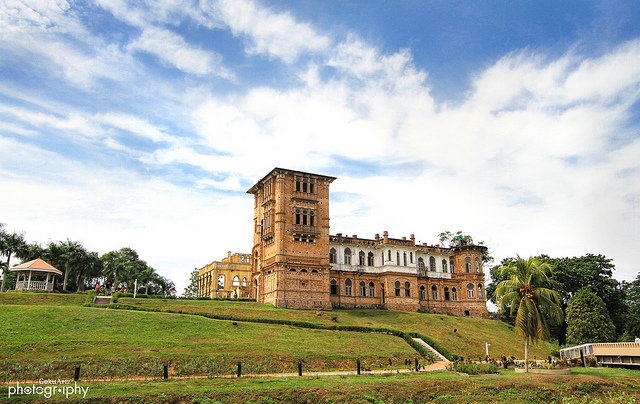 Kellie's Castle (photo by Mark Thin)
Perak is a great state to visit. Located about two hours away from Kuala Lumpur, the state of Perak promises many great and exciting destinations for you to explore and be a part of.
One such destination is Kellie's Castle. The story behind the castle that William Kellie built is quite similar to the story behind the Taj Mahal. It is a sad story. William Kellie built the mansion with great hope that it would be a beautiful home for his wife. If you visit the castle, the parts and sections of the house have been clearly labeled. Walking through the house, you cannot help but feel a sense of grief and sympathy towards the couple because his wife passed away before the house was completed. It truly is a devastating occurrence.
The house has a basement that is still accessible today although it is not advisable to venture too deep into. It is possible to get lost in the basement. The basement is dark and damp and was built to store goods and other household items. Walk through the house and you will notice that the architecture and design has a unique design to it. The hallways are narrow and the rooms were spacious. William Kellie designed each room according to what he had in his mind and the structure of each room is still in good condition but is sadly empty, with no furnishings and other usual items you will find in a home.
The highlight of your visit to the castle is to head to the top floors using the narrow staircase that William Kellie built. This is not for those who have great fear of heights but it is definitely worth giving it a try to go all the way up to the roof top. From the staircase tower, you can look out the small windows and see the garden below. William Kellie had designed a party area for his guests who would come to the house. The party area commands a magnificent view of the greenery surrounding the estate and was definitely built to impress his guests. You will definitely love the view from the top here and is a great place for a date as well. The roof top area is a great place to watch the sun set with a loved one.
Most tourists who paid a  visit to the castle said that they feel the spirit of William Kellie walking through the hallways and corridors of the mansion. You will have to come here to the castle to see if this true!
Recommended Area to Stay in Perak:
Pulau Pangkor
The perfect place for seeking true island escape, with just a short ferry ride from Lumut.
Ipoh City
A gateway to all the city attractions with diversified of accommodation options available to choose from.
Taiping
A heritage town rich in tin mining history and serene atmosphere.