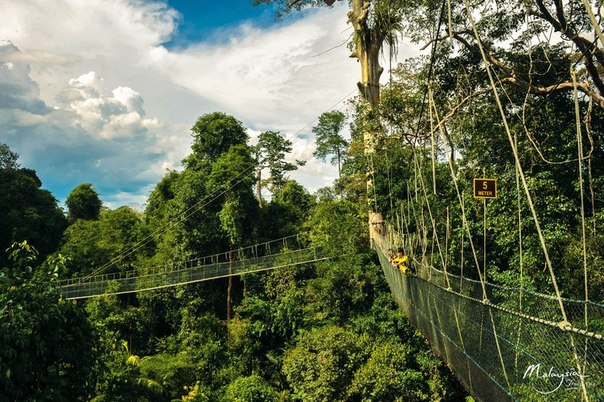 Kuala Koh National Park is located within the Gua Musang district of Kelantan and part of the Bukit Hantu and Lebir Forest Reserves. It is one of the four entry points to Malaysia's National Park, the Taman Negara.
The main feature of this park is bird watching, apart from the general qualities of a national park. In fact, this park has been designated as an Important Bird Area by the Birdlife International Organization. There are about 380 species of birds recorded at this park, among them are hornbills, woodpeckers, kingfishers, flycatchers and others, and birding enthusiasts will find that there is much to see here. Recommended birding spots are Sungai Lebir, Ara / Rentis trail, Ficus trail and Rafflesia trail. Apart from birds, there is a wealth of biodiversity here at the park, which is home to 200 species of mammals, 55 species of frogs, 67 species of snakes and 109 species of fresh water fish. Visitors can fish or set up camps at designated areas. Private operators also provide fun-filled activities to visitors such as rubber tubing at the rivers. Visitors can go jungle trekking and head to the Impian Hide, where salt licks invite animals to gather and lick the minerals. There is also a canopy walk that is 230 metres long, suspended at a height of about 30 metres above ground where visitors can stroll through the upper reaches of the forest and possibly come closer to fauna such as snakes and rare insects.
Kuala Koh National Park is a perfect getaway to get some fresh air and relaxation, surrounded by cooling greeneries and interesting fauna.
Kuala Koh National Park is about 100 kilometres from the township of Gua Musang using the Gua Musang – Kuala Krai expressway. From Kuala Lumpur, the distance is about 300 kilometres. The park can be reached via land transport such as rented car or expresses buses.
Opening hour and entrance fee:
To enter Kuala Koh National Park, visitors need to obtain a pass, costing RM 1 for each person, while entry with cameras & video is charged at RM 5 for each person.