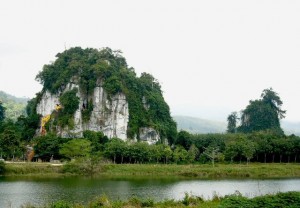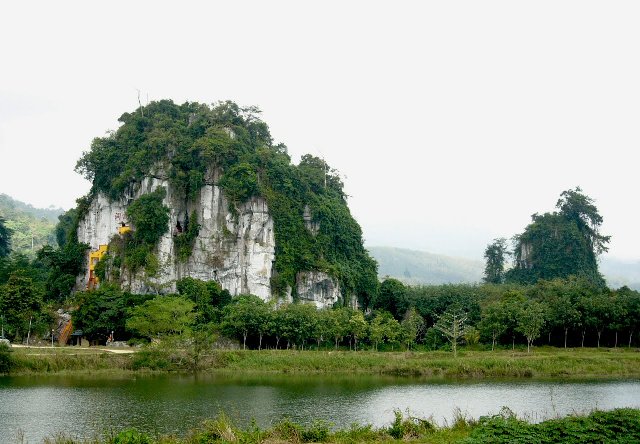 Nestled amidst lush rolling limestone hills, Gua Musang also known as Musang Cave is located in a small remote town at the south-western part of Kelantan. Against its backdrop is Bukit Gua Musang (Gua Musang Hill), which is a barren hill of rock that contains a vast cave – hence making it a popular destination in Kelantan for cavers and climbers alike.
From afar, the view of the hill is quite stunning. An over-stimulated imagination can create stories of how it is splintered into two equal halves. Indeed, this is probably the way a hill will look like if it is split by some formidable force from above. Legend has it that the town was once inhabited by hunters. Superstitious by nature, the hunters would make offerings of their spoils at the entrance of the cave. One fateful day, a powerful storm broke out. There were thunders and lightning, so intense was the tempest that the hill was ripped apart, and the entire village laid in ruins. Subsequently, the 'gods' were angry. Afraid and worried, the hunters knelt and prayed. It was then that they saw a pack of foxes ('musang' in Malay) scurrying into the cave. They waited patiently for the animals to come out, but to no avail. Later, several hunters were reported to vanish from thin air after drinking a bowl of water that appeared mysteriously on the hill. Since then, the cave are called Gua Musang.
Visitors frequent visit this place mainly because it offers a one-of-a-kind adventure experience for nature lovers. The Gua Musang Etnobotany Park, where there are approximately 30 different routes, graded according to level of difficulty, for beginner as well as expert climbers to try. Many of the routes are delightfully well sheltered by the lush green overhangs, so much so that it does not matter if it is swelteringly hot or gently raining out there – you get to experience your climbing expedition no matter how the weather looks like.
Rock climbing is another favorite activity here, and Cattle Ranch Wall (named so because there is a cattle compound directly underneath it) is a popular place to climb. Climbers prefer this climb to others in the country because of the challenge the pockets and hollows offer.
Tourists appreciate the foliage and vegetation in the area, which form a small part of the oldest rainforests in the world. Rich in biodiversity, it is home to many endangered flora and fauna.
Attractions in Gua Musang: