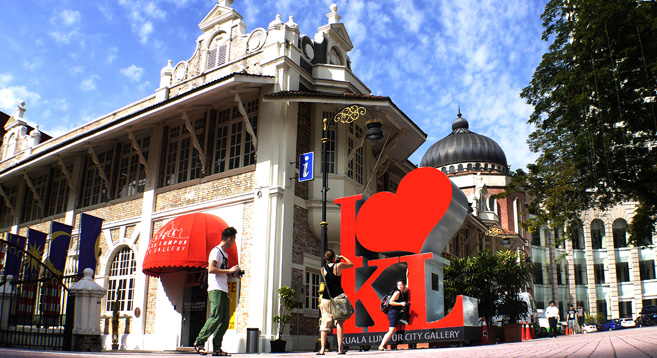 The Kuala Lumpur City Gallery is a showcase of Kuala Lumpur history, culture, arts, architecture, heritage and life through photos.
The gallery itself is located at a heritage building, the 115-year old Government Printing Office designed by the famed architect A.C Norman, based on the neo-Renaissance style that is representative of most colonial buildings during its time. The gallery is divided into two floors; ground floor, known as A.C. Norman floor, and first floor, known as J. Russell floor. Beginning at the entrance, visitors will be greeted by the tourist information centre, which provides a load of information on Kuala Lumpur and includes a large map to show visitors places of interest. Brochures are provided for free. Visitors will find their way to the so-called "Newseum", which features heavily on the history of Kuala Lumpur, its founding, economy and resources that led it in becoming the centre of administration for the British government, and its development towards modernity. Also located on the ground floor is the ARCH Gift Shop; ARCH is the founder of Kuala Lumpur City Gallery, and also provides a variety of souvenirs. Visitors can grab this opportunity to buy several memorabilia. Just before the staircase to the first floor, visitors can catch a bird's eye view of Dataran Merdeka, via its miniature replica. The real view is on the first floor, where a viewing deck is located for visitors to catch panoramic view of the historic landmark where Malaysia's independence was declared. The first floor also houses a scale model of Greater Kuala Lumpur.
At the Kuala Lumpur City Gallery, visitors will get to view the historical side of the great city as well as the futuristic version of what the nation's leaders envision it to be.
How to get there
Kuala Lumpur City Gallery is located at Jalan Raja, in between the city library and the National Museum.
Opening hour and entrance fee
Kuala Lumpur City Gallery opens daily from 8am to 6pm. Entry is free.
Recommended Hotels in Kuala Lumpur City Centre
1. Traders Hotel by Shangri La
Nice sky bar and nice room overlooking the Petronas Twin Towers!
Reserve through Agoda.com
2. Corus Hotel
Value for money for a 4 stars hotel and its location.
Reserve through
Agoda.com
3. Fraser Place Kuala Lumpur
Studio and apartment type of accommodation, suitable for both family and business travelers.
Reserve through
Agoda.com
4. G Tower Hotel
Located in the vibrant city center with plenty of dining and shopping options.
Reserve through
Agoda.com
Browse all Hotels in Kuala Lumpur City Centre >>