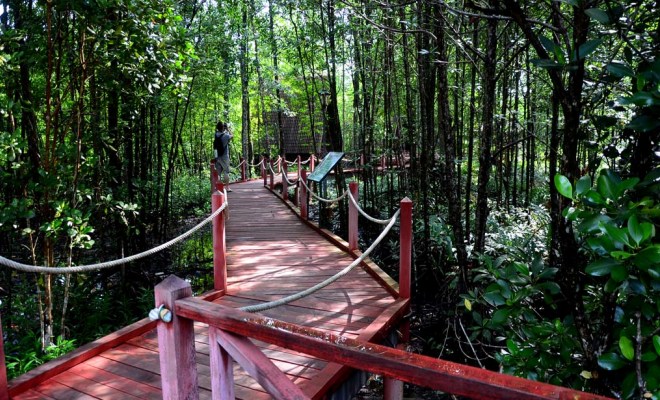 Kuala Sepetang Recreational Forest is a popular eco-tourism spot in Perak. Located within a mangrove forest, it is reputedly the best managed mangrove forest in Malaysia.
Visitors will be treated with a closer experience to nature as the forest is home to a rich biodiversity of flora and fauna. Fishing is the most popular activity here, and visitors can take a boat trip to some good fishing spots in the forest. Another popular activity is birding, and Matang (the area in which the forest is located) has been designated by the Malaysia Birding Organization as an Important Bird Area, indicating that there a wide range of bird species to be spotted in this area. Among the more famous ones are Mangrove Blue Flycatcher and Greater Flameback. Visitors can take a stroll through the lush greeneries easily as there is a walkway paved with wood through the forest. There is also an Eco Education Center that provides visitors with detailed information on the importance of mangrove forests, the efforts to conserve the forest and its contribution to the nation. Visitors can also take a tour of a local charcoal factory to see how these vital sources of fuel are made via traditional methods.
The recreational forest is a secluded and well-preserved, thus a must visit for nature lovers.
Kuala Sepetang Recreational Forest is located at the end of Jalan Taiping-Kuala Sepetang of Kuala Sepetang town, close to Taiping. A drive from Kuala Lumpur takes about 3 hours spanning 273 kilometres heading north via the North-South Expressway.
Opening hour and entrance fee:
Kuala Sepetang Recreational Forest opens daily from 8am to 5pm and entry is free.
Recommended Area to Stay in Perak:
Pulau Pangkor
The perfect place for seeking true island escape, with just a short ferry ride from Lumut.
Ipoh City
A gateway to all the city attractions with diversified of accommodation options available to choose from.
Taiping
A heritage town rich in tin mining history and serene atmosphere.