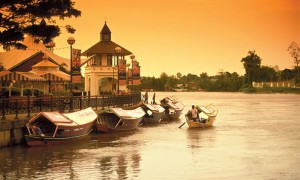 When in Malaysia, head eastward to the state of Sarawak. It is the largest state in the country and has been named the Land of Hornbills. Being a very diverse and culture oriented state, Sarawak has come up and advanced in these days. However, modernization has not affected the local charm of the place.
The capital of the state is Kuching and is today quite a busy city. Most tourists begin their tour of Sarawak from here as the international airport is in Kuching. The bustling city, the tall buildings and the big shopping complexes are all a typical showcase of every other city in the world. Head on down to the Kuching Waterfront. It is an amazing gateway from the city; right in the city.
As the city is located alongside the Sarawak River, the waterfront has taken over what used to be strategic commercial land back in the British Colonial days. Today, it is the main attraction of the city; a great gateway for both tourists and locals alike. The esplanade is an amazing place to visit. From here, you can see small fisherman boats working in the river. Boat rides are also available if you would like to have one. The scene here is an amazing and unique one. The humble local charm of the place has been maintained; especially so with the old fisherman boats. The esplanade is flanked with shady trees and local eateries nearby that serve up some of the most delicious local delights. The esplanade is also a great place to see the sun set; and then head over to one of the eateries for dinner.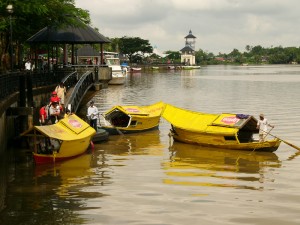 The waterfront of Kuching has definitely come a very long way. Back in the day, the waterfront was lined with small shop houses, wharves and merchants pacing along the river bank. It was a busy port that played an important role in the history of Sarawak's trade. Today, the waterfront is a beautifully landscaped garden with benches for visitors to sit on, eateries, walkways and lookout points. There are some modern sculptures here too. Some of the old shop house buildings that stood back in the day when the waterfront was a port still stand today; with a fresh coat of paint. The musical fountain is at the center of the esplanade and when lighted up at night, complements the view of the esplanade. The esplanade also houses an open-air theater where on certain nights, performances by locals are held here to entertain the public.