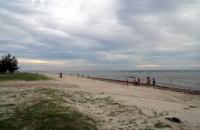 Sunset at Layang Layangan Beach (credit: Flickr)
Layang-Layangan Beach (not to be mistaken with Layang-Layang Island), is located on the north eastern side of Labuan and faces the vast South China Sea.
Visitors heading to this beach can be assured of a relaxing time. The white sandy beach is soft and cooling for the feet and its relative seclusion means there is ample space for outdoor activities. The cleanliness of the beach allows visitors to sunbathe under the tropical sunlight, while its relatively tranquil waters make it perfect for relaxing dips. As the beach faces the South China Sea, the horizon is clear of obstruction, giving visitors a romantic sunset view. The beach also bore witness to the historic surrender of the Japanese army in 1945 and visitors can head to the nearby monument that commemorates this event.
Layang-Layangan Beach appeals as it is one of the few relaxing spots on Labuan where visitors can get an unobstructed view of the setting sun over the South China Sea.
Visitors can take a taxi from Labuan town to Layang-Layangan beach, which takes about 20 minutes per way.
Opening hour and entrance fee:
There is no entrance fee required for Layang-Layangan Beach and visitors are welcomed to visit the beach at anytime they prefer.