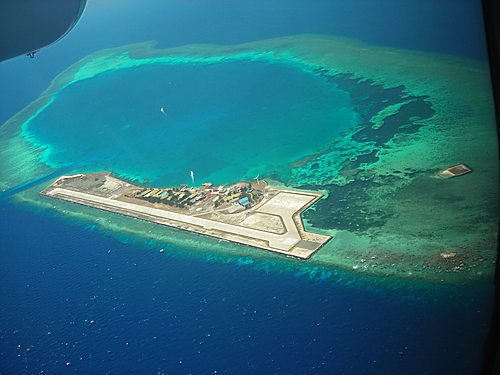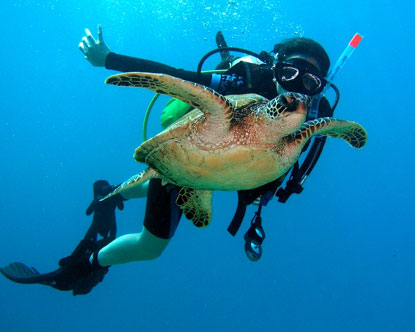 The preservation of the Mother Nature is one remarkable element you must not miss while having vacation in Sabah. One of the best places allowing you to do so is the Layang-Layang Island (Pulau Layang Layang) situated in Kota Kinabalu. Also known as the "Swallows Reef", you would be surprised if you find out that the island is entirely man-made, in which it becomes a resort accommodation for visitors who wish to explore more of the island.
You would also find the Layang-Layang Island being isolated from the busy cities in Sabah due to the fact of its location separating it away from the land of chaos. On this island, you will definitely be impressed with the amazing sceneries being exposed to you, which you can catch a glimpse at one of the hilltops on the island, or even when you are challenging your stamina by climbing up the steep hills on the island.
Catch of Glimpse of the Underwater World
The amazing view on the island has also make way for the island to be credited as one of the must-go destination when you are visiting Sabah. The island is also ideal if you intend to try out some thrilling activities such as scuba diving. There are more than 10 dive spots surrounding the island, all which can be reached on a boat ride with 5-15 minutes from the dive center. The visibility is normally falls in the range between 20m to 25m or more with water temperature around 30C. Each dive will offer you a chance to see huge marine creatures like turtles, sharks and manta rays, if you are lucky, you may even spot hammerhead shark. A great diversity of intact, unspoiled soft and hard corals, gorgonian fans, barrel sponges and the usual school of colorful little fish can be easily be spotted on each dive. In certain dive sites, divers can even discover sea horses and cuttlefishes passing through their way.
Apart from Mabul Island and Sipadan Island, Layang Layang Island is a perfect place to spend your diving holiday.
Look Up!
On the Layang-Layang Island, you will also obtain the rare opportunity to witness a sky full of different bird species flying through the clear blue sky and a lot of them will even stop by the island for a short break before they continue on with their journey and adventure. A great diversity of bird species such as Great crested tern, Black-napped tern, Sooty tern, Brown booby, Pacific golden plover, lesser frigatebird and Ruddy tern can normally be spotted. Also there are plenty of Yellow wagtails and Barn swallows. Not only perfect for bird lovers, this would offer a good shooting opportunity for the photographing enthusiast.
Where to Stay in Layang Layang Island
There is not much accommodation option in Layang Layang Island as the Avillion Layang Layang Dive Resort is the only resort operates on the island. Although this is the only resort on the island, but the amenities and service provided are both spectacular. If you are looking for diving trips, the resort is offering diving package that include transportation and diving equipments. For visitors who prefer to stay in, the resort also features a swimming pool to cater for those who wish to enjoy the water while staying close to the room.
Where is Layang Layang Island and How to get in
Layang Layang is a tiny oceanic island located at about 300km off the coast of Sabah in South China Sea.
Kota Kinabalu is the nearest International access point with international direct flights available from Taipei, Tokyo, Seoul, Kao Hsiung, Hong Kong, Manila and other destinations. For visitors from the Peninsular, Kota Kinabalu can be connected via domestic flights from numerous cities. From Kota Kinabalu International Airport, regular flights to Layang Layang Island are available operated by MasWings private airline, the journey takes about one hour in the air.