Last Updated on April 14, 2017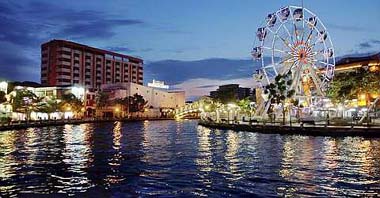 Inspired by the United States San Antonio River Walk Festival, Melaka International River Festival organized by Melaka River and Beach Development Corporation is back again in 2014. The event starts from 25th May and end on 30th June with the ultimate goal to promote the tourism in Melaka, specifically the Melaka River and monorail that commutes between Dataran Hang Tuah and the Spice Garden.
Some of the attractions for Melaka River Fiesta include dragon boat competitions, water sports fiesta, King & Queen Snake Show, Malay cultural show, Indian & Portuguese cultural show, decorative floats parade and more. With more than 100 attractions from the event, visitors and tourists will sure be fascinated in the entire month. According to the Malaysian Tourism Board, this popular state event is expected to draw at least 800,000 visitors and tourists in 2013.
Event: Melaka International River Festival 2014
Venue: Melaka River, Dataran Sungai Melaka, Melaka
Date: 24th May to 23rd June 2014