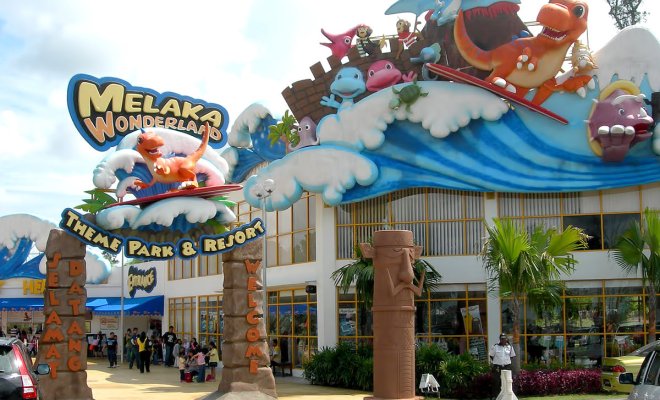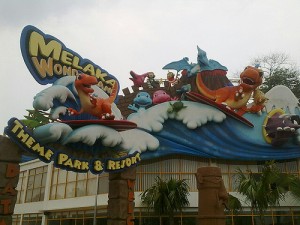 Searching for a best place to cool off with friends and family? Head down to Melaka Wonderland Theme Park and Resort, the country's latest water adventure land for a dip. As one of Malaysian's most popular recreational destination, this theme park has a lot to offer to those who needs a break from the heat. This place is suitable for small ones and to the elderly to spend some quality time with friends and family. This theme park offers varieties of features such as Tornado Chaser, 1 Big Wave pool, Lazy cum Crazy River, Adventure Island, and much more. Within the 360 hectares perimeter it also has natural recreational forest for those who search for tranquility and peace from bustling city life.
For those water enthusiasts, this theme park is filled with a whopping 2 million litres of water. A total of 16 breath taking attraction where varieties of water adventure such as Tornado chaser will send you spinning down into a large bowl, Kamikaze Ride which includes 6 fast pace mat ride that will excite you to the maximum with its speed and 1 Bid Wave pool which was named after the 1Malaysia theme where families lays down on the beachfront and experience the feeling of sea wave like technology. Other attractive water adventures such as The Anaconda Twist; named after the giant snake, two twisted and enclosed slide which send riders spinning around, Wave Rider; rider gets to surf without using a surf board, and The Pendulum; nicknamed: Grandfather Clock which shoots its riders up a wall and pause then send them back down until it gradually stops are experience that is surely not to be missed out while you're at there. Other than theme park, this place offers other exciting adventures such as boat rides, flying fox, Dry Park and lot more heart throbbing attractions.
For those who are not familiar with Melaka? No sweat. Situated at Ayer Keroh, it takes around 15 minutes from Ayer Keroh's highway exit and it is nearby to Melaka's Botanical Garden. Around the area there are also tourist spot such as Malacca's Crocodile Farm and Malacca Zoo. That area also offers different range of accommodations from the theme park hotel itself as well as budget hotels and also home stay services. As effective from the date of 16th August 2010, the park only operates from Tuesday until Sunday and closed on Monday. The park starts at 1100 hour until 1900 hour for weekdays and 0900 hour until 1900 hour for weekends and public holidays as well as school holidays.
The entrance ticket is sold at the price RM26 for adult and RM20 for children during weekdays, RM30 and RM25 during weekends and public holiday as well as school holidays. There is some occasional promotion and events so be sure to check out their offer from the website more often!