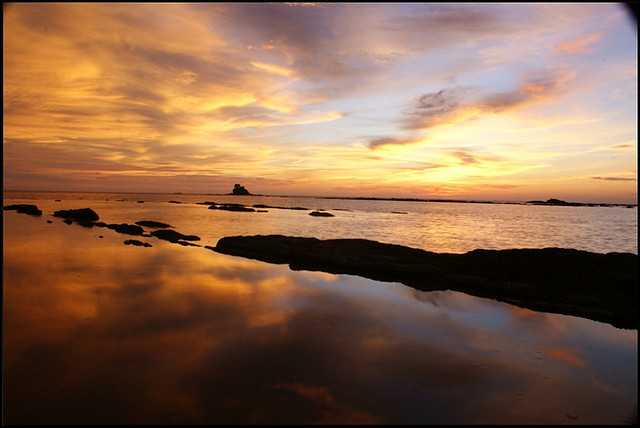 The beautiful sunset at Pohon Batu Beach (credit: Flickr)
Pohon Batu Beach is another one of Labuan's pristine beaches and lies on the same stretch as Pancur Hitam Beach and Batu Manikar Beach.
One of the main features that stand out compared to other beaches on Labuan is that Pohon Batu Beach has rows of palm trees and casuarinas that dot its sandy coast. Visitors can take shelter from the sun under these trees. Visitors can also easily obtain food and refreshments from hawker stalls. There is also a special designated area for visitors to have barbeque picnic or set up camps. For visitors who are more adventurous can head out to Bukit Pohon Batu, a small hill located nearby the beach for a light trek. There, visitors can hike through lush greeneries before arriving at the summit where a panoramic view of the island awaits. In the evening, visitors will be treated with a romantic sunset over the unobstructed horizon of South China Sea.
Pohon Batu Beach is a must-visit as it is well-known for its clear waters, well-established beach and the romantic, unobstructed view of sunset over South China Sea.
Pohon Batu Beach is located at Pohon Batu Simpang 26 and accessible via taxi from Labuan town.
Opening hour and entrance fee:
There is no entrance fee required for Pohon Batu Beach.