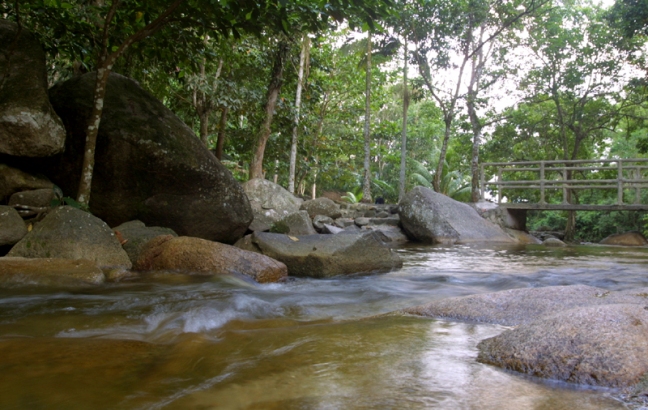 A holiday in Malaysia is a holiday that you will enjoy as you will be spoiled for destinations rich in culture, heritage and tradition. You will also be able to have the best of city life and then head over to the many reserves that will showcase the best of nature to you. Malaysia is definitely a great place to holiday in.
You should consider visiting the state of Johor. There are many destinations here in Johor that will suit your needs of your holiday. If you are looking for a holiday closer to nature where you can unwind and enjoy life at a slower pace as you take in your lush green scenery, then the state of Johor has a few places that will be just perfect for you. If you are in Johor, the right place to visit before leaving will definitely have to be the Puteri Waterfalls. The mountain that sources the waterfall stands over a thousand meters above the ground. It is better known for its legends that shroud the area rather than as eco destination.
There are many stories that will entwine themselves to the mountain. The locals will be more than glad to relate of the many legends of the princess of the mountain called Gunung Ledang. The princess of the mountain or locally known as the Puteri Gunung Ledang was said to have stayed here at this mountain and there have been many tales of supernatural experiences from locals who stay here. The Puteri Waterfalls that cascade magnificently down from the top of the mountain was said to be the place where the princess of the mountain would take a bath with the other fairies.
The legends and myths will definitely spark your interest but even with all that aside, Gunung Ledang and the Puteri Waterfalls is surely a great destination for a family getaway. The waterfall is a beautiful one and it is no wonder that the place has been tied to many fairy sightings. The Puteri Waterfalls is the best place in Johor to have a picnic. You can hear the falls cascading down magnificently as you take in the beautiful and serene scenery. There are many amenities that have been set up here by the local authorities to make your stay a more comfortable and convenient one. There are rest shades, dressing rooms to change in after a good swim in the pools as well as camping sites if you choose to spend a night or two here closer to the waterfalls.
Recommended Area to Stay in Johor
Johor Bahru City Centre
Gateway to the city attractions, Legoland Theme Park and eateries.
Desaru
For those looking for beach vacation and nature exploration.