Last Updated on April 14, 2017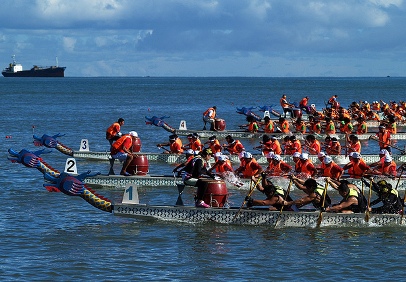 Sabah Dragon Boat Race is organized in conjunction with the annual Chinese festival "DuanWu", DuanWu is a cultural festival exit since thousand years ago with a strong historical background. The Dragon Boat Race organized this year is in its 28th ceremony and is considered as one of the main sporting events in Kota Kinabalu, Sabah. Not only a sporting event for paddlers to rush for the finish line, this event also attracted thousands of visitors and spectators in the past to enjoy the excitement along with the drum banging frequency.
This thrilling race has attracted a number of international and local teams from China, Hong Kong and Japan. Visitors to this event not only able to enjoy the magnificent skill from the local team, you will also get to enjoy the unique skill from the international teams in fighting for the medal.
Event: Sabah Dragon Boat Race 2014
Venue: Likas Bay Kota Kinabalu, Sabah
Date: 7th June to 8th June 2014
Recommended Hotels in Kota Kinabalu Sabah


The Pacific Sutera Hotel (5 stars)

Check rate

The Magellan Sutera Hotel (5 stars)

Check rate

Hyatt Regency Kinabalu Hotel (5 stars)

Check rate

Horizon Hotel Kota Kinabalu (4 stars)

Check rate

Gaya Centre Hotel (3 stars)

Check rate

The Klagan Hotel (3 stars)

Check rate