Departure from: Penang
Package: Kapalai Dive Resort Snorkeling Package
A year ago, I've received a phone call from a friend saying that AirAsia has zero fare promotion. I was intended to reject but when my friend told me that the return flight for Penang-KL-Tawau costs only RM60+, I purchased it immediately because it's so cheap! I wouldn't feel that it's wasted even if I've decided not to go after 1 year.
So, one year has passed and I didn't feel exceptionally excited as I didn't expect anything from the trip. Till a month before departure, my friend only then told me our trip is actually staying 1 night at Kapalai and another night at Mabul Island. I was so confused and the only thing I know is I have to pay close to RM800 to him.
When the day come, I took a 1hr 30min bus journey to Penang to meet my friends at the airport.
As the flight was on tomorrow's morning, we chose to stay in Tune Hotel for the night.
This is the night view from our hotel room.
We could only have instant noodle as late dinner!
The room is rather small for 3 people.
A piece of advice for you: If you are staying at LCCT's Tune Hotel, do pay for the air-conditioner's fee. Please do not save money to torture yourself at the late night because it's really stuffy!
I got woken up by the alarm to rush for the plane. Thus, we quickly packed our luggage and wait for the shuttle van by Tune Hotel to fetch us to the airport (RM1/pax).
We were finally departing!
The landscape view from the plane. It's spectacular!
The plane was finally landed after 2 hours 50 minutes.
Saw an unique model of MAS plane.
Why the Air Asia plane we board on isn't in red?
This is the van that fetch us to the jetty (RM100/journey).
We have finally reached Semporna Jetty after one hour journey.
It's going to be fun!
Dragon Inn's Hotel (According to the online friends)
The rare phenomenon here is: You'll never find the transparent sea water like this in West Malaysia!
 We were so worried during our journey. Look at the weather!
 Finally get to see the heaven this close! The water is so clear and it boost up our mood!
Over here, it's okay that you do not how to swim or snorkel. The coral reefs are all right in front of you, and the sea water  is only up till waist level. For your information, this is not an island but a resort that directly built on the sea. You may snorkel here anytime you want!
 The view there is really awesome and I have snap the most photos here among all the trips I've went.
 This is where we were staying. We were able to enjoy the breeze and the sea view from the balcony.
The coral reefs are so breathtaking!
You can view the man-made beach from far.
The night view of the Kapalai Resort (unfortunately, couldn't have an opportunity to watch sunset here)
The wave was stronger out of a sudden. It was kinda terrific as it was high tide and going to rain. We then quickly went back to our room till the rain got lighter. We heard breathing sound when we headed back to the balcony to enjoy the breeze. Immediately, we tried to search with the torch light and we found a sea turtle! As the weather got colder, we went back to sleep instead.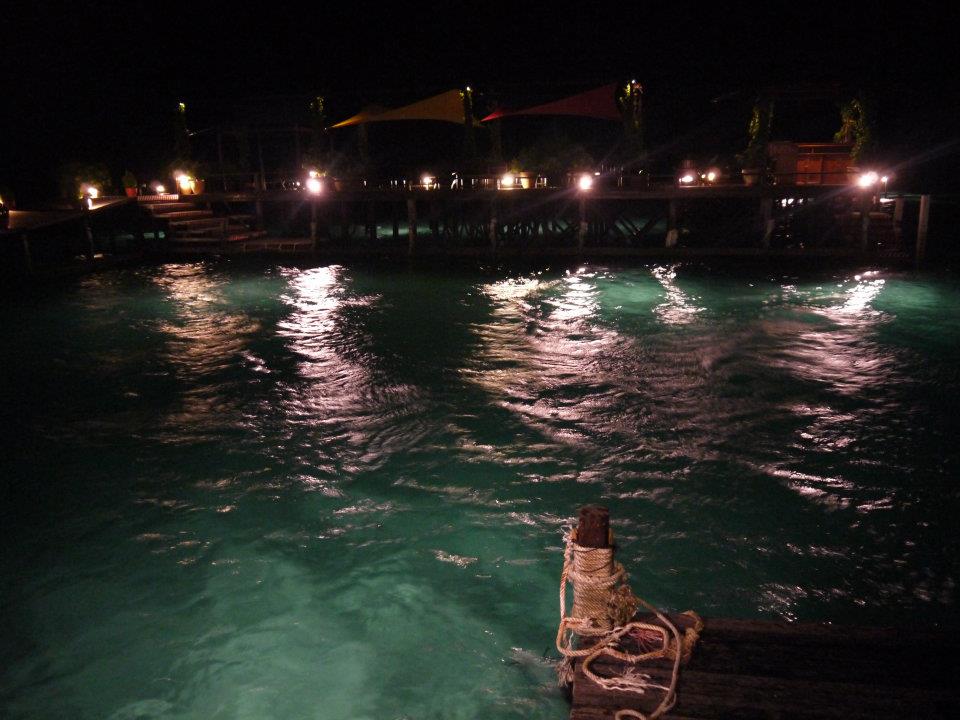 Took quite a number of photos during our snorkeling session:
 
 
 
 
 
The lovely starfish!
 
 
 
I didn't manage to watch the sunrise as there wasn't enough rest for last night. It was a waste as I heard from my friends, there are many sea turtles swimming in the morning. Oh well… we went for photo taking again after our breakfast. Feel so reluctant to leave this beautiful place.
The man-made beach 🙂
Stay alert as what the signboard says!
It's relaxing lying here enjoying the breeze.
This would be my first time for not willing to leave a place but I have to. We were waiting for the boat to fetch us to Mabul Island after our lunch. We knew our stay in Mabul Island will not be better than Kapalai. According to GPS, Mabul Island is just 5km from Kapalai. When we first saw the high class water house, I thought our accommodation will be fine. However, the boat made a turn and we saw this: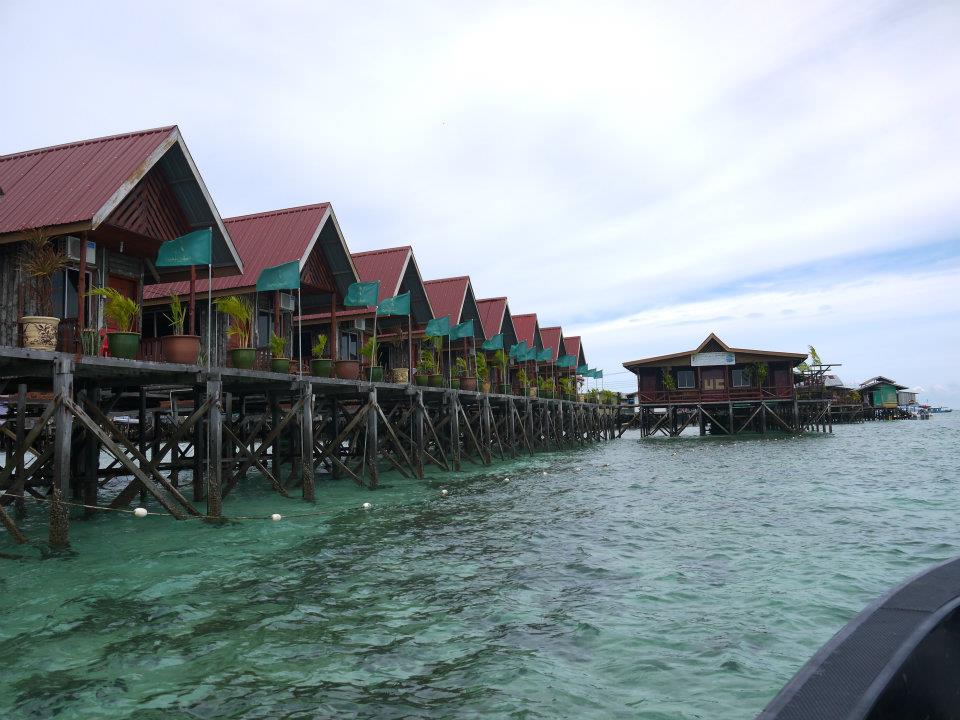 We have to accept the fact to stay in a smaller home-stay as it's cheap. This home-stay's electric supply period is only from 6pm to 6am. So, we are spending our day in a very warm condition most of the time.
Price (RM250 per pax): RM230 – Fan, 1N stay, meals, snorkeling x3, RM20 – air-conditioner service.
There's quite some time till the snorkeling begins. Thus, we walked around to enjoy the view.
The soft drink that costs only 50 cents!
The view nearby our home-stay.
In Mabul Island, we snorkeled for thrice and each session was about 1 hour.
Overall, we had a lot of fun during this trip! 🙂
Trip report by: Krr