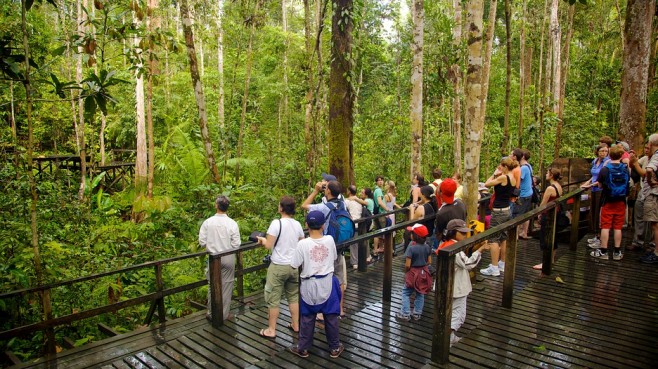 The Semengoh Wildlife Rehabilitation Centre was established to nurse injured and rehabilitate orphaned animals before releasing them into the wild. The centre, opened in 1975, also performs research relating to wildlife as well as conduct breeding programs for endangered animals.
At the centre, visitors can have a closer encounter with the wildlife of Sarawak, as well as to learn about the process of rehabilitation, its objectives and importance in the protection and preservation of animals. A ranger at the centre will brief visitors about the Orang utan before they head off to view the Orang utans at a close range at the centre, particularly during feeding time between 9am and 10am, and 3pm to 3.30pm. Here, visitors will get to see partially wild Orang utans approaching and descending to the feeding platform to fill themselves with food. The behavior and demeanor of the Orang utans will be the highlight here. Apart from Orang utans, visitors will also get to view other animals that are being nursed / rehabilitated at the centre, namely sunbears, hornbills, macaques as well as birds.
This is where wildlife, especially the adorable Orang-utan, will get as close as they get to visitors and should not be missed when visiting Sarawak.
Semengoh Wildlife Rehabilitation Centre is located about 20 kilometres from Kuching, requiring about 30 minutes drive.
Opening hour and entrance fee:
Entrance fee to Semengoh Wildlife Rehabilitation Centre is RM 3 per person and the centre is opened daily from 8am to 12.30pm and 2pm to 4pm.