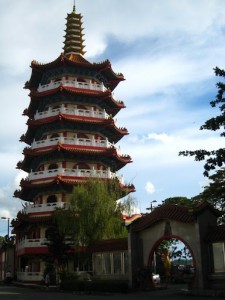 If you are heading to Malaysia for a holiday, why not consider heading east to Sarawak. The land of the Hornbills beckons you as the largest state in Malaysia to visit its many exciting tourist destinations. Sarawak is also the perfect gateway for all nature enthusiasts or anyone who wants a gateway far from the bustling city. Sarawak is also a great place get on a culture track and discover the many heritage sites here in Sarawak.
Alongside the Rejang River of Sarawak, lies a small town called Sibu. Here, you will find many exciting destinations to visit while having vacation in Sarawak. One interesting heritage site that you may want to consider putting on your itinerary is the Seven Storeys Pagoda. There are many pagodas in the South East Asian Region and even in Taiwan. Visitors who have been places and see many pagodas from these regions will claim that the Seven Storey Pagoda in Sibu is one of the most beautiful pagodas they have ever seen. It is definitely worth giving the pagoda a short visit while you are in Sibu for vacation.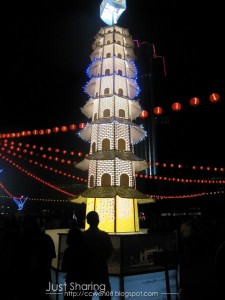 Spend about ten minutes just admiring the architecture of the building. The seven storeys stand tall above the ground overlooking the town and the Rajang River. Each storey has its own intricate design. Each floor has designs of dragons cascading the tower, looking outwards as if to protect the tower. The ground floor of the tower features a golden alter where devotees light joysticks before heading upwards in the tower. It is not necessary for tourists to light joysticks but all are welcomed to do so if they would like the experience. The best time to come to the tower is in the evenings as the tower will be lighted up; giving it a mystical look, what with the incense rising from the ground floor to the top. The view from the top is an amazing one. From here, you can see glimpses of the Sibu town and the Rajang River flowing nearby.
Apart from the architecture, you can take plenty of pictures of the magnificent view at this heritage site. It is a great pit stop destination before heading on to other more featured destinations. The tower is situated next to the Tua Pek Kong Temple; a Chinese temple that you may want to visit to learn more about the Buddhist culture here in Sibu. Devotees come to the temple to offer sacrifices.