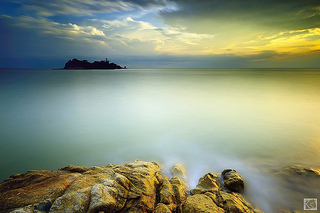 Come on over and enjoy a holiday in Malaysia where you can enjoy the best of cosmopolitan life but still be surrounded by the best of heritage, culture and the lush green of nature. Malaysia is known for its diversity and while you are here there will be an uncountable number of amazing sights and places to visit there will not be enough time to completely explore them all. Of the 13 states of the nation, Johor is located on the southern tip of the Peninsular of Malaysia and is an amazing destination to consider exploring.
If you head off the coast from the Batu Pahat River estuary by boat, you will find a tiny island known as Sialu Island (or Pulau Sialu) with a lighthouse, as its beacon that draws tourists to discover what treasures lie here. Here is a perfect destination that will suit your needs for seclusion and gateways that will help you unwind and relax as well as enjoy an amazing view from the shore. The island was formerly a fisherman village of the local aborigine people. Today, many of them have settled on the mainland instead as there are more job opportunities there. Many of their village features still stand and the island is a good place to explore and gain a better insight into the life of the local Orang Asli as they are fondly known as here. The island has an amazing trail to explore and you can spend a day here as you trek the sights and enjoy the best of nature.
If trekking is not what you are here for, then the seclusion and the beautiful stretches of white sandy beaches must definitely be it. Sialu Island is an untouched island and its beaches are amazingly beautiful. Sun-kissed beaches that overlook a never ending horizon will definitely make your day. Here is an amazing place to get your perfect tan and take in the beautiful scenery. Bring a book or a magazine and just laze on the beach and if you choose to, soak up a little of the water too. The island is definitely a great place to unwind and take everything at a slower pace.
The rapid development of the city of Johor Bahru is definitely worth exploring and you will definitely love that this is the state that is home to two of the country's major theme parks. Johor will certainly make for a perfect holiday destination for the family and anyone young at heart. Johor is also home to some of the best beaches, islands as well as nature reserves that await you to come and discover what nature has on display for you here.