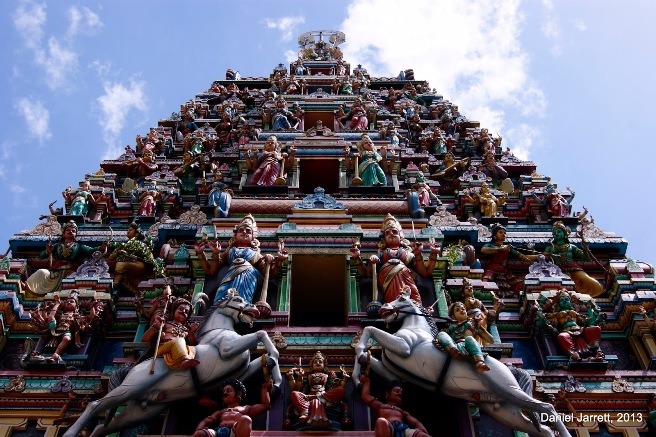 Photo credit (Daniel Jarrett)
The Sri Mahamariamman Temple is an important place of worship for the Indian community in Penang. Located within the vicinity known as Little India, it is the oldest Hindu temple in Penang with construction dating back to 1833.
Visitors will be amazed by distinct sculptures on and inside the temple. The façade of the building features many sculptures representing various Hindu deities. The gopuram, which is a tall tower-like structure made from a collection of sculptures placed above the entrance, stands out amid its intricate design and vivid colours. As with all Hindu temples, the entrance leads to the main shrine, in this instance the Goddess Mahamariamman. Around the shrine are statues of other deities, to which devotees will offer prayers as they make a walk around the shrine. Though the temple was built in dedication to the Goddess Mahamariamman, it is common in Hindu religion to have statues of other deities inside the temple. Among those include Ganaphathy, Chandikeswarar, Bairavar, Techinamoorthy, Subramaniam and Durga, all can discerned from lively detail of their respectively statues. While there is no particular time or day that devotees offer their prayers, the best time to visit the temple is during Thaipusam festival, when the full-glory of the temple is showcased.
Visitors to Penang will almost always be drowned in its richness in culture, religion and heritage, thus Sri Mahamariamman temple offers nothing less than a combination of the three.
Sri Mahamariamman Temple is located along Queen Street, which is behind Jalan Masjid Kapitan Keling and intersected by Market Street and Chulia Street on either ends.
Opening hour and entrance fee:
Sri Mahamariamman Temple is open daily from 6.30am to 12pm, and from 4.30pm to 9pm. Entry is free though devotees / visitors are encouraged to make small donations.