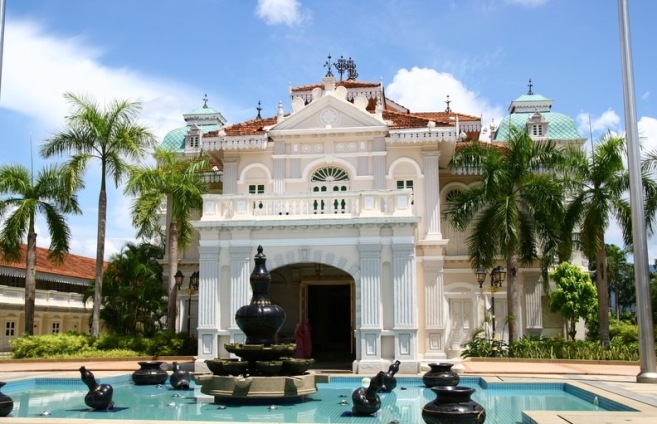 The Sultan Azlan Shah Gallery is a museum that showcases the various displays pertaining to the royal family of Perak state. Formerly known as Istana Hulu, it is the first concrete palace to be built in Perak state. Completed in 1903, it was occupied by the previous sultans of the state until it was converted into a school in 1957. In 2003, the building was officially opened as the Sultan Azlan Shah Gallery.
Visitors to the gallery will get to witness the grandeur of the palace design and structure, from the entrance to the rooms that houses various exhibits. Visitors will be shown personal items of the Sultan in these exhibits, which includes birth certificate, marriage certificate, old identification cards, driving licenses as well as certifications of the sultan's hole-in-one feats in golf. There are also displays of items that belong to the royal couple as well as awards and medals given to the sultan. Visitors will also get to view important symbols of authority, such as the official attire of the sultan, as well as his swords and keris. In another showcase, visitors will get to view the many gifts presented by foreign leaders, among them are the giant fungus, which is the biggest piece of fungus in Malaysia, stone tools from important archaeological sites in Lenggong, Perak, a replica of the world's first bronze seismograph and a model-scale of the famous Al-Aqsa Mosque in Jordan. Other displays include the sultan's photos and the various cars that the sultan owned.
There is rarely a chance to enter the grounds of a former palace and no other place that provides a wealth of information about the sultan other than The Sultan Azlan Shah Gallery.
Sultan Azlan Shah Gallery is located along Jalan Istana in Bukit Chandan of Kuala Kangsar, about 30 minutes drive from Ipoh town.
Opening hour and entrance fee:
Sultan Azlan Shah Gallery is opened every day from 9.30am to 5pm. Admission fee to Sultan Azlan Shah Gallery is RM4 for adult, RM2 for senior citizen, RM2 for IPTA and secondary student, RM1 for primary school student.
Recommended Area to Stay in Perak:
Pulau Pangkor
The perfect place for seeking true island escape, with just a short ferry ride from Lumut.
Ipoh City
A gateway to all the city attractions with diversified of accommodation options available to choose from.
Taiping
A heritage town rich in tin mining history and serene atmosphere.