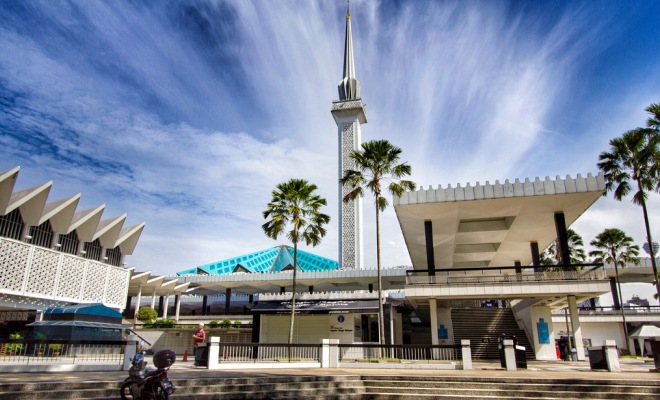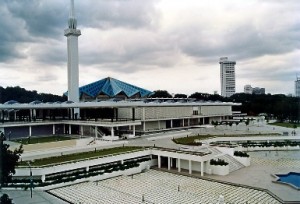 For a fun filled vacation in Malaysia, we cannot help but allow the diversity to thrive where mosques, pagodas, churches and temples exists together in the same place. If you believe that tourism is immersing yourself in the culture of a particular society, then you may consider visiting a mosque in the nation. What better mosque to visit than the National mosque situated in Kuala Lumpur.
After Malaya gained the independence as a new born country, the next challenge was to build and develop the country. The Federal Executive Council was also at work in ensuring that the nation had a national mosque to be the pride of the nation's Muslim community. It was also a sign that the country had gained independence peacefully without the need for violence. Initially, the national mosque was to be named after the first prime minister. However, the Tunku humbly refused this. Thus, the mosque was instead named the National Mosque. Against the city's skyline, the mosque certainly stands as a unique display of architecture. Its roof clad in blue and green with its magnificent domes and tower are certainly a magnificent site to behold. Islamic calligraphy can be seen as a unique design feature of the mosque.
The mosque was actually built to resemble the Grand Mosque that is situated in the Muslim holy land of Mecca. The big blue dome looks like a half opened umbrella which signifies the five pillars of Islam over the 13 states of Malaysia. This blue half opened umbrella has about 16 folds to it.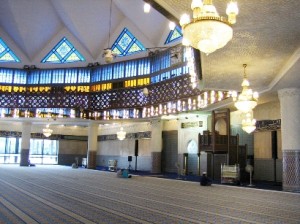 Visiting the mosque is rewarding with its lush garden that are one of the Asia's largest gardens. The mosque is also home to a library, an open courtyard and the prayer hall which can accommodate about 8000 worshipers.
Address for National Mosque: Jalan Lembah Perdana, 50480 Kuala Lumpur.
Recommended Hotels in Kuala Lumpur City Centre
1. Traders Hotel by Shangri La
Nice sky bar and nice room overlooking the Petronas Twin Towers!
Reserve through Agoda.com
2. Corus Hotel
Value for money for a 4 stars hotel and its location.
Reserve through
Agoda.com
3. Fraser Place Kuala Lumpur
Studio and apartment type of accommodation, suitable for both family and business travelers.
Reserve through
Agoda.com
4. G Tower Hotel
Located in the vibrant city center with plenty of dining and shopping options.
Reserve through
Agoda.com
Browse all Hotels in Kuala Lumpur City Centre >>