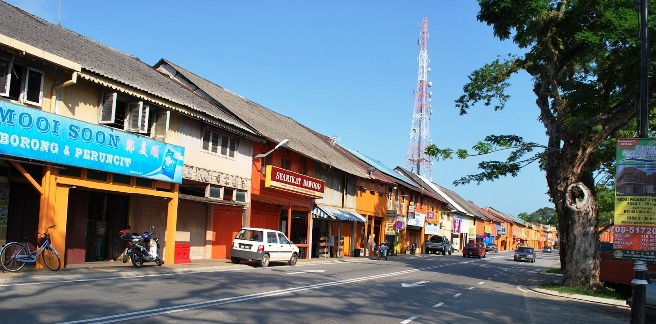 The old street of Pekan Town (credit: Pak Idrus)
The Royal Town of Pekan is a history-rich town in Pahang . Reported to have been in existence since the 17th century , Pekan is the oldest township in Pahang.
Places to Visit
 There are several places of interest located within the town. Visitors can head to the Sultan Abu Bakar Museum, which serves as a repository of historical and cultural artifacts. Here, visitors will get detailed information of the rich history of Pahang through the museum's well- documented exhibits. Later, get a taste of Malay architecture by stopping by the Sultan Abu Bakar Palace, the official residence of the state's sultan. Get ready for some photography at the beautiful arch gate of the palace. Next, head to the Royal Pahang Silk Weaving Center where visitors will be introduced to the various range of silk products as well as see how silk is methodologically woven. The weaving center has been there for about 200 years and their weaving techniques have been passed down for generations. As Pekan at is located the mouth of Pahang River,water transport has dominated the history of transportation and communication of the town. Visit the Watercraft Gallery to view various water crafts that were used as mode of transport and to carry goods into and out of the town through the times. Visitors to Pekan should not miss out the chance to visitLake Chini , located just 80 kilometers away from the town. Being the second largest natural lake in Malaysia, it lies on the bank of Pahang River and here, visitors can participate in many activities such as canoeing, fishing, hiking and picnicking.
The Royal Town of Pekan should not be missed by visitors as the town is important to understand the rich history and elaborate culture of Pahang state.
The town of Pekan is located 50 kilometers from Kuantan and about 80 kilometers from Kuala Rompin. The journey from Kuala Lumpur will take about 1 hour by land transport.