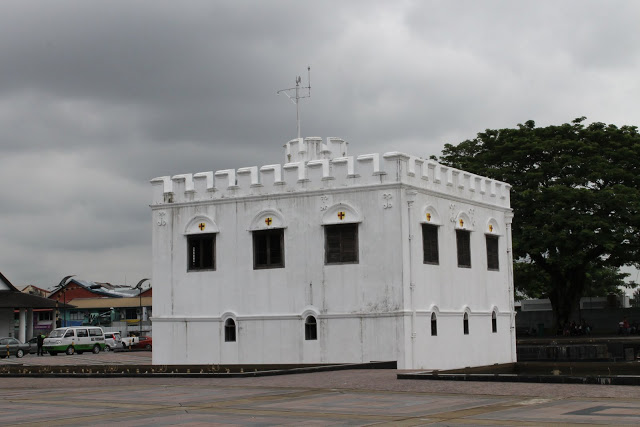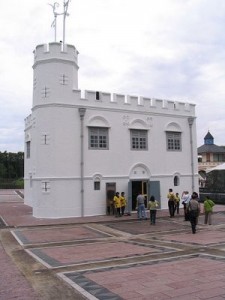 The state of Sarawak is the largest state in Malaysia and is a great destination to consider visiting if you plan to head east on your holiday in Malaysia. If you are one who loves visiting historical sites, then the Square Tower in Kuching is a great place to satisfy your appetite for a little history lesson.
History
The tower has been standing since its completion in 1879. It was built next to the first ever prison of Kuching and was designed to secure the detention center. The lime wash paint finishing has suffered over the past years and has slightly affected the structure of the wall. Nevertheless, it still is a great sight to behold; a great destination to just spend about an hour or so. When Brooke needed a dancing hall, the tower was utilized during the weekends. Many believed that the ground floor of the tower was used as a jail cell for criminals.
Best Time to Come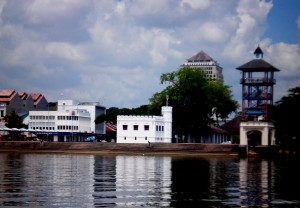 The tower overlooks a beautiful waterfront of the Sarawak River. The best time to come here would be early in the morning or late in the evening when there is a gentle breeze sweeping through the area. From outside, the tower definitely has a magnificent look about it and is definitely worth capturing a few shots of the architecture of the building before heading inside to do some exploring. Once inside the tower, you will begin your journey to the top most floors by a narrow spiral wooded staircase. The journey to the top is quite tiring; especially since you have to climb a steep flight of stairs that spirals around the building so do bring along a good pair of shoes for the walk! It definitely is an amazing experience as you make your way to the top most floors. At the top,you will be rewarded for your effort with an excellent view of the mountains Santubong and Serapi; definitely views worth capturing with your camera so do remember to bring along your camera!
Today Functions
The tower today functions as important multimedia information center that opened its doors to tourists who need information on where to visit and what to do in Sarawak. The staffs here are friendly and ever ready to land a helping hand in assisting you with planning out your holiday while in Sarawak. Here is also a great place to begin your adventure, touring Sarawak and the center also offers you the accessibility of booking transport, flight tickets and other arrangements that may be necessary in making your holiday in Sarawak a much smoother one for you !