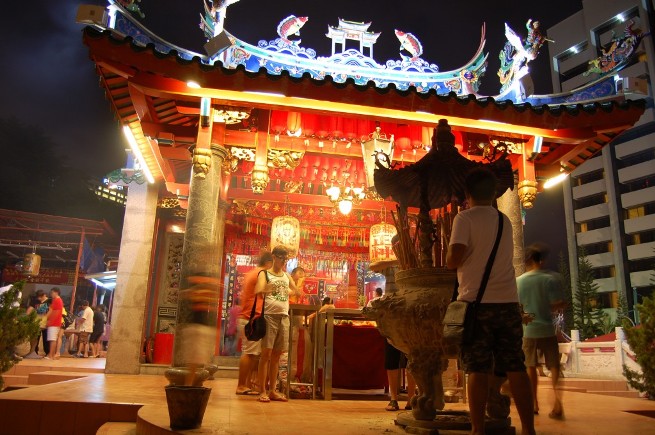 The Tua Pek Kong Temple (大伯公庙) in Kuching is one of the oldest temples in Malaysia. Reputedly dating back to 1843, it was constructed in dedication to the Chinese deity Tua Pek Kong, literally meaning Grand Uncle.
Here, visitors will be treated with carvings / sculptures as well as beautiful ornaments that define the Chinese culture, all of which are perfect for photography. Before entering the temple, visitors will get to view brightly-colored sculptures of dragons, which are symbols of power in the Chinese culture, on the retaining wall that supports the elevated platform on which the temple is built. A stairway leads visitors to the main entrance of the temple, which houses a large joss-stick urn. The interior of the temple greet visitors with more carvings and drawings of Chinese deities that dot the inner walls, pillars and arches. Situated at the center inside the temple is the main altar on which the statue of Tua Pek Kong sits. Like in every Chinese temple, there will be a long table before the statue for placement of offerings.
Those who love history or appreciate old Chinese architecture and design should not miss this place of interest that has endured for nearly 2 centuries.
The Tua Pek Kong Temple is located at the junction where Lebuh Temple and Jalan Green Hill intersect, and is only 450 meters (about 6 minutes walk) from Kuching Waterfront.
Opening hour and entrance fee:
The best time to visit Tua Pek Kong Temple is during Chinese festivals where plenty of worship activities can be seen. The temple can also be visited during off festive season, there is no opening hour indicated and the suitable timing would be from 8am to 10pm at night.