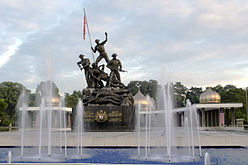 There is nothing better than seeing a monument that brings you back to the time that it was immortalized. The Tugu Negara or National Monument that is what it is today stands in Kuala Lumpur . It is really a sculpture in memory of warriors who died during the nations struggle for freedom. It is a good place to see in order to take a walk down history lane. A lot of stories can be told by your tour guide when you stand before this magnificent monument. Stories begin from way back, in the Japanese occupation to the emergency in 1948. It's best to come here with your tour guide because you can hear many stories about the situation during that time.
National Monument
The national monument today was not the first one. If you study the nation's history, you will find that there was an initial memorial that was built in the city. The Prime Minister Tunku Abdul Rahman gave the idea to replace this first monument. He had plans to build another one, similar to a monument that inspired him on one of his trips to the United States.
New Monument
The new monument was completed on the 8th of February in 1966 and was officiated by the Yang di-Pertuan Agong. This monument is the largest bronze monument in the world and stands in a memorial park immortalizing the many brave soldiers who died during the Malayan Emergency in 1948. Warriors Day is commemorated here at this monument in late of July. So, if you are in Kuala Lumpur at this time, do visit the monument to be a part of the ceremony.
The monument in 1976 was the center of attention when it suffered extensive damage from an explosion set off by a communist terrorist. It has since been restored to its original state with a new faces on 11 May 1977. To protect the monument, the government set out to build a fence around the treasured complex. Although the national monument was threatened, it still stands today, proud in honor of those who sacrificially fought for the country. You have to see this one for yourself!
Recommended Hotels in Kuala Lumpur City Center
1. Traders Hotel by Shangri La
Nice sky bar and nice room overlooking the Petronas Twin Towers!
Reserve through
Agoda.com
2. Corus Hotel
Value for money for a 4 stars hotel and its location.
Reserve through
Agoda.com
3. Fraser Place Kuala Lumpur
Studio and apartment type of accommodation, suitable for both family and business travelers.
Reserve through
Agoda.com
4. G Tower Hotel
Located in the vibrant city center with plenty of dining and shopping options.
Reserve through
Agoda.com
Browse all Hotels in Kuala Lumpur City Center >>