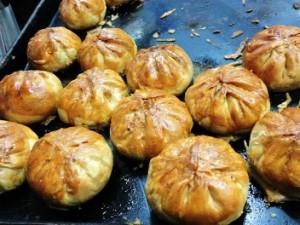 Negeri Sembilan is one of the thirteen states in Malaysia. It has rich Minangkabau cultures that can be seen in some of the available traditional architectures and the local dialects. Seremban is the capital of Negeri Sembilan, it is also a place where you can get good food. Many locals always visit Negeri Sembilan for a weekend getaway with their family or friends.
Curry Laksa, Roasted Duck and Roasted Pork
Curry Laksa is a rich flavor noodle in coconut-based broth. It is a spicy dish added with plump cockles, fried tofu, beansprouts and shredded chicken meat and go along with the spicy chili paste. One of the best Curry Laksa you could get in Negeri Sembilan is at Restoran Asia at Jalan Tok Ungku. The other great food found here is the roasted duck and roasted pork. The tenderness of the meat is so tasty especially with the roasted crispy skin. It is amazing to eat with rice or even eat on its own with the available sauce for dipping. Visitors may try it at the Restoran Haup Huat at Jalan Tuanku Munawir, Seremban.
Hakka Mee
Hakka Mee is famous here in Seremban, Negeri Sembilan. Some even said that it is originated from here. It is a delicious Chinese dish of flat yellow noodles mix with minced pork, spring onions and clear pork gravy. Something unique is that it is made with homemade noodle which have a lovely springy texture when you chew it. You can get this Hakka Mee from Tow Kee Hakka Noodles at Jalan Kapitan Tam Yeong, Seremban.
Beef Noodle
Beef Noodle in Seremban is special compared to other places as they served it dry here instead of with soup. The noodles are handmade and the special gravy is very unique. It comes with slices of very juicy and tender beef tendon, tripe and lean meat accompanied by a bowl of yummy soup with beef and preserved salted vegetable. Visitors can savor this beef noodle at Quinn Restaurant at Jalan Toman 6, Seremban.
Wantan Mee
Wantan Mee is an all-time favourite in Malaysia. This wantan mee you get in Negeri Sembilan is really springy with the daily homemade noodle available. Wantan Mee is a Cantonese noodle dish that comes in either soup or dry, together with wantan (dumpling wrapped with minced pork, vegetable and roast pork). And it is best eaten with sour green chilies provided along. Do stop by at the Keong Kee Wan Tan Mee at Jalan Veloo, Seremban for a taste.
Cendol
Cendol is a kind of dessert in the form of green noodle-like jelly with shaved ice, coconut milk and Gula Melaka (palm sugar). It is really thirst quenching to have it on a hot day. There are 6 types of cendol available, the normal one, with glutinous rice, with red bean, with sweet corn, assorted or bandung (a type of local Malay drink in pink). You can give it a try at Haji Shariff Cendol at Jalan Yam Tuan, Seremban.
Siew Pau (Baked Pastry Bun)
The food that represents Seremban, the capital of Negeri Sembilan is surely the famous Siew Pau. Every visitor that comes by will surely get some for family and friends as souvenirs. It is a baked pastry bun with meat fillings, either in pork, chicken, curry chicken or vegetarian. It is best eaten when it is hot from the oven as you get to enjoy the crunchiness. It is truly a not to be missed food whenever you visit here. The best place to get the greatest Siew Pau is at Empayar Seremban Siew Pow at Jalan Besar TBK 4, Seremban.