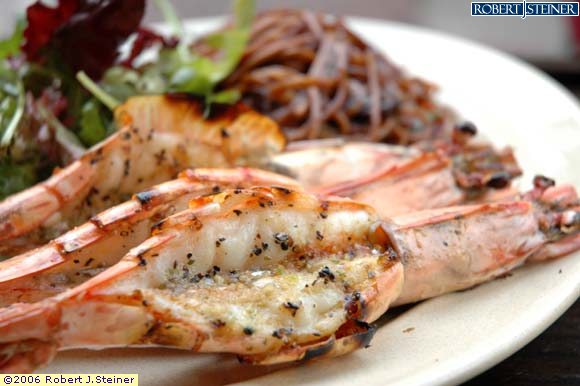 Putrajaya is the new Federal Territory of Malaysia. It is the world's first intelligent garden city equipped with the latest technology such as fiber optic cables and minarets. Here is the model of efficient Federal administration that comes with modern stylized bridges among the natural heritage of flora and fauna surrounding the city.
Selera Putra
Visitors who come to Putrajaya can stop at Selera Putra for food. Located at the Promenade of Dataran Putra, here offers a wide range of food from local favorites to international cuisine. It is a spacious place to dine in and visitors have a choice of sitting indoor or outdoor plus a great view of the Putrajaya Lake. The choices of food are like chicken rice, Nasi Kandar, claypot or sizzling hotplate of noodles, dim sum, dessert and more.
The Red Lobster
The Red Lobster is a seafood restaurant located at the Botanical Garden, Precinct 1. It provides a variety of seafood choices for your selection. Some of the scrumptious dishes are fried rice with chicken and prawn, pan-fried tiger prawn with oats, pan-fried sea bass with nyonya sauce and more.
Kelab Tasik Putrajaya
For some local style western food, you may dine at the Kelab Tasik Putrajaya. Here they serve oriental chicken chop, lamb chop, spaghetti bolognese, fettuccini carbonara, clam chowder soup and many other cuisines. This is actually a club for boating enthusiasts, with excellent dining experience and live entertainment as well. You may find it at Precinct 8, Putrajaya.
Palm Hill Cafe
Situated in the Putrajaya Shangri-La Hotel, this cafe offers a semi-buffet dining. There are Malaysian and International dishes as well as a wide range of vegetarian options available. Some of the recommended dishes are like grilled prawn, mussels, onion baked half spring chicken with cheese and nyonya sauce. The restaurant has a relaxing ambiance with an open kitchen allowing a view of talented chefs preparing your food.
Black Canyon Restaurant
The Black Canyon Restaurant is located at Alamanda Putrajaya Shopping Centre. Here you can find lots of Asian delights or fusion food like fusilli tom yam, stir fried spaghetti with chicken ham, tom yam, American fried rice and others.
Ramadan Bazaar
For visitors who are traveling here one month before Hari Raya. You must visit the Ramadan Bazaar for some traditional Malay delicacies. The bazaar is only available during the fasting month, which is 1 month before Hari Raya. You may see a lot of popup stalls set up at the open area at Precinct 2. Some of the great foods are Otak-otak, grilled stingray, Roti John, Ayam Percik, Kampung Baru Bubur Lambuk, filaments sticks, chicken liver and many more.
Summer Palace
In Hotel Marriott Putrajaya, the Summer Palace is a Chinese restaurant that serves dim sum buffet, sautéed prawns with cream and butter, pan-fried rack of lamb, roasted Peking duck and many more. Visitors who wish to savor some Chinese cuisine must come by to try out the wonderful selection of Chinese dishes available.