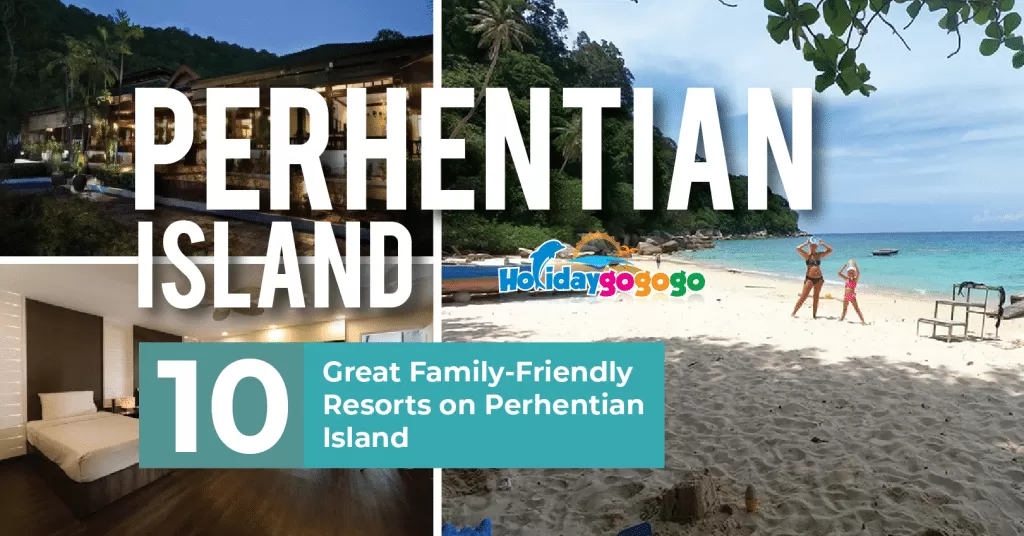 The Perhentian Islands are home to magnificent marine life along with its breathtaking beauty— from gorgeous beaches to stunning sunsets, they definitely deserve a visit. But with little ones, the vacation may not be as relaxing as it can be. In this article, we have summed up 10 Best Family-Friendly Resorts on Perhentian Island that will suit every family's whims and fancies – so that you can decide how best to enjoy your perfect family holiday!
[lwptoc numeration="none"]
---
1. Perhentian Island Resort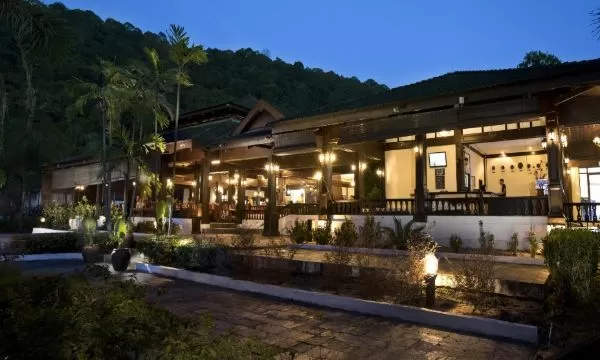 Situated along the PIR Beach in Pulau Perhatian Besar, Perhentian Island Resort (PIR) is a paradise of tropical greenery and pearlescent white sand with tranquil azure waters that simply cannot be missed. PIR is a 3-star family-friendly resort that is safe for families to explore and enjoy themselves in.
For guests who have young children, there are plenty of activities that can be done on the beach to spend some quality bonding time with your family. Building sand-castles, strolling during sunset or even turtle sighting activities to encourage interaction between the children and nature. Stand a chance to spot baby turtles on the shore when you come to visit during peak nesting season which is between July and October!
PIR is known as one of the quietest resorts in Perhentian Besar. Thus, guests can find themselves relaxing in quiet and serene stay in the resort with air-conditioned accommodation with your kids. There is even an outdoor swimming pool provided for both adult and children to spend some family fun time. This resort is ideal for families to spend their vacation in beautiful beaches and clear seawater or even in a large swimming pool.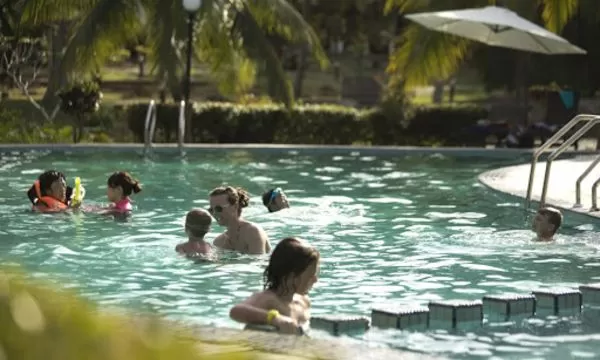 2. Arwana Perhentian Eco Resort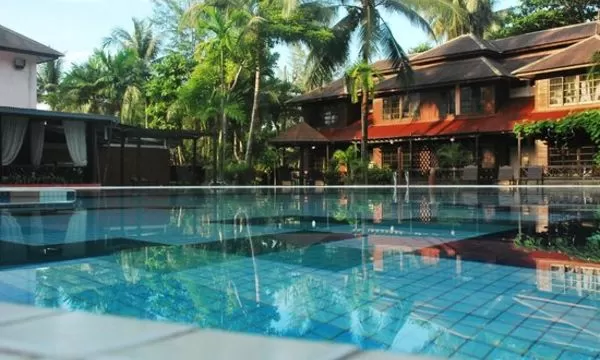 Arwana Perhentian Eco Resort is a 3-star resort that provides a simple yet elegant stay for a family who seeks the perfect blend of outdoor beaches and swimming pool with a relaxing ambience. This resort is strategically located on Teluk Dalam, a beautiful beach on Perhentian Island – perfect for families who would love to explore the underwater world.
There are convenience stores available to fulfil your family's grocery needs and restaurants nearby that will tantalize your taste buds with various authentic Malaysian cuisines being served.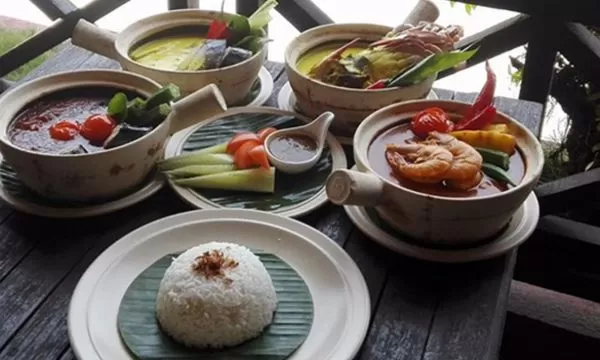 This resort features an outdoor children pool and picnic area for children to spend their never-ending energy with their family. After having a fun-filled day, you can take a good-night's rest with your kids in proper beds in a lovely spacious resort room. Large room and big beds are a must for a family vacation if you would like to avoid waking up with backaches from kids rolling around on the bed!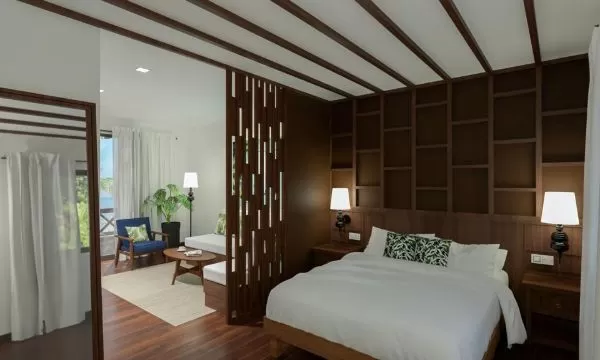 3. Mimpi Perhentian Resort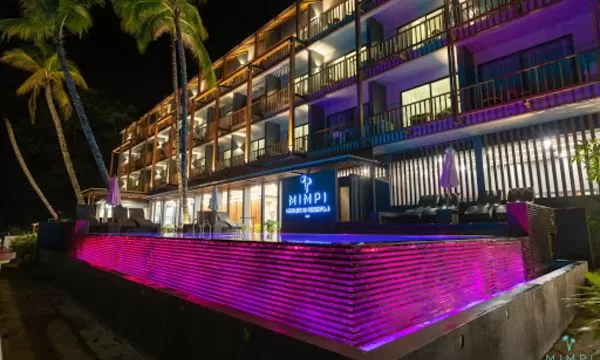 Mimpi Perhentian Resort holds its reputation by featuring 4-star accommodation with a huge saltwater outdoor swimming pool, unique architectural design and friendly staff and services provided. This resort is newly built and started operations in the year 2018 in Long Beach, which is widely considered to be the best-known beach destination that is frequently visited by tourists in Perhentian Kecil.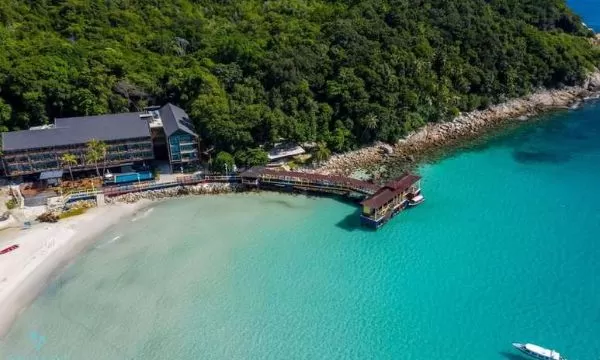 Awarded with the Best Service Award 2019, Mimpi Perhentian Resort has been praised from time to time for offering family-friendly services such as arrangement for snorkelling with kids. This resort even offers child-care service, allowing the adults to take a break from babysitting your children a while! Undoubtedly, you can expect a memorable experience with your children in the Mimpi Perhentian Resort.
4. Bubu Villa Resort
Located on the southern end of Long Beach, Bubu Villa Resort is a nice landing spot surrounded with the lush green environment if your family fancies privacy, indulgence and relaxation in Perhentian Kecil. The villas feature a private walled front garden; thus, you can play relaxing games or family activities with your family within your private space.
This 3-star property features 18 independent villas, differentiated by different luxury amenities such as an outdoor bathroom area to shower under the stars in Garden Villa and a comfortable hot shower bath in Family Villa (great for a refreshing shower after indulging in various water sport activities or spotting friendly baby sharks in an underwater paradise!)
Additionally, a tour to explore the local culture is offered by this resort as well, making your trip not only enjoyable but educational as well for your kids. We believe Bubu Villa Resort is the resort you are looking for if you'd prefer a private and luxury stay with a myriad of outdoor activities that your family will definitely enjoy!
5. Bubu Long Beach Resort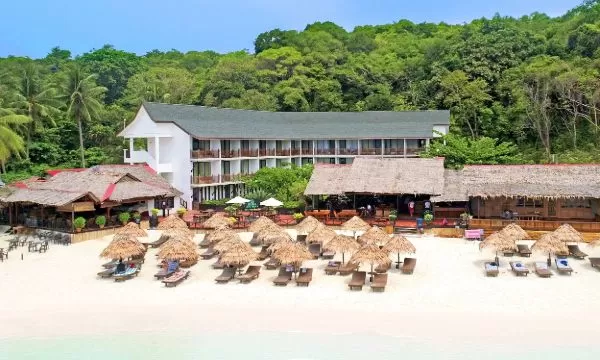 It is hard to miss Bubu Long Beach Resort, which offers gorgeous sea view rooms, fantastic rated service and three different styles of restaurant for your family to dine in, near the northen end part of Long Beach. This 3-star resort is strategically located on the opposite side of the beach where most nightly events are held so your family can rest well in a quiet night.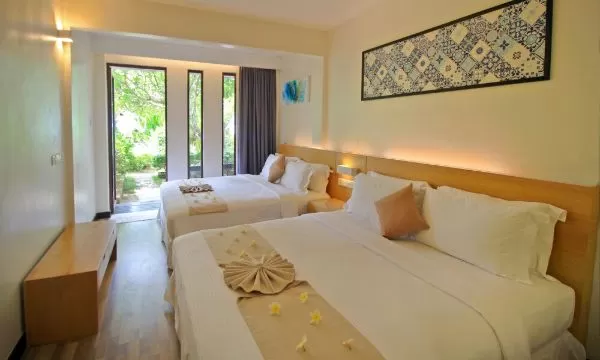 In this resort, you will find the friendliest staff to coordinate all your needs. You can also enjoy fantastic services, such as a therapeutic massage treatment after a long hike up the Windmill Trail, which is located just behind the resort!. If your family needs minor medical treatment, there is a local clinic nearby, which is a mere 5-minute water taxi ride away from the resort. How convenient is this?
There is a beach near the restaurant equipped with plenty of shady areas for you and your little kids to enjoy as well. Bubu Long Beach Resort is perfect for a relaxing family-oriented retreat in this tropical paradise.
6. The Barat Perhentian Beach Resort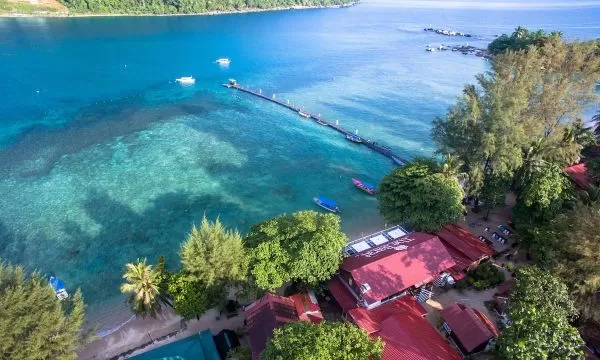 The Barat Perhentian Beach Resort, located in Perhentian Besar, is a fashionable resort with beachfront chalets.  This 3-star establishment offers greenery garden view for the family who chooses to stay in its Family Room with Garden View. Don't worry, rooms with sea views are available as well for those who love the calmness of the gentle blue sea.
This resort offers sensational service as well for guests wanting to check-in early to situate your family's substantial luggage when you reach the resort ahead of time. This resort understands your excitement of exploring the Perhentian Besar with your family!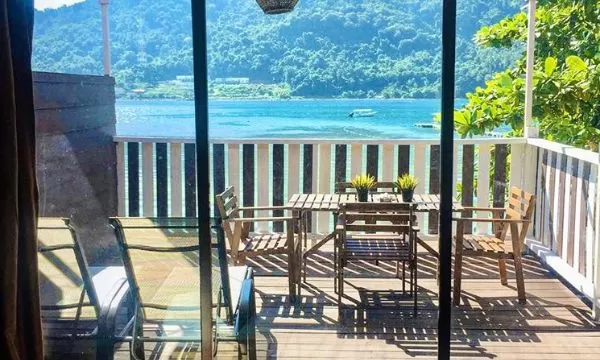 This resort shines its culinary offerings with affordable prices. There is a famous restaurant located just in the resort itself, namely The Barat Restaurant, serving the best local favourites, seafood dishes and Barbeque on Perhentian Besar. Appropriate kids' meals are on the list of menus too – it will be absolutely perfect for family with little ones!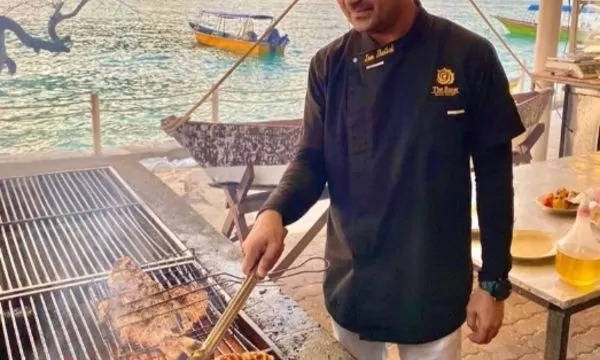 7. Alunan Resort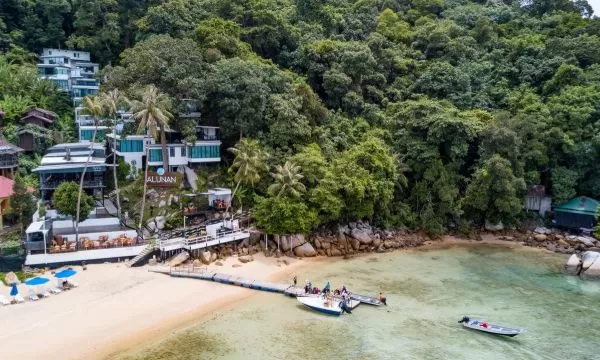 Next on our list is Alunan Resort! Located at the southern part of Perhentian Kecil, this 3-star resort might be your family's perfect holiday home if you are a nature lover. This resort often encourages guests to engage in its coral reef restoration and conservation projects, such as planting new coral reefs under the guidance of an in-house marine biologist. Learning to appreciate nature can also be a fun experience!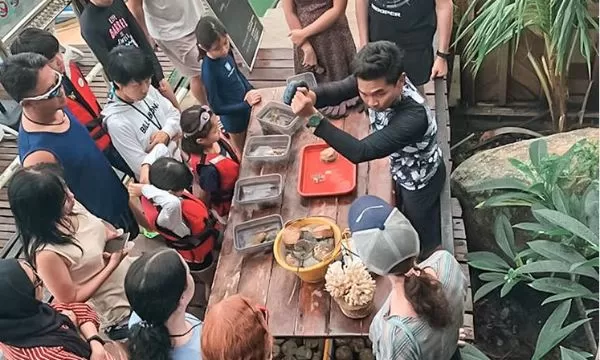 Bring your children along during holidays and check-in to its family suite. In its two-bedroom suite, parents can rest comfortably in a queen-sized bedroom while the kids will have a space of their own in another room with a queen-sized bed and a single bed.
You will fall in love with the floor-to-ceiling glass panels that are equipped in every room at Alunan Resort that allow guests to enjoy the breathtaking sea view. Your kids can also find some competitive-fun when playing board games and puzzles in the family room!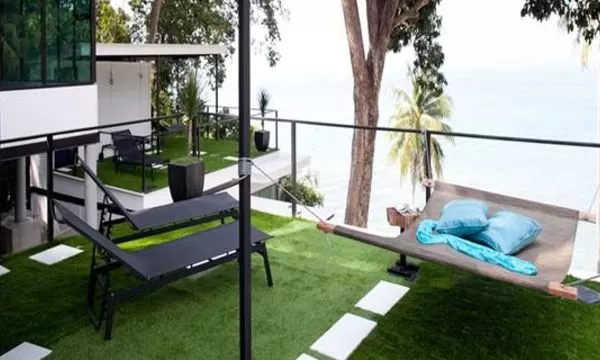 8. Ombak Resort Perhentian Island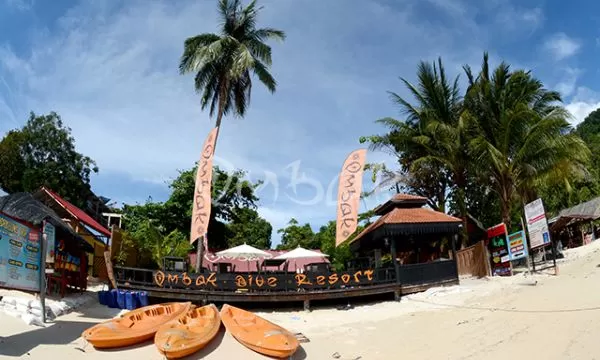 Featuring direct access to Coral Bay Beach in Perhentian Kecil, Ombak Lodge is a welcomed alternative to enjoy a vacation on the smooth white sand and crystal-clear water. Although this 2-star resort may lack a swimming pool and private beaches, it is still able to cater to younger guests in its own special way.
The Ombak Resort Perhentian Island features a laundry list of activities for you and your family to enjoy, including a thrilling fire dance show, live acoustic show or a fun movie night during evenings at the restaurant. These events will surely keep your children (and even yourself!) in a constant state of fun.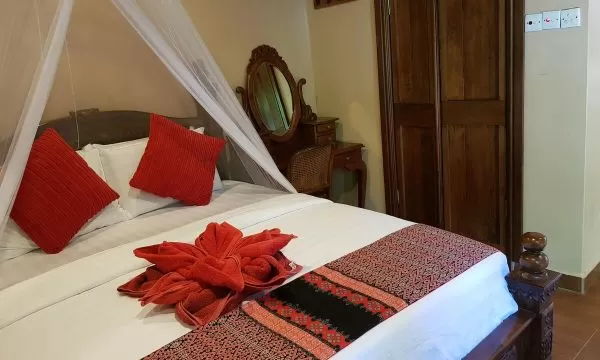 While the morning is filled with plenty of fun water sport activities, you can rest in peace and quiet atmosphere at night in sound-proof rooms while the evening entertainments are held. Besides, there are books, DVDs and music provided in the family room to keep your little ones occupied if you need some 'Me time' when staying in the resort.
9. Shari-la Island Resort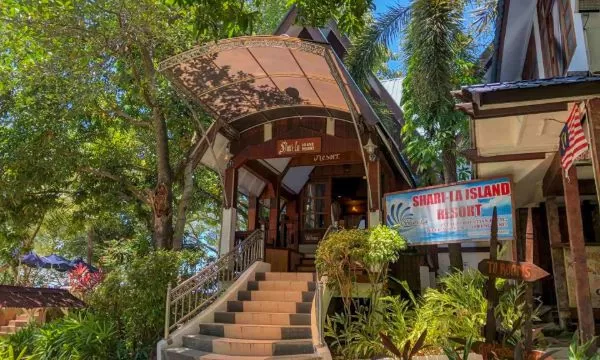 Shari-la Island Resort is a 3-star resort located within a 15-minute walk to Long Beach in Perhentian Kecil. Its strategic location away from Long Beach makes it ideal if your family prefers to settle in the quieter part of Perhentian island.
It has earned its reputation as one of the best family-friendly resort by offering a laundry list of family amenities and accommodation: including a play pool for children (with a slide!) and a small private beach that is ideal for families with younger kids to enjoy some peace on an empty beach.
The development around the resort is still generally low-key as it has retained most of their original forest cover. You can look forward to meeting some monitor lizards, spectacled languor monkey and flying squirrels! Several jungle trails link the resorts and beaches on the island, and lie waiting for you to explore them! It will be an unforgettable experience for the children to see these animals hanging around.
However, a gentle note: it is commonly companied with insects specifically mosquitoes in the resort. Remember to prepare bug sprays when you stay in Shari-La Island Resort with your family!
10. Coral View Island Resort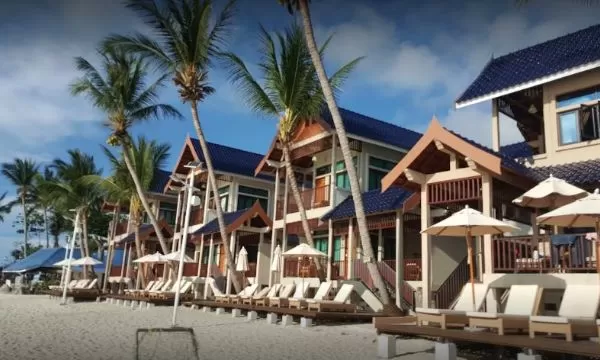 Come to Coral View Island Resort, and you will be a few steps away from Teluk Pauh Beach, which is one of the famous beaches in Perhentian Besar. This 2-star resort is ideally located nearby the ferry terminal and jetty where water taxis gather so you will definitely find it convenient to board a water taxi to access all that Perhentian Island has to offer!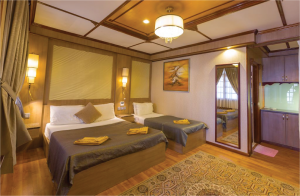 This family-friendly resort on Perhentian offers a myriad of accommodation options for families such as a family suite with sea view, garden view or deluxe garden view. While there is a private pool in the family suite, there is a newly built outdoor swimming pool for families with older kids to enjoy. It is perfect for families who love swimming, no matter in a swimming pool or the sea!
Good news for the families travelling with infants as a baby crib may be requested directly from the property as well. There are friendly staff always ready to serve you and your family during your stay in Coral View Island Resort.
---
Perhentian Family Tour Packages: