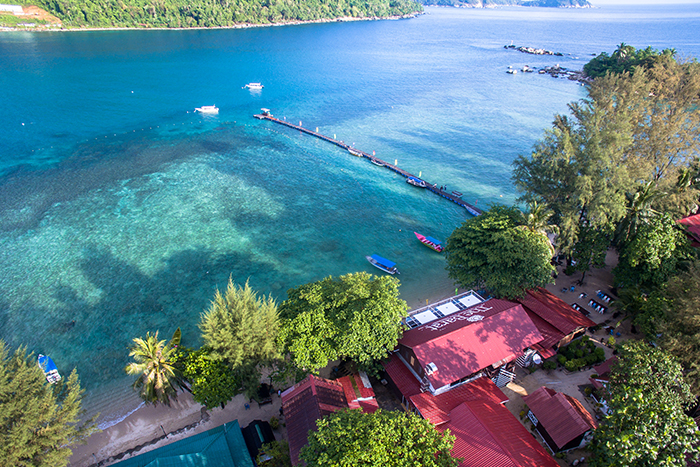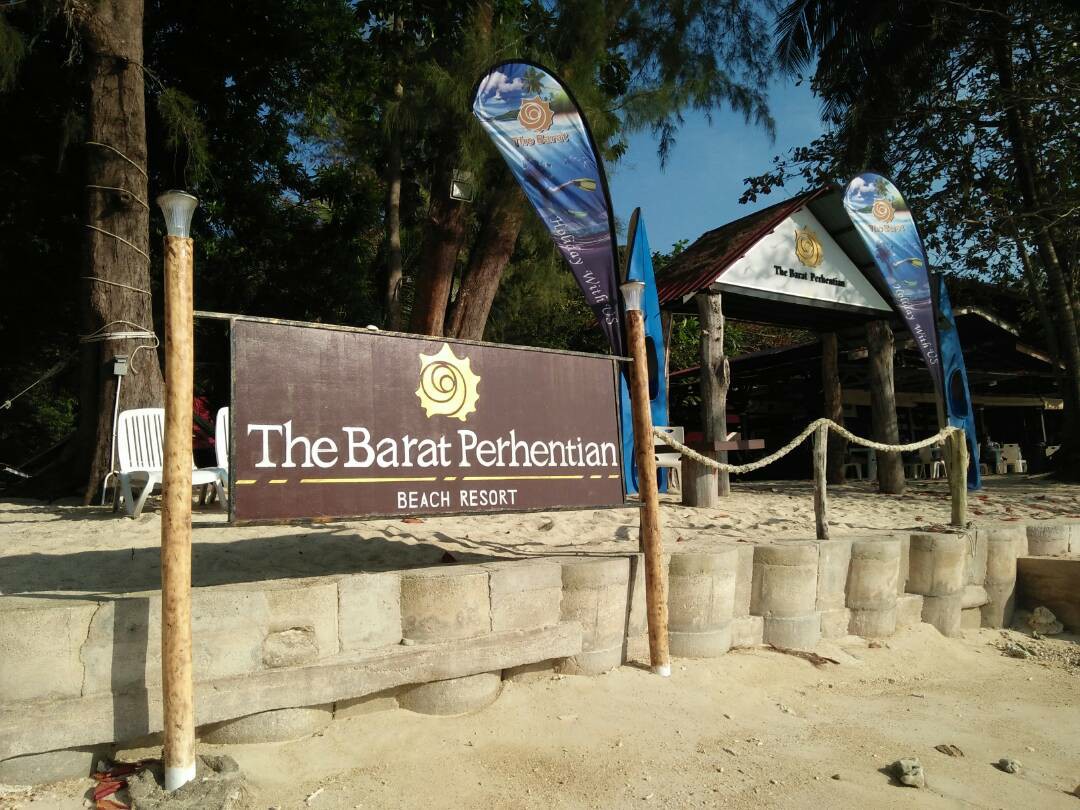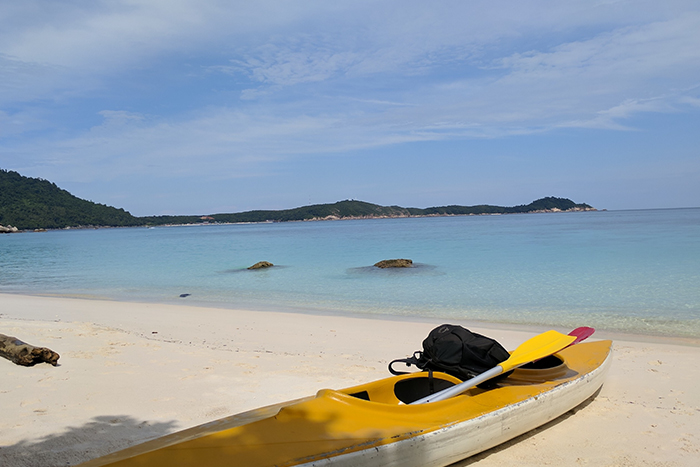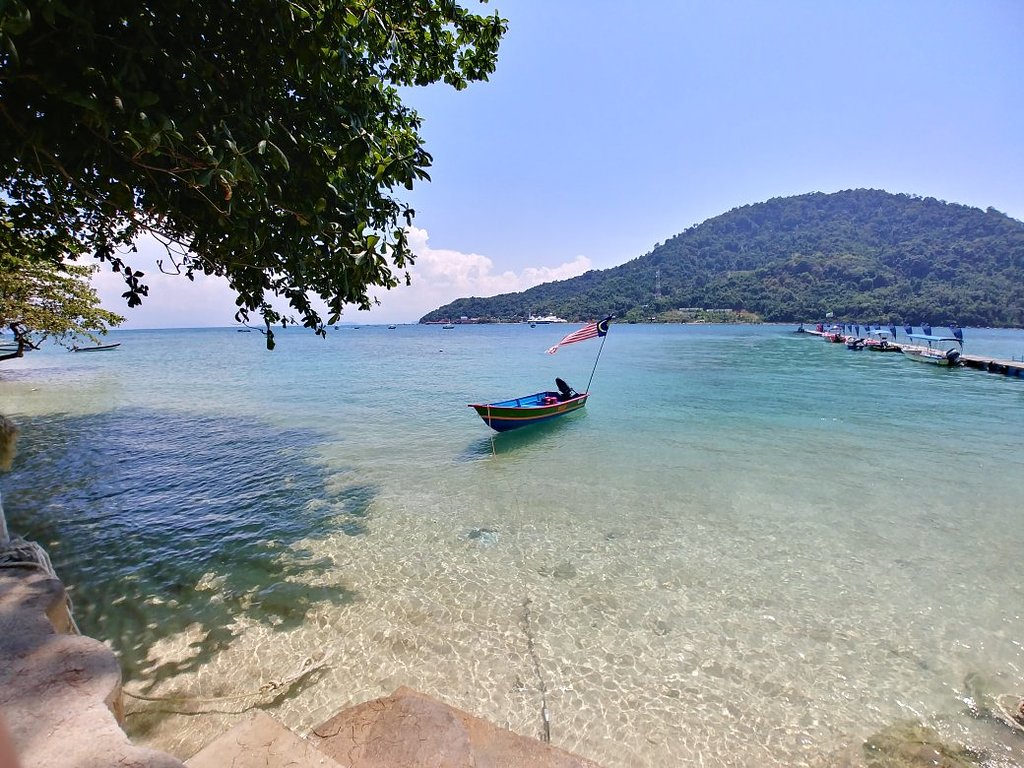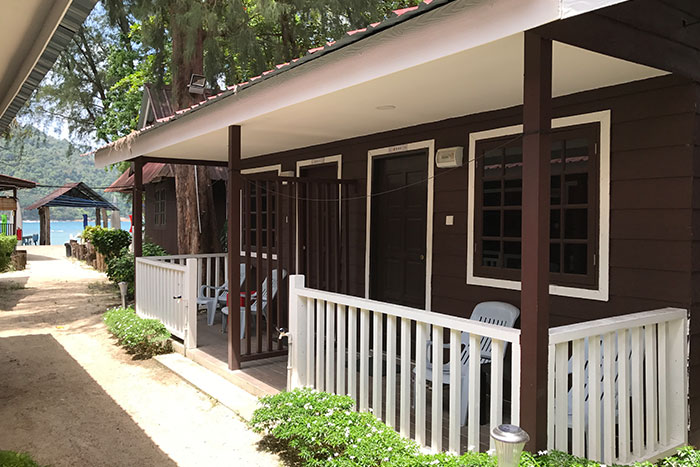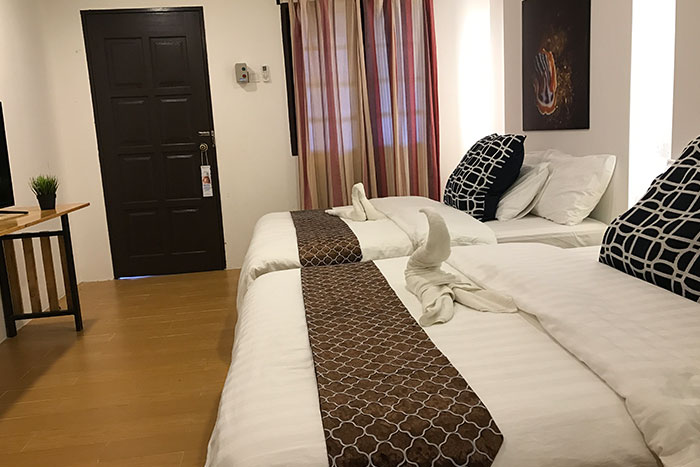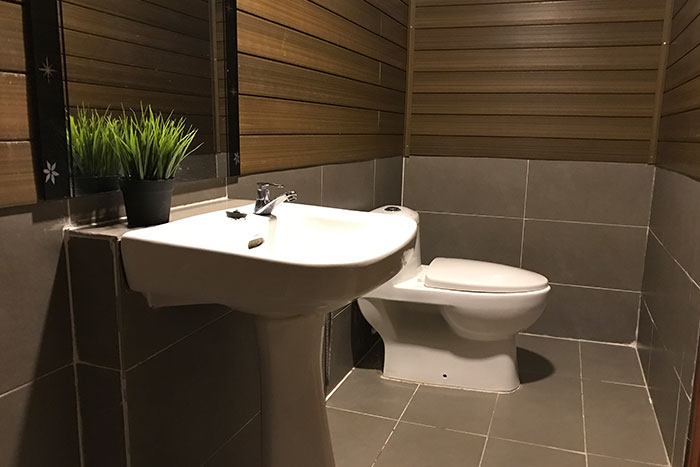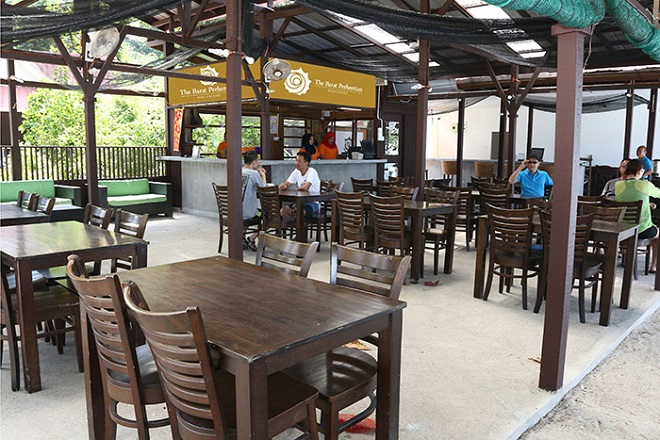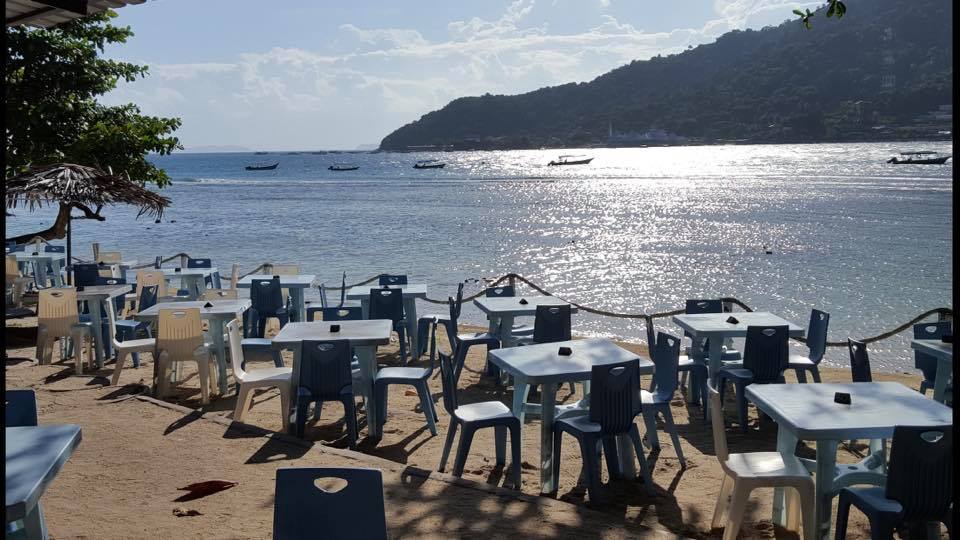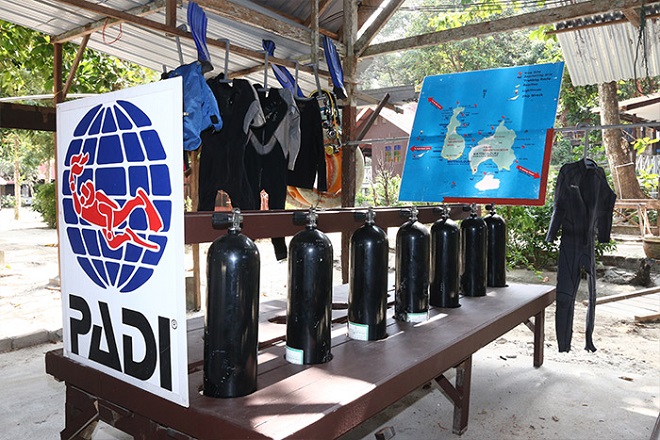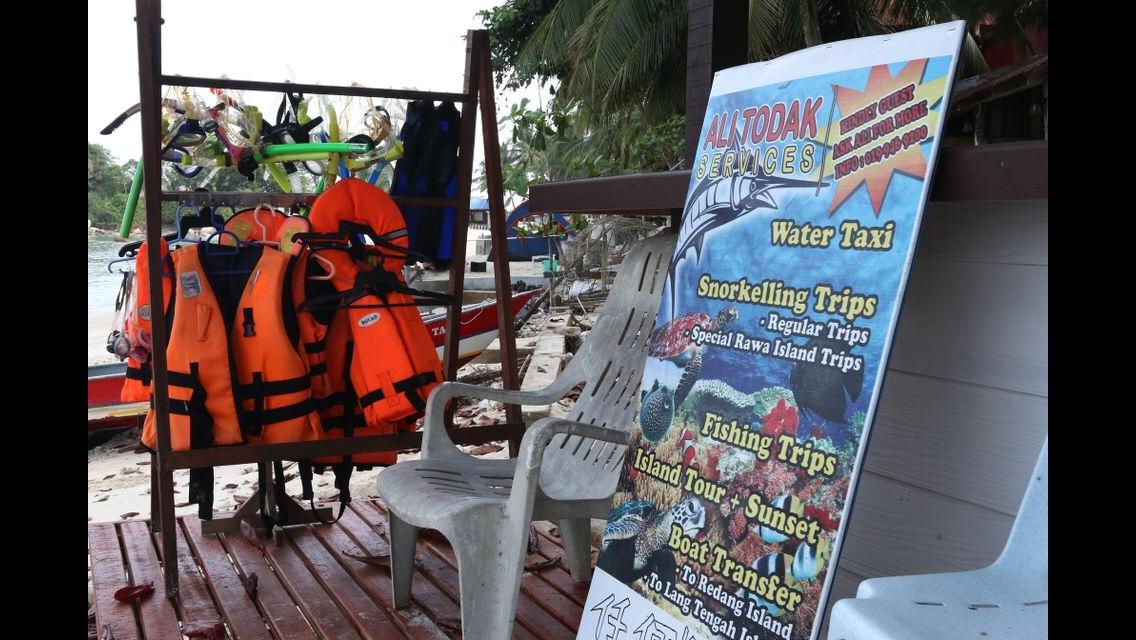 Garden Chalet Standard Exterior
Garden Chalet Twin Exterior
Superior Family Chalet Exterior
Superior Family Chalet Bathroom
The Barat Restaurant (Outdoor)

112 reviews
From
RM
425
- RM
1,200
---
Latest online promotion for 3D2N The Barat Perhentian Beach Resort Snorkelling Package, book with Holidaygogogo to save more! Chat with us today to find out more!
---
Itinerary:
---
Day 1
Pearly white and soft sand with amazing view, Perhentian Island is truly the Maldives of Malaysia as many tourists has said. One of the most popular resorts in the island is The Barat Perhentian which is suitable for honeymooners and a group of friends get together.
Getting to Kuala Besut Jetty it is advisable that you came early to avoid any misfortune or delays going to Perhentian Island. If you came by flight, it is recommended that you choose the arrival time at Kota Bharu Airport before 10AM for you to easily travel from the airport to Kuala Besut Jetty smoothly. When you have arrived at Kuala Besut Jetty, head to The Barat Beach Resort office to register any necessary info required before boarding the boat.
Next, when everything is done you can finally board your boat. The journey takes roughly 40-45 minutes from jetty to Perhentian Island. Be wary during the journey because sometimes they will drop off people to the Fishing Village Jetty and then proceeds to the Barat Perhentian. Check in time at the resort is 2PM if you arrived earlier, you may leave your non-valuable items at the lobby and go eat lunch. There are a few restaurants available if you want to skip the hassle of walking searching for food, you can just dine in the The Barat Restaurant.
After checking in, you only have 30 minutes to rest before going to your snorkelling trip. Snorkelling equipment and life jackets can be rented at the resort for only RM20, but for hygienic reasons it is recommended that you brought your own snorkelling equipment. Head to The Barat Restaurant to get your dinner after finishing your snorkelling trip and later that night you may use your leisure time to do anything you like.
– Register at The Barat Beach Resort office at Kuala Besut Jetty
– Depart from Kuala Besut Jetty to Perhentian Island
– Arrive at The Barat Beach Resort
1400 – Check In
1430 – Snorkelling Trip A (Shark Point, Turtle Point & Turtle Beach, Teluk KK)
1700 – Back from snorkeling
1830 – Dinner
– Free & Easy
Meal Plan: Dinner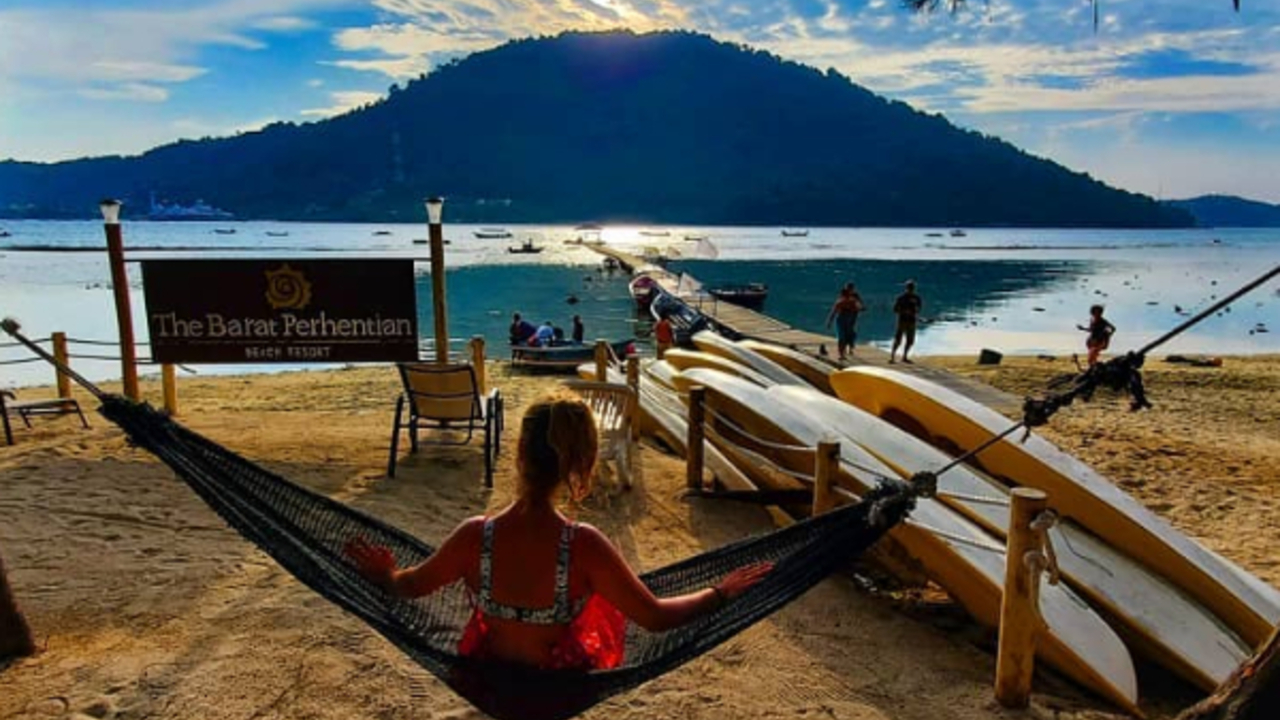 ---
Day 2
Have your first breakfast at The Barat Restaurant early in the morning and then maybe you can go for a short swim while waiting for your next snorkelling trip at 10AM. Want to take the photos of the captivating marine life during your snorkelling sessions but don't have the camera? No worries, you can also rent underwater camera from the resort at RM70++. This next snorkelling trip you will be going to 4 snorkelling points which is Pulau Rawa, Tokong Burung, Serenggeh.
After coming back from the snorkelling trip, have your lunch at The Barat Restaurant and use your free time to explore the island! There is so much to do at the island and not just restricted to swimming and snorkelling. If you are interested in experiencing the most beautiful view on the island, travel to Perhentian Kecil, Long Beach by the water taxi and walk through Awatif Café. You will find a signage at the front and the journey will take about 30 mins with an easy hike. Recommended time to visit here is 12PM when the sun is at the highest.
Be back at the resort before 6PM to avoid being overcharged and get to dine in your BBQ dinner in time. Later that night, it is up to you to use your own leisure time.
0800 – Breakfast
1000 – Snorkelling trip B (Pulau Rawa, Tokong Burung, Serenggeh)
1300 – Back from snorkeling
1330 – Lunch
1430 – Free & Easy
1830 – BBQ Dinner
– Free & Easy (Arrange return boat schedule with front office)
Meal Plan: Breakfast, Lunch, Dinner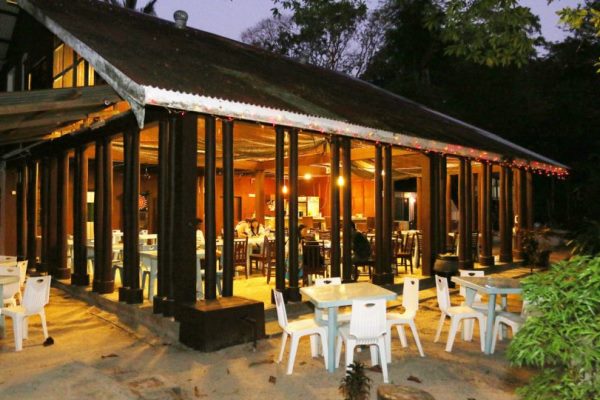 ---
Day 3
Have your last breakfast at The Barat Restaurant and capture the moments as much as you can. After that, pack up your bags and use your few hours of free time before checking out.
0800 – Breakfast
1000 – Check Out
1200 – Depart from Perhentian Island to Kuala Besut Jetty
Meal Plan: Breakfast
---
Includes:
2 ways boat transfer (Kuala Besut Jetty-Perhentian Island-Kuala Besut Jetty)
2 nights accommodation
2 set breakfast
1 set lunch
1 set dinner
1 set BBQ dinner
1 complimentary snorkeling trip A – Shark point, turtle point & turtle beach, teluk KK
1 complimentary snorkeling trip B – Pulau Rawa, Tokong Burung & Serenggeh.
Snorkeling equipment and life jacket
---
Excludes:
Marine Park fee

Adult – RM5/Malaysian, RM30/Non Malaysian
Child – RM2/Malaysian, RM15/Non Malaysian

Besut Council Fee

RM3 per adult (Terengganu Resident)
RM5 per adult (Non Terengganu Resident)

Kuala Besut Jetty Service and Access Fee
Travel insurance

(strongly recommended to purchase)
Other expenses not stated in the "Includes" section
---
Important notes:
Itinerary and package content is subject to last minute changes due to weather or operational issue.
Activity stated (if included) is provided on complimentary basis, no refund will be made for cancellation of activities due to weather or operational issue.
Other terms and conditions for booking.
All the photos shown are for reference purpose only, there may be different design/decoration/setup on actual unit.
Child aged 6 years old and above (based on year of birth) is charged with adult rate.
Child aged between 2 – 5 years old (based on year of birth) is charged at child rate (Includes boat transfer and 2 snorkeling trip only).
---
Price:
Pricing is based on per person basis
Step 1: Select a Date
Step 2: Select Number of Guests (Per Room)
Please enter quantity of adult/child PER ROOM
No Package Found 😕
Please try other dates
No Room Found 😕
Please try other guest number options
The price stated is for budgetary purpose only, pls chat with our customer service for detailed quotation.
---
6 Benefits for booking with Holidaygogogo Tours Sdn Bhd, no more worry of SCAMMER!
1 to 1 personalized customer service & tour suggestion. We want to make sure you get the fastest response and latest information, even during weekends or public holidays. 

Licensed travel agency under

Ministry of Tourism MOTAC

&

 

Malaysian Association of Tour and Travel Agents MATTA

. Click above link and enter our company name Holidaygogogo Tours to check our license and membership. We are not scammers. 

More than 10 years experience in the tourism industry. We are serious in doing business. 

5 star customer rating in

Google

&

Facebook

. We let our customers judge us publicly, only agencies who provide the best service dare to do so.

Regular on site inspection to ensure product quality is met according to customer requirements. 

Reservation is done with complete paperwork and supporting documentation. We don't collect payment without any documentation, we will ensure all the reservations are done before collecting payment.
Customer Reviews for Holidaygogogo: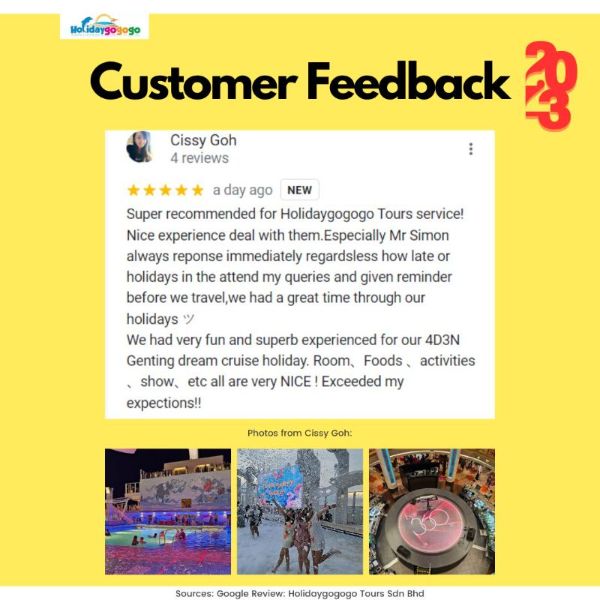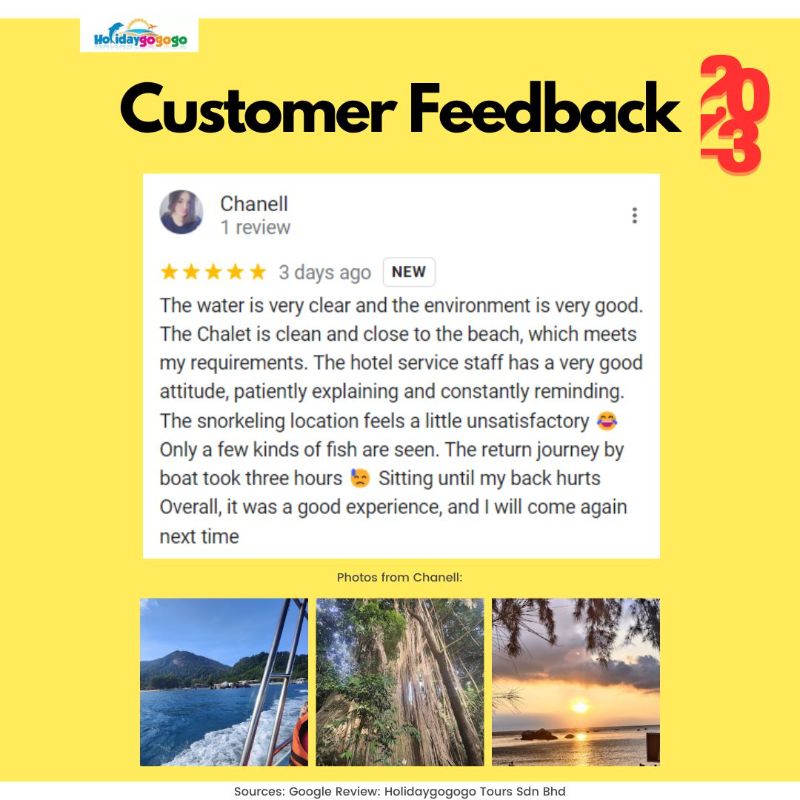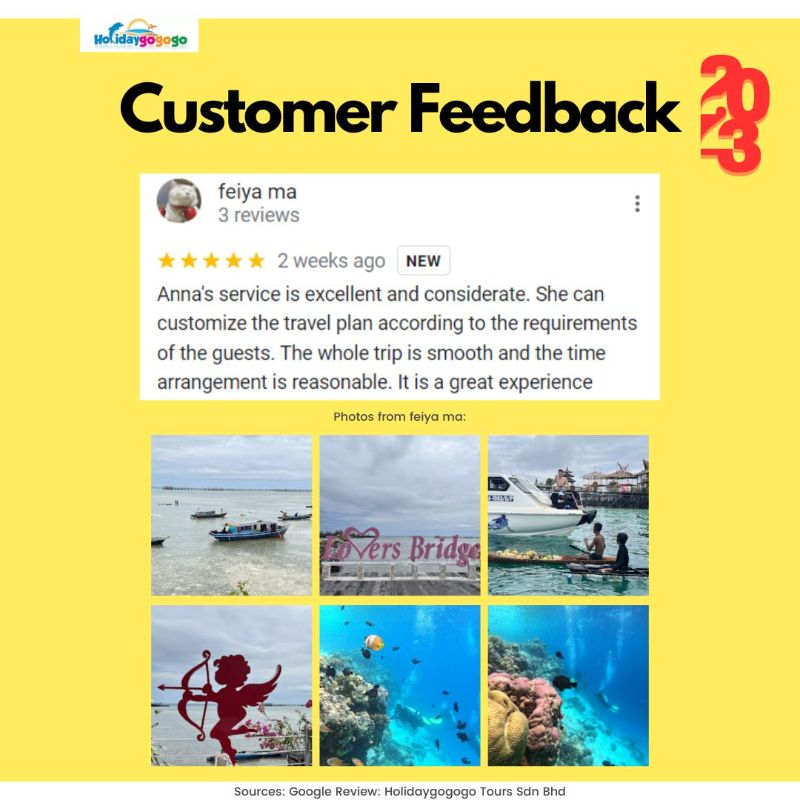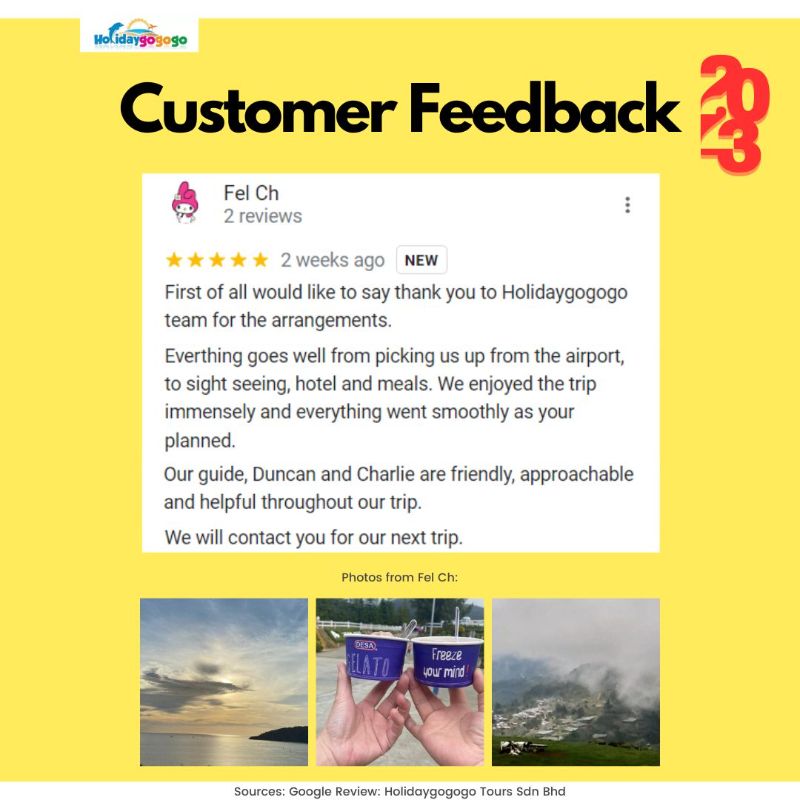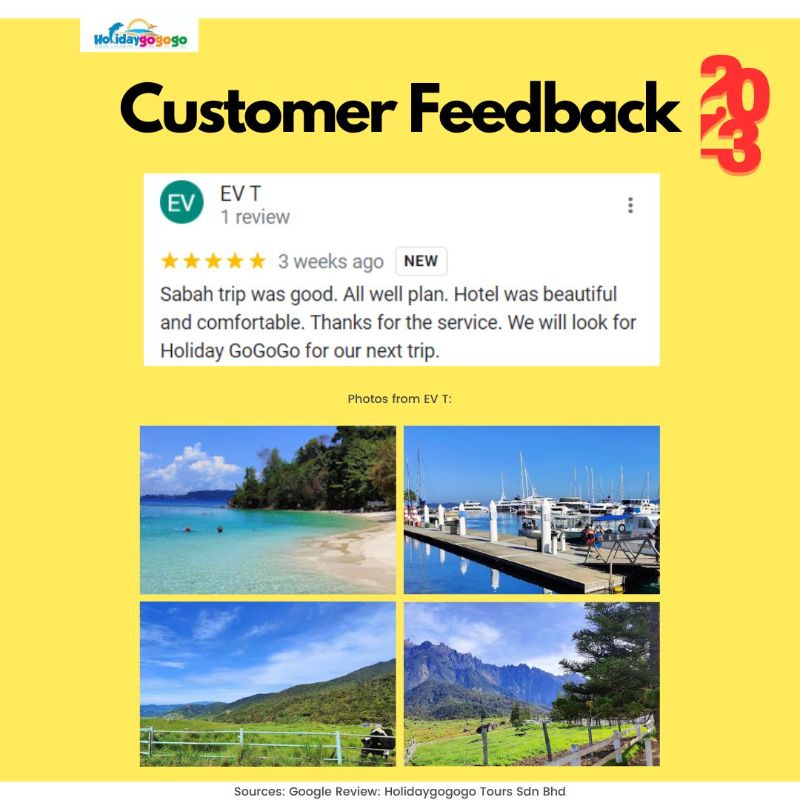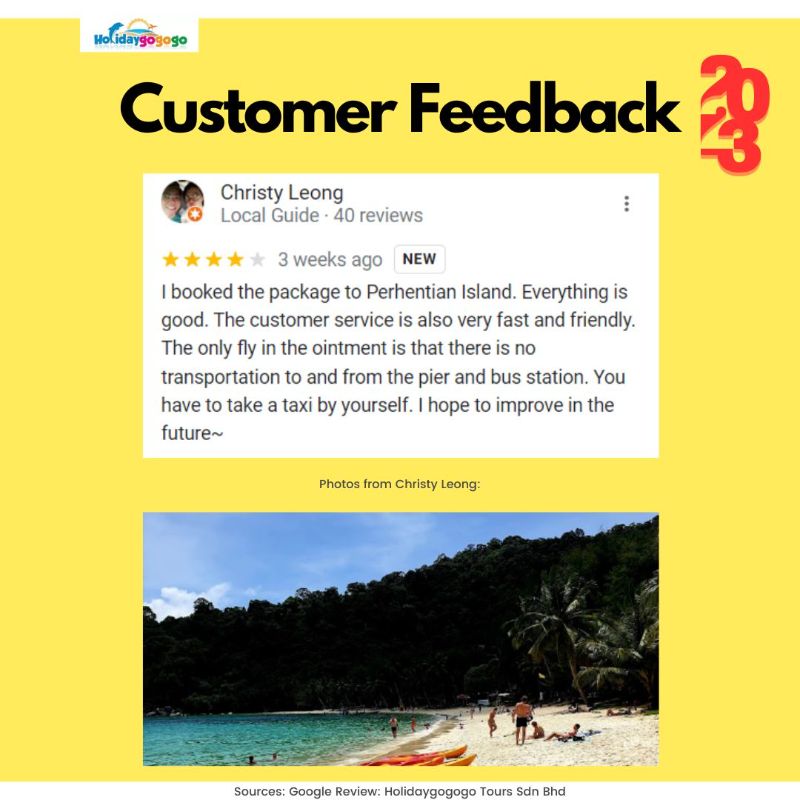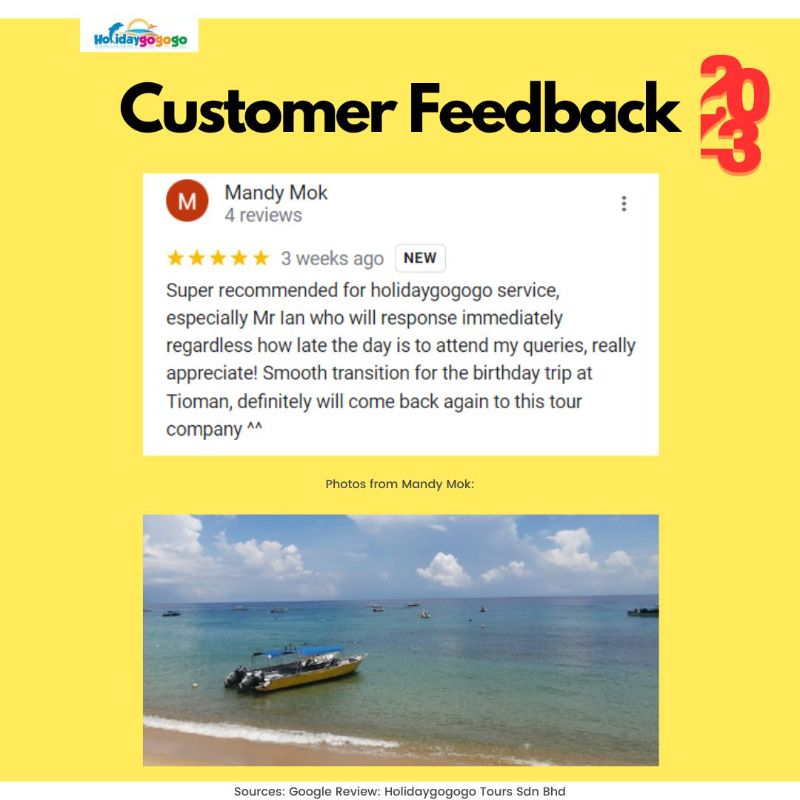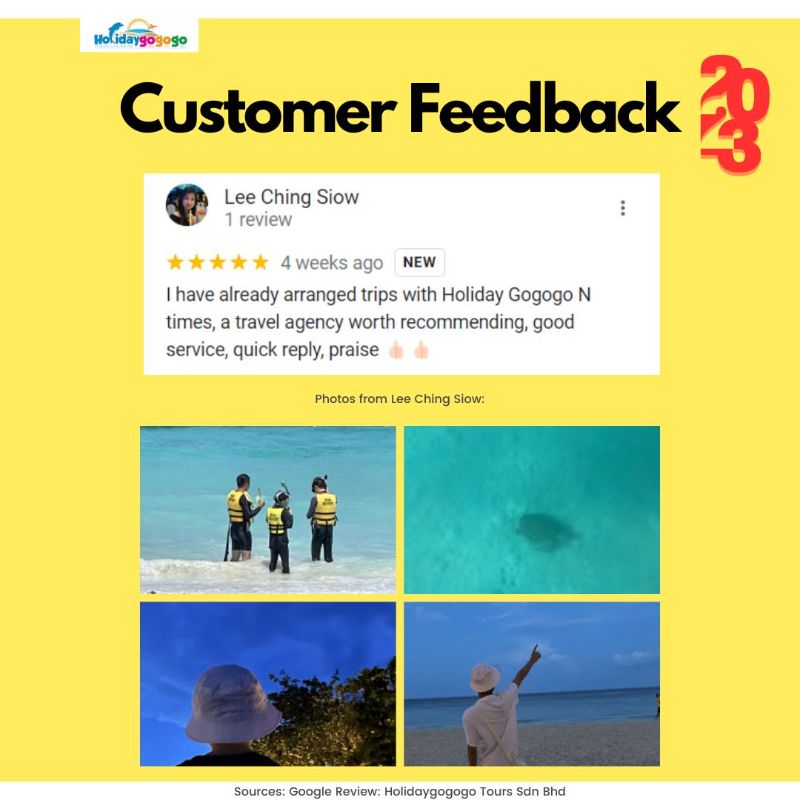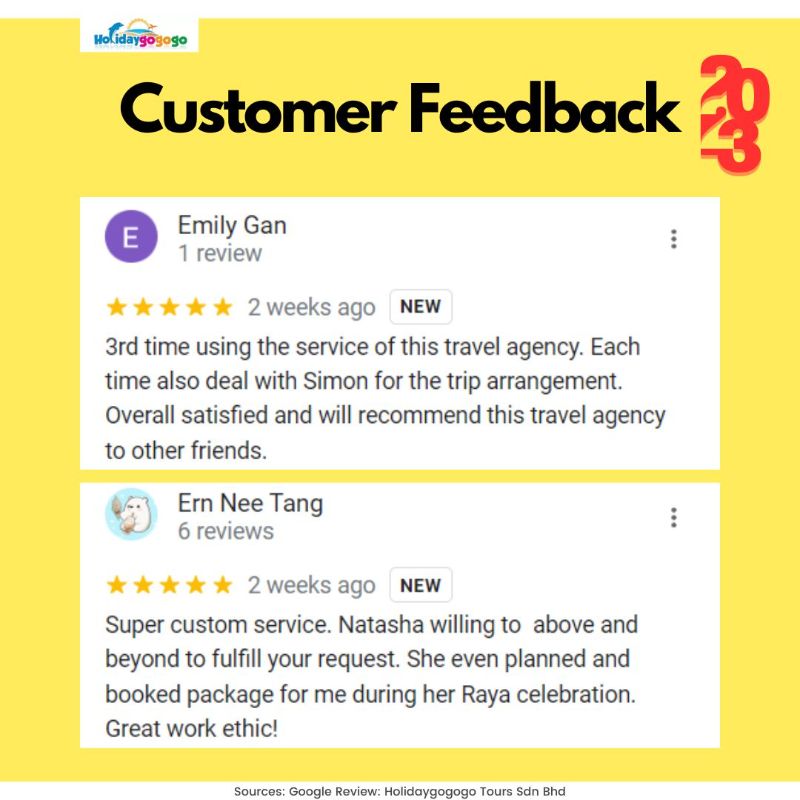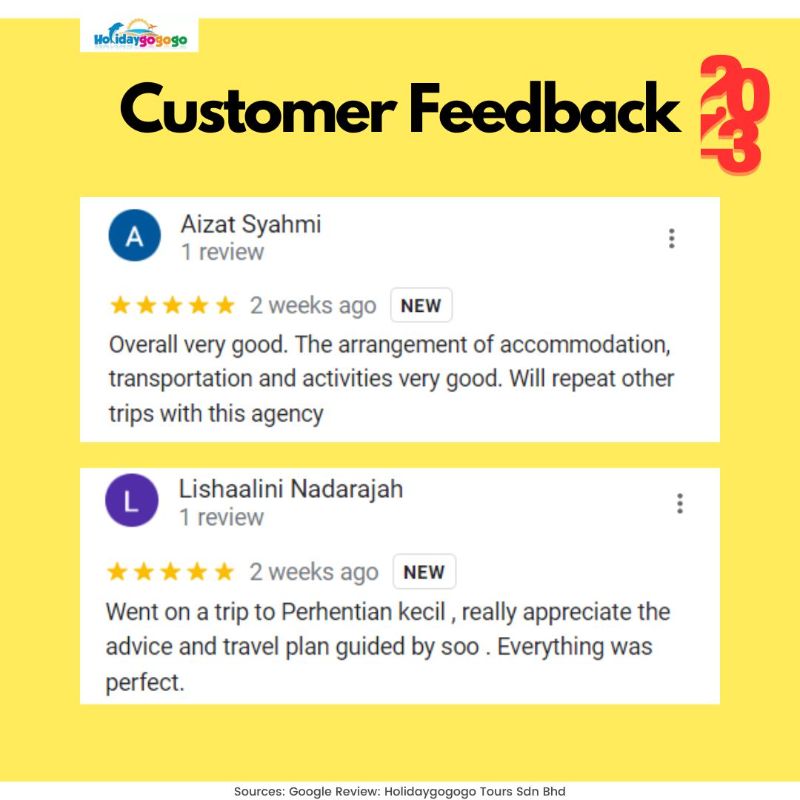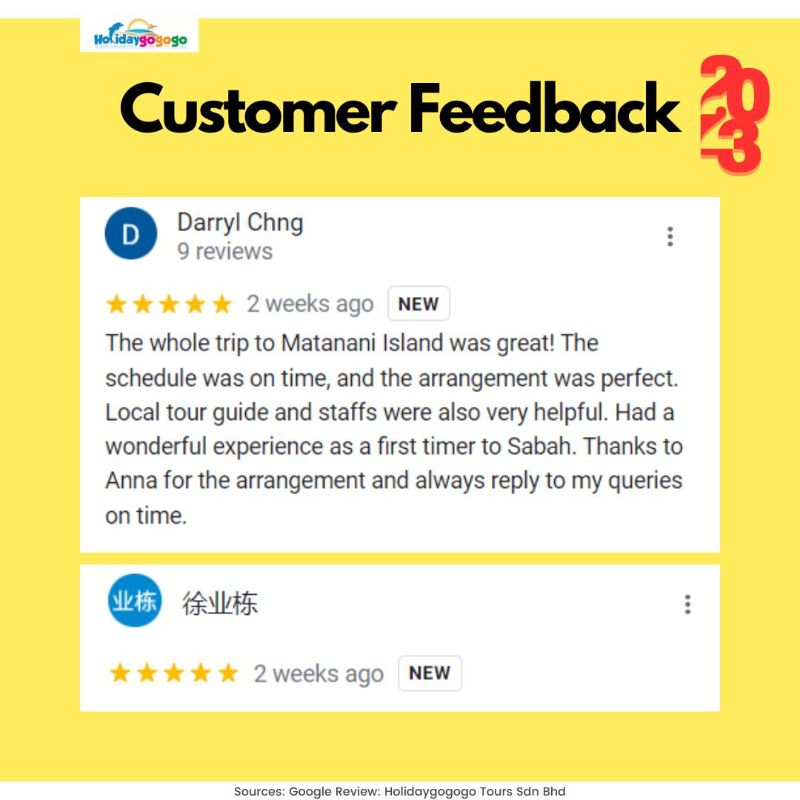 holidaygogogo travel agency review
holidaygogogo travel agency review
holidaygogogo travel agency review
holidaygogogo travel agency review
holidaygogogo travel agency review
holidaygogogo travel agency review
holidaygogogo travel agency review
holidaygogogo travel agency review
holidaygogogo travel agency review
holidaygogogo travel agency review
holidaygogogo travel agency review

---
Whatsapp:
Please WhatsApp us by clicking the WhatsApp Button.
---
Email Enquiry:
---
Related Tours & Packages:
---
Rating & Review: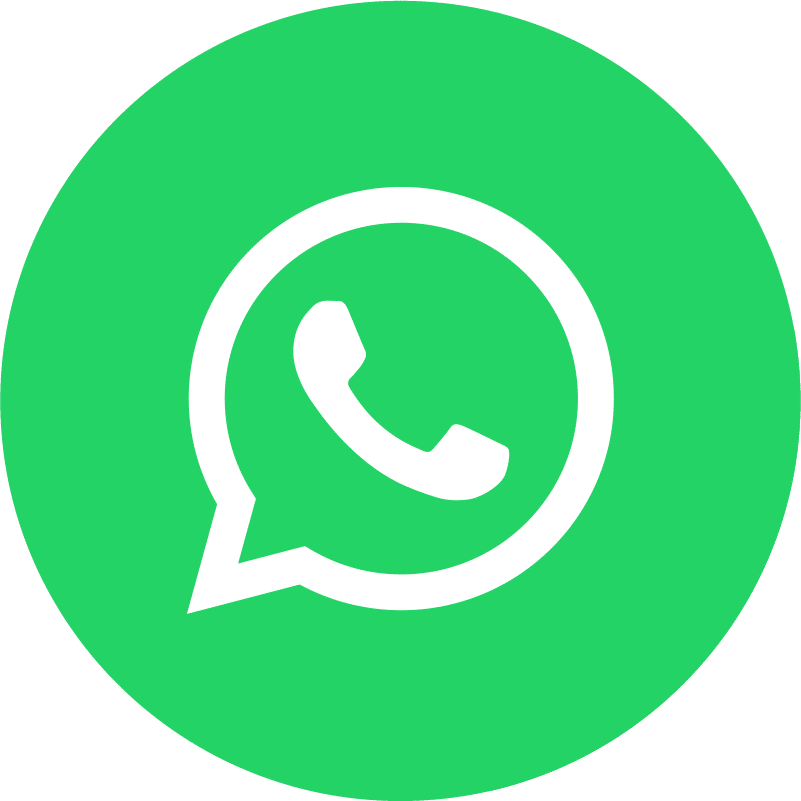 HolidayGoGoGo
Average rating:
5 reviews
Jan 16, 2023
We had a room with two king size beds so while the beds were pushed together, we had a really big sleeping area. The food in the Barat Perhentian Resort restaurant is delicious and the location is not bad to start various hikes to other places and forest. Some beautiful beaches can be accessed with water taxis in the area (eg Turtle Beach). We also try the nearby restaurant and market, overall everything was good.
Jan 13, 2023
I have stayed in other hotels on this beach, and they were not as clean as Barat Perhentian Resort. Barat Resort looked great and much cleaner - the standard is way better than the others. The beach is clean. Toilets are cleaner than others. The restaurant was great with wide food selection. Will stay here again! I love it!
Jan 8, 2020
The resort is basic but well maintained, the food is nice and having a good selection. The beach is not that nice but you can walk to the nearby beach (in front of Perhentian Island Resort), that stretch of beach is much better. This package is value for money and worth every penny spent.
Jun 23, 2019
Previously I stayed in some really bad resorts, but this resort is very clean, especially the bathroom is new and beautiful. The only strange thing of the resort's accommodation area is the smell from the bathroom drain at night, ignoring that, this is an ideal place for a holiday.
Dec 7, 2018
Came to Barat Resort in Perhentian during the last pre monsoon break, the view is spectacular and less crowd. The room is clean and basic, but worth at its price, the foods in the restaurant is one of the best on this beach as we saw quite a number of tourists coming from other resorts. There is no fancy facilities here but the beach is nice and snorkeling is fun!