Day 6
Today is the second day in Mulu. As I will only be going to the Deer Cave and Langs Cave, the whole morning will be free activities. The views from Mulu:
My breakfast: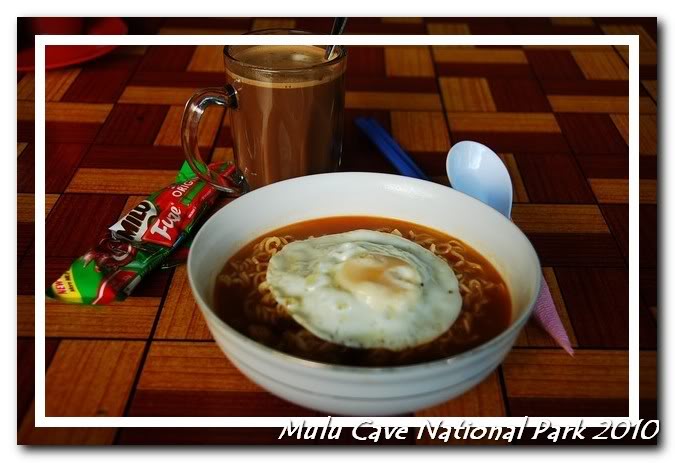 I wouldn't recommend you to stay in this camping site, as there are many rats running around. Well, unless you love animals or enjoy watching Mickey Mouse's films 🙂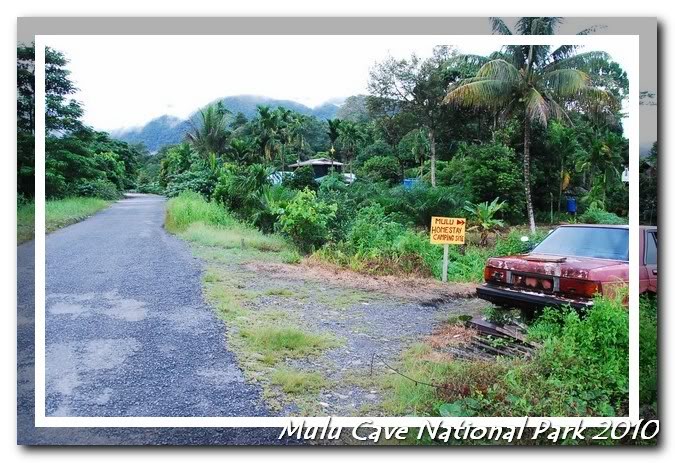 The St. Philip Chapel
After this, I went back to lodge and wait for Edward to fetch me to visit the flea market (nearby Tamu). It helps me so save up 15 minutes of walking as it's 30 minutes walking distance away from the lodge! There's a rocky road after passing by the airport, you will see a muddy road on your right after 5-7 minutes and you have to turn into the road. Once you see the clinic and the primary school, you will be able to see Tamu if you are following the way along the river bank.
Actually even I don't come to this market alone today, the ClearWater Cave and Winds Cave tour group will lead their tourists to shop here tomorrow. My advice is, it will be better to reach here before 9m to avoid crowd and the shop closure 🙂
The Long House
Tamu (The flea market with handmade products):
Walking back to the lodge:
My lunch today is the fried rice with chicken wing while the other guest' menu is fried rice with chicken fillet.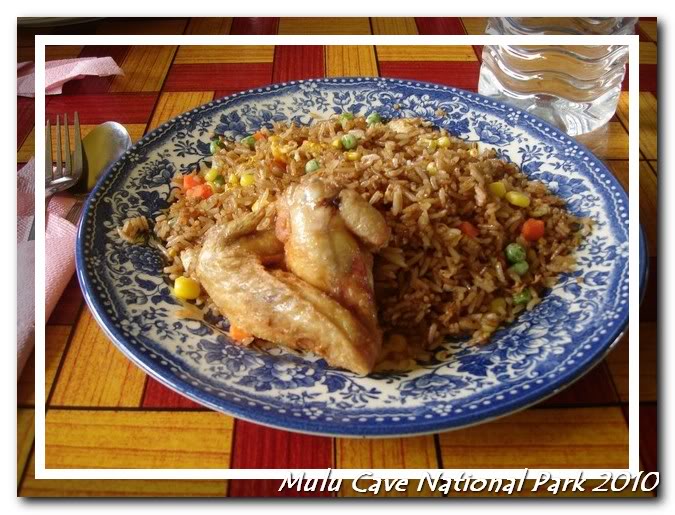 1pm: My tour guide (A) reaches and the other guest (Tae) asks if he could join along but not subscribing the package. Since I am okay with it, A has no issue too. So, Tae has a free tour guide by just purchasing a RM10 entrance pass!
The first spot: Mulu Discovery Centre
It needs about 1 hour 15 minutes to walk from HQ to Deer & Langs Cave.
Deer Cave
The total distance from HQ to Deer and Langs Cave is 3km and I have walked to and fro for 3 times!
The side view of Lincoln 🙂
The road we passed by before entering Deer and Langs Cave:
5.30 to 6.30: Everyone is waiting for this moment but unfortunately, it rains! Some people even pray the sky will stop raining so that they don't miss the moment the bats fly out from the cave.
There are 5 cameras in the cave which enable us to see if the bats are flying out from the cave. Unfortunately, we leave with disappointment at 6.30pm.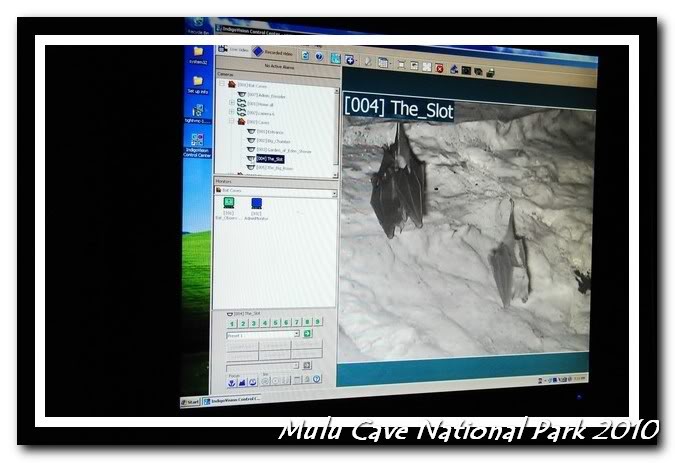 Tonight comes another 5 room mates to the dorm, the other guest (T) and I will no longer feel lonely! We are having our dinner, drink and chit chat as usual. Some of the restaurant guests are not staying in the lodge but here to make new friends. Some are even so satisfied of the lodge's condition and shift to stay here the next day.
My dinner (4 dishes with 1 soup). There is also the fruit serving. Yummy pineapple! The dishes are never repetitive!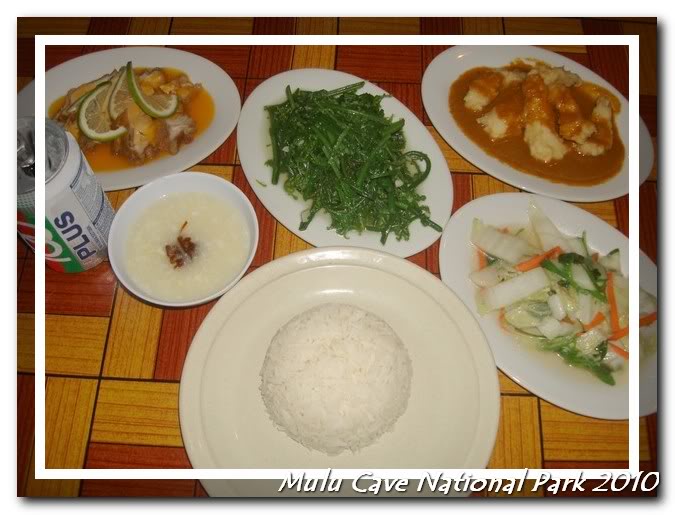 –  end of the 6th day –
---
Day 7
Today is the third day in Mulu and we'll be heading to Winds Cave and ClearWater Cave. We are meeting at A's dorm after our breakfast.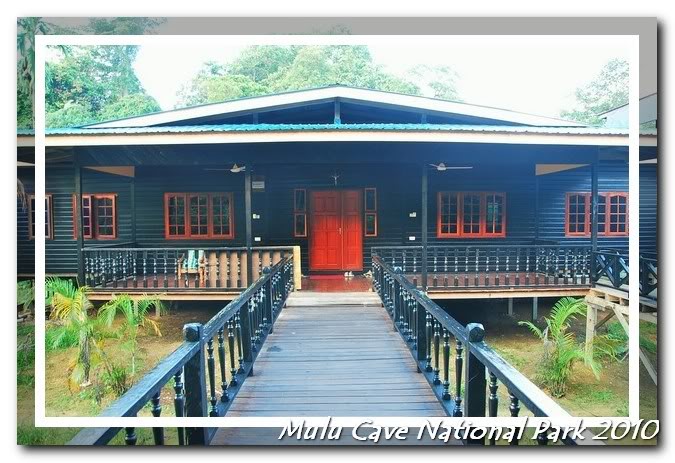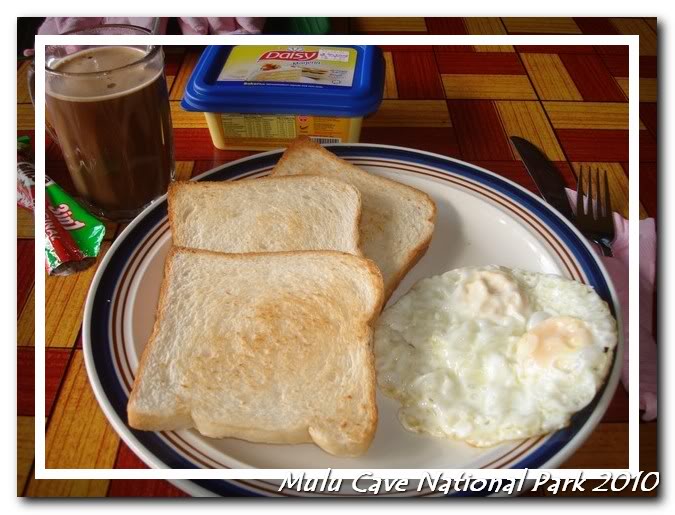 The boatman is so punctual to pick me up to go A's dorm.
The first stop is the Tamu where I have went yesterday. There are really have more to look for if you reach before 9.30am.
Had a short tea break when we reached Winds Cave. Just a side note, those tour groups from Park HQ did not receive the tea break offered.
Winds Cave
The scales/skin shed  from the snake (the process is known as ecdysis)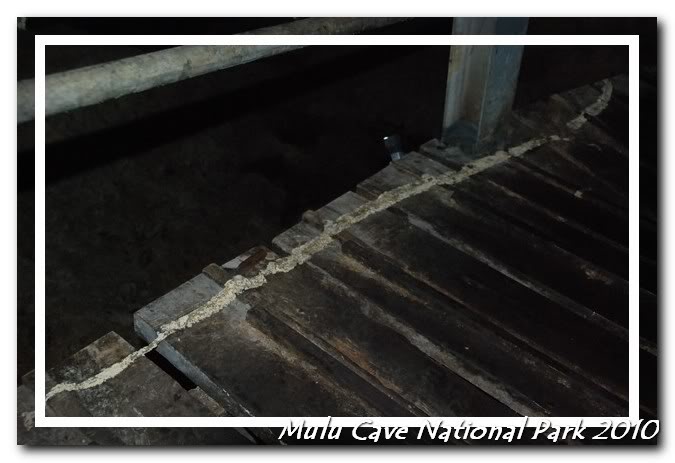 Clear Water Cave
Lunch: For the Park HQ tourists, they would need to go back to the Park to have their lunch. Those with tour package will stay here for lunch and free activity. They can even enjoy swimming here till whenever they want.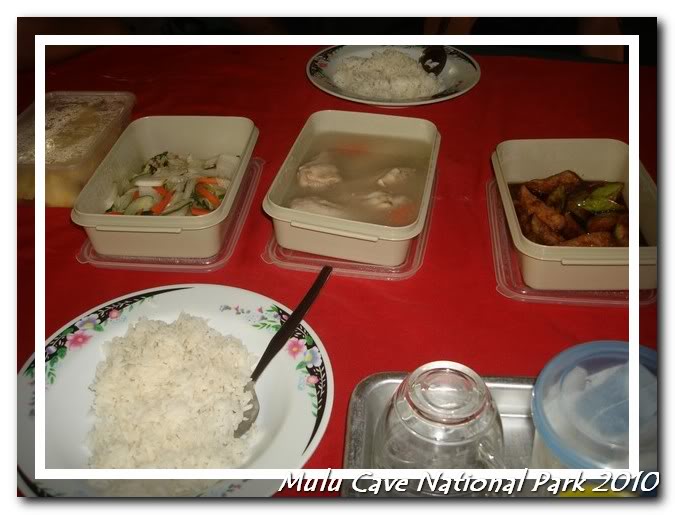 The weather in Mulu is really hot! After we are back, we immediately head to the discovery center for air-cond!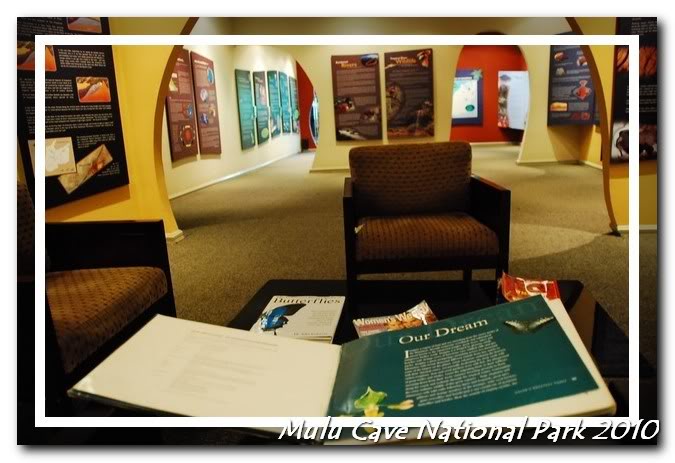 Everybody planned to watch the bats at Langs Cave this afternoon (last chance!). However, the 2 couples from Switzerland gave up before our departure due to the unstable weather. End up, there are only 4 of us went to Langs Cave together. The validity of the entrance pass lasts for 24 hours. Thus, I do not have to pay for the pass again 🙂
We reached around 5pm and hoping the rain will stop after 6. Edward told me that I would be able to watch the bats as they have not been flying out form the caves these 2 days.
6.15pm: Wow! They are finally flying out from the cave and it's fabulous! It will be perfect if the sky could be brighter.
6.45pm: We headed back to the lodge and showed the photos we have captured to the couple from Switzerland. They regretted for not following us to watch the bats. So, a piece of advice to you, even if it is raining, you shall keep waiting with patience 🙂
Full house today in the restaurant! Tonight will be the most happening night in our dorm. There are total of 15 guests staying together and they are all from different countries (Canada, US, Germany, Switzerland, Australia & Malaysia). Good business day for Edward's mother-in-law by selling her home-made rice wine! The rice one cost RM6 per glass and RM25 per bottle (cheap and nice!). We went back to bed at around 11pm but the table next to us, they were enjoying themselves till 2-3am. Even if the electricity supply has stopped! So, the whole dorm didn't really have a good sleep at night.
Today is the birthday of one of the German tourist. So, we celebrated with her by singing her the birthday song!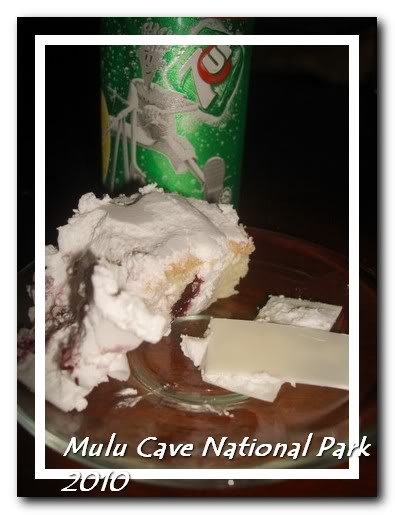 – end of day 7 –
---
Day 8
Today is the last day in Mulu.
Canopy Walk started at 8.30am (journey spent about 2 hours) and guided by Susan. The Canopy Walk charges RM30 per pax and the entrance fee is RM10.
Honestly, RM30 for this canopy walk is charged a little too expensive. This is because there isn't anything very special to be seen.
Lunch
There isn't fixed hour to check in or out from the lodge. So, I took a shower before I headed to the airport. It's a 30 minutes journey from Mulu to Miri and half of the flight passengers are those who stayed in the lodge! We waited another 20 minutes for the flight transfer to Kota Kinabalu after reaching Miri's airport.
After taking back our own luggage, we took a cab together to the city (shared fare of RM30). We were staying one street away whereby she stayed in Akinabalu GH and I stayed in Summer Lodge.
Had my dinner with my classmate in Little Italy and went back to the lodge after that. Have to wake up early to go to Kundasang the next day.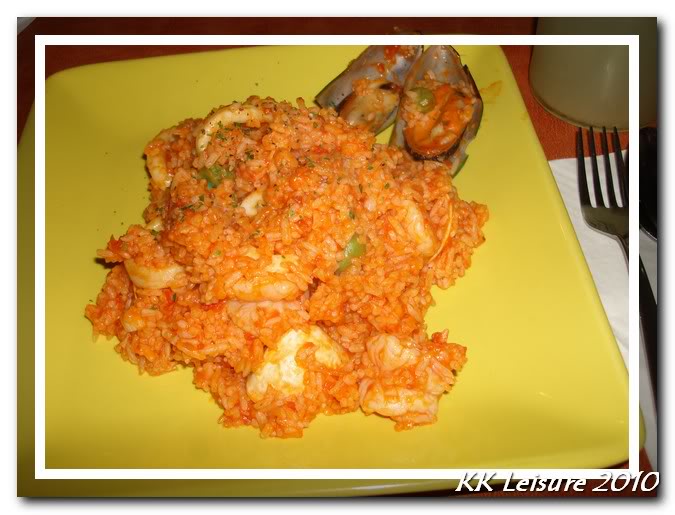 – end of day 8 –
---
Day 9
Had my breakfast before heading to Kundasang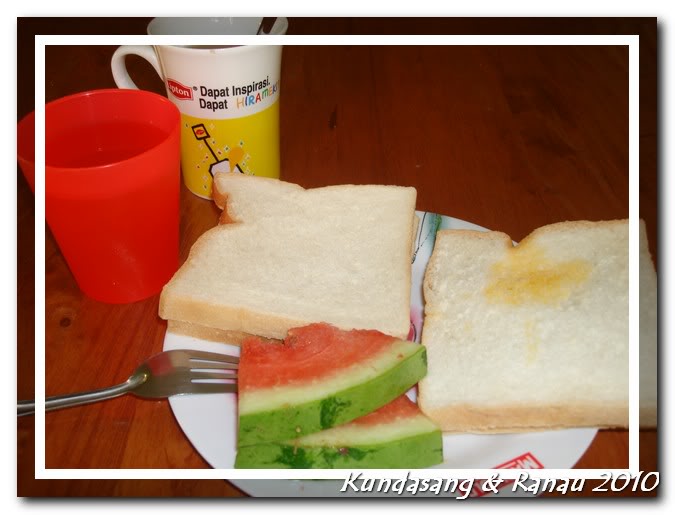 Brought 2 clothes and the rest were deposited at the lodge. I walked to Padang Merdeka and pay RM15 to board on a Mini Van which goes to Kundasang.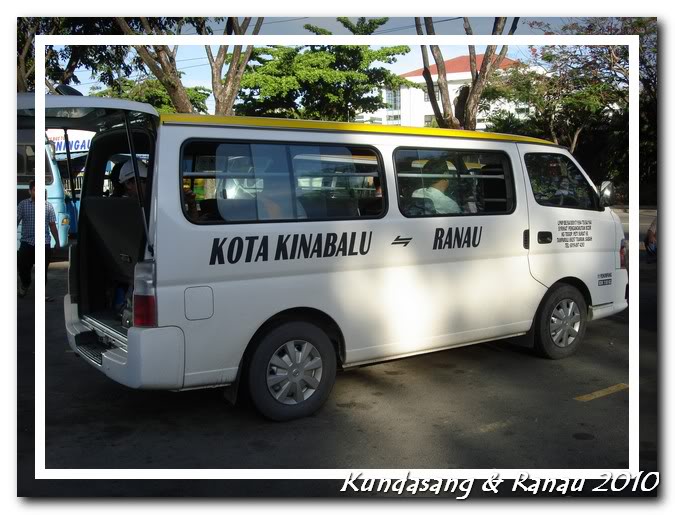 I stayed in Bayu Lodge (it's just 5 minutes walking distance from the KK Park entrance). The Bayu Lodge is run by the Malay and I'm the only guest in the lodge that night. The bed price costs RM20 per night and there are restaurants and convenience store. However, please don't hope that you could obtain any useful information by staying here. This is because the receptionist's mantra is: Tidak Pasti (Not Sure). I really do not know there is anything that she is Pasti (Sure) and Tahu (Know).
The bathroom has water heater and some "creepy" little creatures! But that's pretty normal for the outskirts.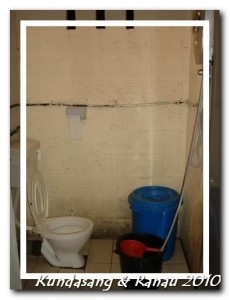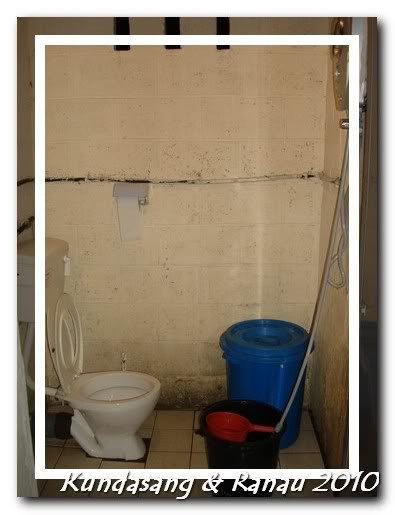 Please inform the counter if you would want to use the washing machine. The service will be terminated after 9am but worry not, the water supply for drinking and hand washing will still be provided.
The Harvest Festival in Sabah is coming soon, a long weekend. The lodge will be full house.
Saw another lodge which look better than my current one but the rate is slightly expensive.

There are cab drivers at the car park opposite of the Mount Kinabalu. Remember to bargain with the drivers before you board on it. My cab driver, Uncle Peter(50+ years old) is a kind Kadazandusun who has helped me to save a lot of money. The deal was RM120 to Desa Cattle Dairy Farm and Kundasang War Memorial Park. End up, he gave me a good price after some bargaining when I wanted to go to Sabah Tea Garden as well. His car is Rusa, without air-conditioner.
Desa Cattle Dairy Farm
11am: The entrance fee is RM3 per pax. Uncle Peter talked to the auntie in the ticket office that I'm his relative and came here alone. Thus, I have a free entrance! 🙂 Another good news is, Uncle Peter was willing to be my tour guide for free and brought me to visit the farm.
I'm so thankful for Uncle Peter's friendliness and his free treat of milk 🙂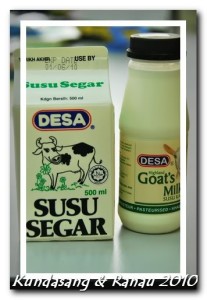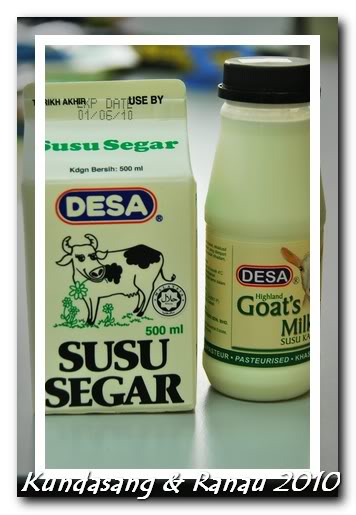 After the farm visit, we headed to the Kundasang War Memorial Park. Before this, let's have a look at the Kundasang's market:
We went down to watch the motorcycling competition:
Kundasang War Memorial Park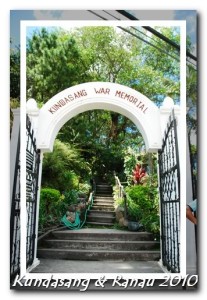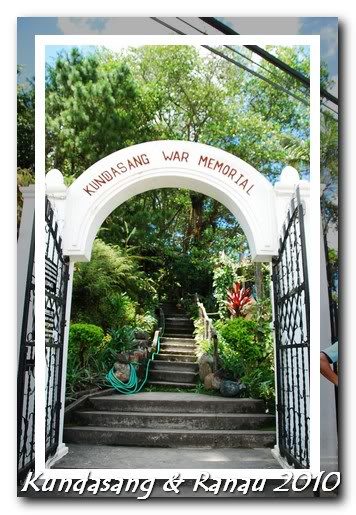 Borneo Garden
Kundasang Memorial Park

We took a pit-stop at Uncle Peter's house before we headed to Sabah Tea Garden.
After a 10 minutes rest, we depart to Sabah Tea Garden along with Uncle Peter's second son. The journey is a little far, have to pass by Ranau.
Sabah Tea Garden
Quailey's Hill Memorial

I was so touched as Uncle Peter invited me to have lunch in his house because he said this could help me to save some money! This is my first time to be a guest of the Kadazandusun. Although it is not any expensive food treat, it is full of love. We happily enjoying our food after they invited me to pray along before we started eating. The potato with chicken bone soup that cooked by his wife taste the best!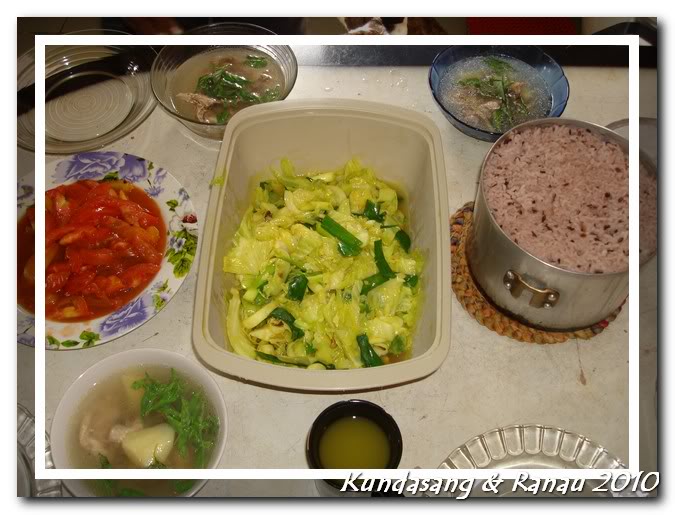 We depart from his house at around 3pm and by the time we reached Bayu Lodge, it has already 5pm. I had my dinner at Bayu Restaurant and the food are all quite cheap. There is a mini convenience corner at the Bayu Restaurant.
Let end my 9th Day post with a photo of Sabah's starry night!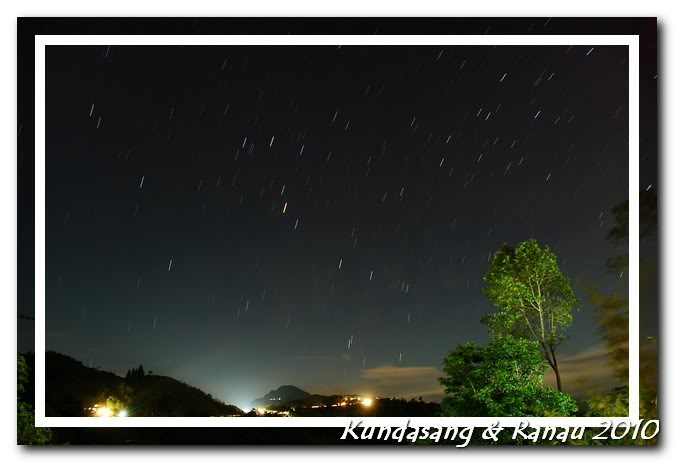 ---