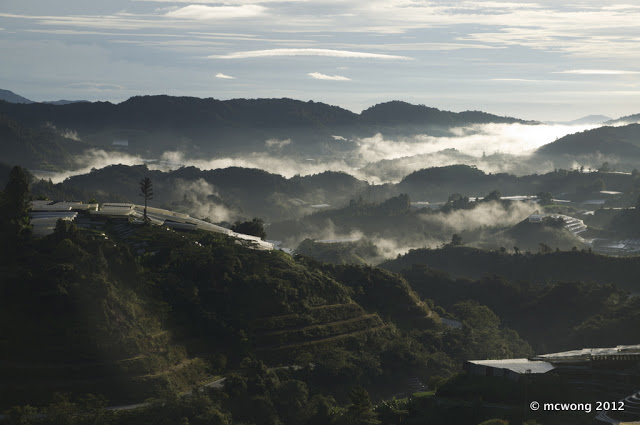 Day 2: A good day begins with beautiful scene
Everybody had a good sleep under the chilling climate, early in the morning, I am surprised while opening the door at the balcony, unbelievable! A magnificent scene of overlapping cloud appears right in front of our eyes, right here in Cameron Highlands! I take out my camera immediately to capture such a beautiful scene that you will never get to see in the lowland area. Managed to capture several photos and share with you here.
Most looking forward destination: Sungai Palas Tea plantation
After brush up, we head to our most looking forward destination, Sungai Palas Tea Plantation. It is still early in the morning and there are not many traffic on the road. The opening time for the plantation is at 8.30am but we arrive at around 8.15am, so while waiting, I am able to shoot several more photos under this beautiful highland atmosphere.
We drive up to the viewing platform through a small street, our kid is so excited and treated that as an adventure in itself. As soon as we arrive at the viewing platform, ordered breakfast and tea and start to enjoy the beautiful plantation scene, truly amazing. Of course, we bought plenty of tea leaves and shot plenty of photos before we head down.
After the tea plantation visit, we pay a visit to the Rose Center, a spacious nursery filled with diversified of flower species.
After the stroll, our kid starts to feel tired and we gone back to the hotel for rest. After rest, we walk to a restaurant for lunch and proceed to visit Kea Farm market. Plenty of foods and things to shop, we managed to buy some vegetables, fruits and corns. After that, we visit the EQ Strawberry Farm and visitors are allowed to pick the strawberries if they wanted to.
We wanted to take our dinner in Brinchang but unfortunately the area was so crowded that we are not able to find a parking space, so we head to Tanah Rata and have our dinner in one of the Japanese restaurant.