Travellers worldwide know the Perhentian Islands as an incredible diving destination for land-dwellers to explore the marine world. Most of the diving sites around the Perhentian Islands belong to the Terengganu Marine Park, protected and conserved by local government agencies. Protected from most harmful activity, the waters in Malaysia's east coast are thriving with marine life, making it the perfect destination to begin your dive adventure. Read on for our list of the 6 best Perhentian Dive Resort.
[lwptoc numeration="none"]
---
When is the best time to dive at Perhentian Island?
The best time to visit Perhentian Island for diving is from April to October. This is the dry season with a moderate temperature perfect for a day out in the sun. This is also when the diving visibility is at its best, ranging from 8 metres to 20 metres.
Unfortunately, during peak seasons or public holidays, you will find a bit of a crowd. Come during odd times or off-peak hours to get the best private diving experience.
However, you may book in advance as the prices rise sharply during the peak season. If you're planning to stay at budget hotels, you may negotiate for lower prices during off-peak seasons. Keep in mind that most budget establishments do not accept reservations, so you might get to book one only once you're there.
Which are the best Perhentian dive resorts?
Choosing the right resort is essential for enough rest and recovery in between dives. A great dive resort is not only comfortable but has enough facilities to cater to your diving needs. These are our top picks for the best Perhentian resorts for divers or dive learners.
1) Flora Bay Resort—Flora Bay Divers
Flora Bay Resort sits in the middle of the charming, unspoiled Teluk Dalam. It is a white sandy beach on the south tip of Perhentian Besar. The lush environment, fresh air, and friendly hospitality of this resort make it an excellent choice for travellers to stay and relax in between dives. There is a gift shop here for souvenir lovers to bring home memorable gifts and local handy craft home as a reminder of their immersive dives in the Perhentian Islands.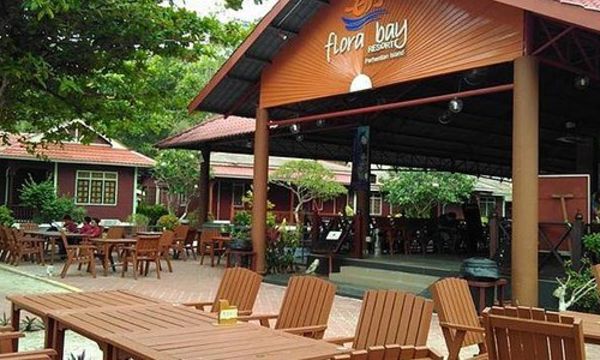 Still, what keeps divers coming is its 5-star PADI Instructor Development Center, Flora Bay Divers. It is the only dive centre on Perhentian Islands that offers a full range of PADI courses, including some cool PADI Speciality Courses such as emergency response courses and underwater photography courses.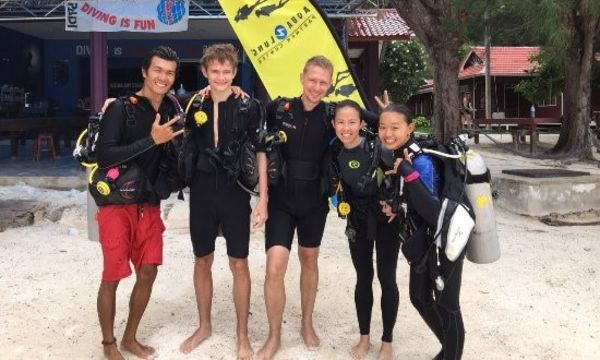 With an emphasis on quality, this is among the best Perhentian dive resorts for first-timers. All classes here have only four students to one instructor. Alternatively, you may ask for a private lesson with your own personal instructor. For experienced divers, the centre offers easy access to over 40 dive sites! Don't be surprised when you find yourself overwhelmed by the diving opportunities offered in this idyllic underwater world.
Click here for resort info
2) The Barat Perhentian Beach Resort—The Barat Dive Center
In the western part of Perhentian Besar, the Barat Perhentian Beach Resort is a gorgeous seafront with excellent access to fantastic scuba diving spots.
Feeling peckish in between dives? Culinary perfection is what you can expect when dining in its restaurant, the Barat Restaurant. They serve snacks and drinks all day in the restaurant. What can be more refreshing than cracking open an ice-cold drink after spending a day scuba diving in the sea?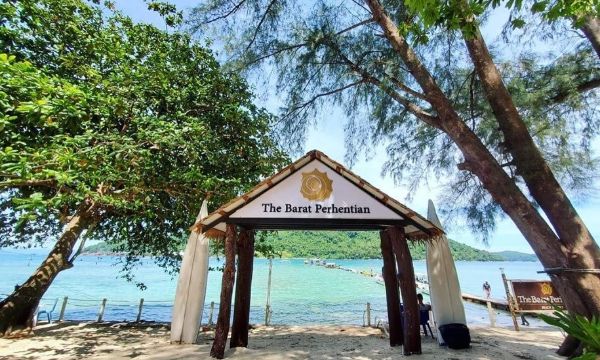 This resort is perfect for travellers wanting to experience scuba diving. Besides its leisure packages that offer snorkelling trips, the resort also provides a comprehensive diving package that includes dive trips. You know, for those who want to go deeper than just floating on the surface.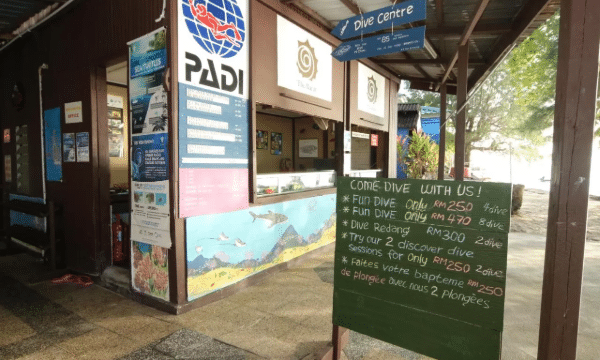 The Barat Dive Center provides courses ranging from the PADI Beginner Open Water Courses (OWC) to Advance OWC. You can expect detailed and straightforward explanations from professional instructors to help you learn and enjoy your scuba diving experience. What are you waiting for? If you're willing to fork out the extra cash, mark this Perhentian dive resort in your to-dive list ASAP!
Click here for dive package info
Suggested Read: A Step-by-Step Guide: How To Become A Certified PADI Open Water Diver In Malaysia
3) Perhentian Island Resort—Perhentian Island Divers
Next on our list is Perhentian Island Resort (PIR). PIR is a quaint, idyllic resort on PIR beach in Perhentian Besar. Guests often praise PIR as a true paradise on the island for its elegant beachfront accommodation and friendly services.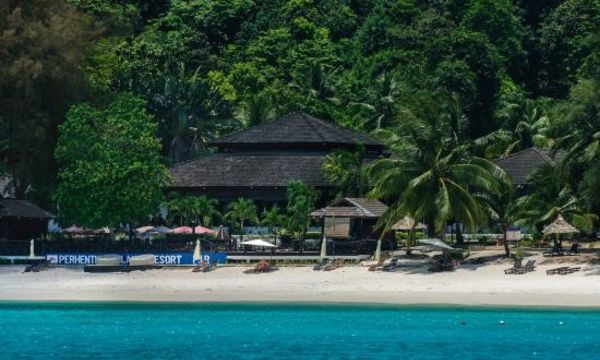 What's more, PIR beach is a private beach, surrounded by pearlescent white sand and crystal warm waters. You can even see tropical fishes or turtles without getting yourself wet while strolling on the beach! Of course, the best way to interact with them is to pack your diving gear, have a dive itinerary on hand, and just leap into the sea. For that, Perhentian Island Divers is the right place to be.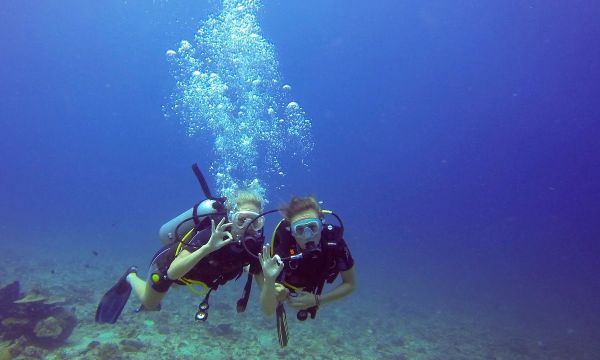 You can find plenty of PADI Courses Packages provided here. For novices, this Perhentian dive resort is ideal for obtaining your scuba diving license by taking the OWC Package. For experienced divers, you may become a divemaster here by taking PRO-level courses right off this beautiful private beach.
Click here for dive package info
4) Coral View Island Resort—Pro Diver's World
Located nearby the ferry terminal and jetty in Perhentian Besar, Coral View Island Resort lies a mere few steps away from Teluk Pauh Beach. This is where you can find water taxis to island-hop to access all the famous attractions such as beaches and snorkelling spots nearby.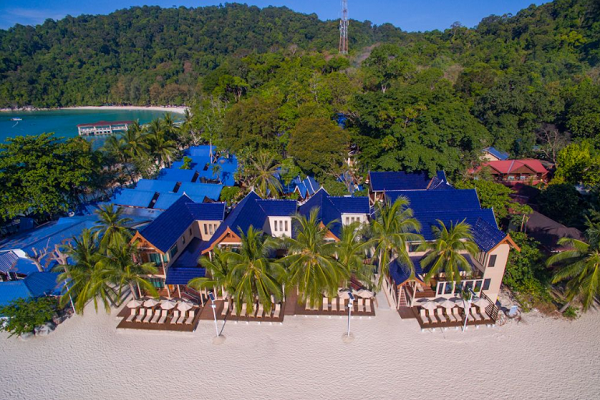 For the comfort and convenience of guests, this Perhentian dive resort offers free Wi-Fi in public areas so you can share your diving experiences in Perhentian Island with your online friends anytime!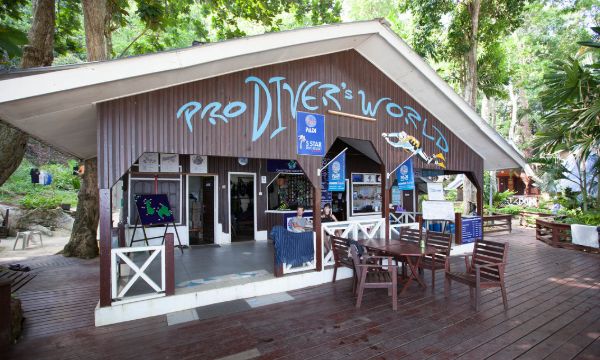 For divers, there is a dive shop, which is The Pro Diver's World located within the resort providing diving trips and PADI courses for everyone from the novices to the experts. The centre's skilled instructors with years of experience take great pride in showing you the underwater life in Perhentian Island. As the dive shop uses the beach right next to the resort (Teluk Pauh Beach), it reduces the time you have to spend travelling to the dive sites. Which means more time to dive in the sea!Psst! Looking for even more reasons to visit? Look forward to a special deal here if it is your birthday!
Click here for resort info
5) Bubbles Dive Resort—Bubbles Dive Centre
Situated in Perhentian Besar, Bubble Dive Resort is not just for divers, it is a place for nature lovers. It is crowned one of the winners of the UN's Environment Programme's Green Fins Award 2020 for its eco-conservative efforts. You can see signs of their eco-friendly stance, such as refillable drinking water services, biodegradable cleaning products and guided snorkelling or diving activities to reduce damage to the environment.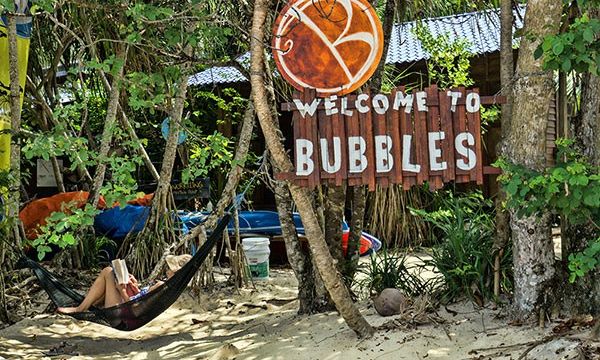 You will find a pristine underwater world while diving as the Bubbles Dive Centre takes pride in providing dive education that focuses on conversation, safety, and quality. They specialize in different diving types such as macro diving and muck diving to make everyone enjoy the Perhentian Islands the way they want to.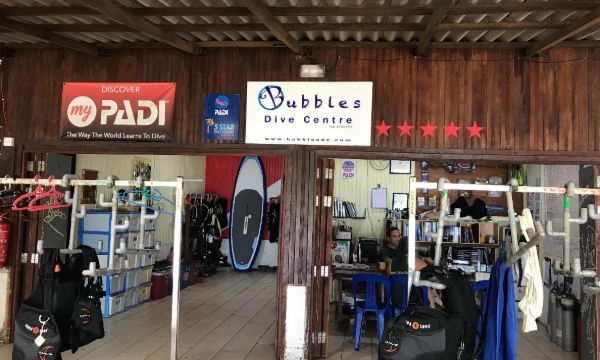 Diving equipment such as Buoyancy Control Devices (BCD) and tanks come in various sizes, enough to fit from the largest to the tiniest divers. This is perfect if you're travelling as a family.
Click here for resort info
6) Ombak Resort—Ombak Divers
Ombak Resort is a famous Perhentian dive resort in Perhentian Kecil. This resort features plenty of activities for visitors to enjoy, including a fire dance show, live acoustic music show, or a charming movie night to help spend your time here (other than scuba diving around the sea!)
Head to Ombak Divers if you are looking for diving equipment and courses. Ombak Divers is a certified PADI Dive centre and offers scuba diving courses for various levels of expertise.
But a major draw of Ombak Divers is their multilingual versions of PADI courses in English, Malay, Italian, Spanish and more. If English isn't your first language, then you'll that this is a great dive centre for you to begin your scuba journey.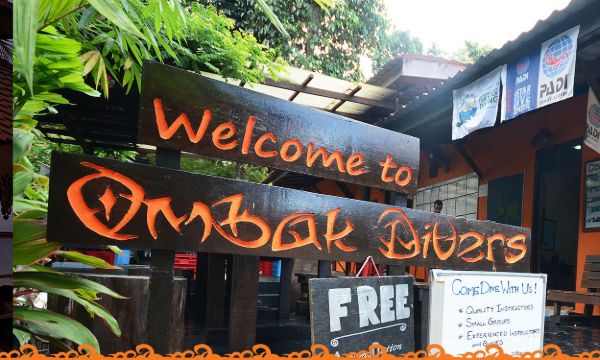 To help capture diving memories, underwater photography and videography can be arranged in this Perhentian dive resort. Rest assured for its experienced instructors' reliable and friendly services to make your scuba diving experience memorable in the Perhentian Islands.
Click here for resort info
---
Popular Perhentian Diving Packages