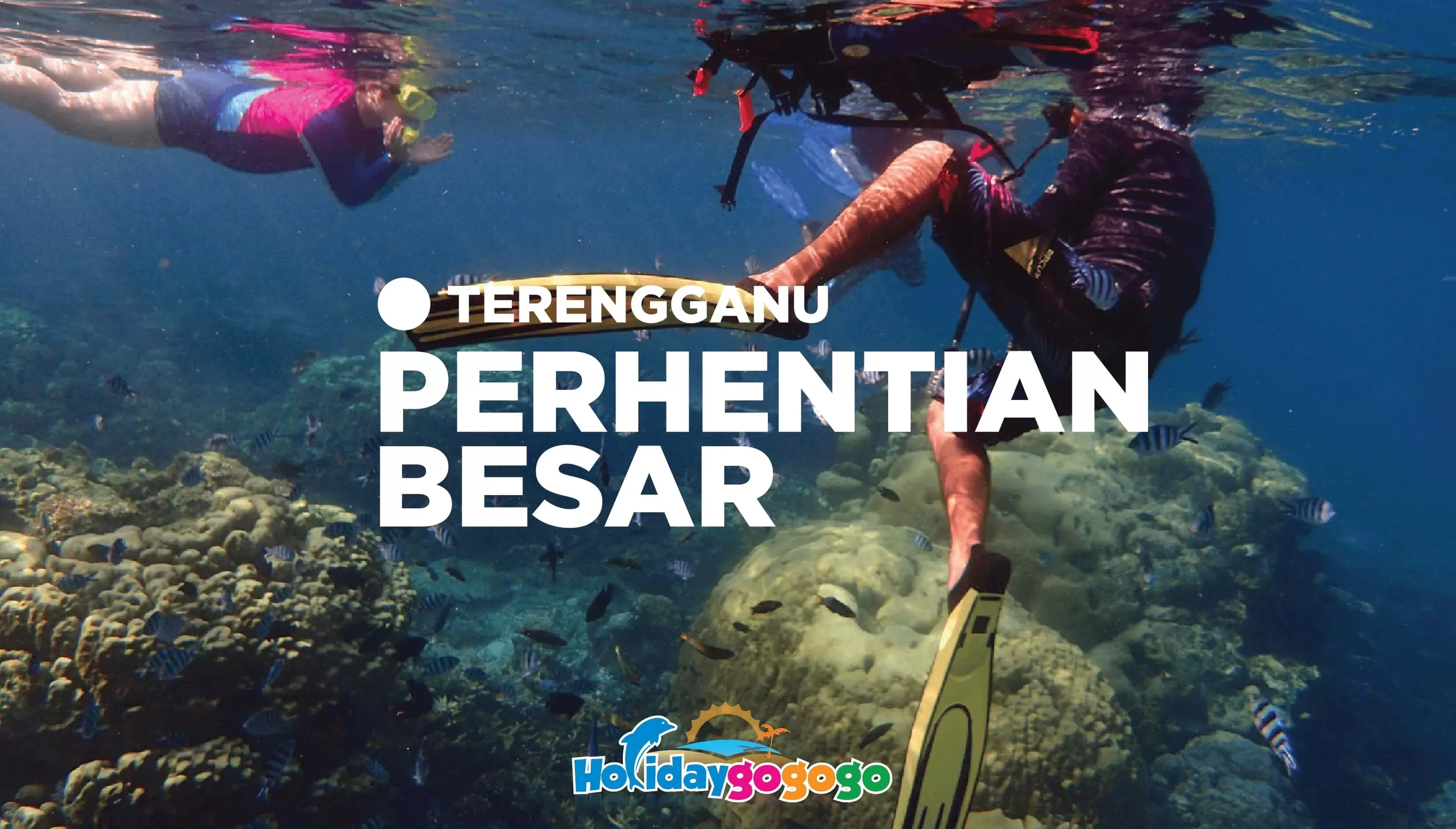 The Perhentian Islands are made up of two islands located snugly amongst a cluster of paradise islands in the Pulau Redang National Marine Park, off the coast of Terengganu.
While its smaller counterpart, Perhentian Kecil is the centre for all fun, parties, and nightlife; the larger Perhentian Besar is the calm one where some of the most beautiful resorts in Malaysia are located. Perhentian Besar is one word – beautiful. Pristine beaches, gorgeous sunsets, transparent clear waters and thriving marine life are merely part of life on this island. Travellers flock here for a long-overdue escape from all the worries and noise that comes with city living.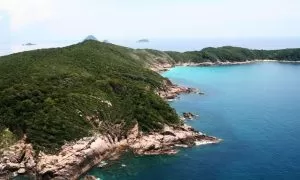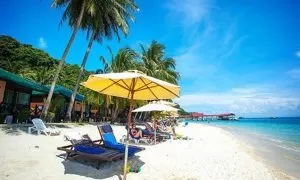 The serene Perhentian Besar (also known as 'Perhentian Big' in Malay) is a peaceful island retreat. Beaches line the circumference of the island while its centre is a mass of lush forests and immersive greenery.
[lwptoc]
---
Who should visit Perhentian Besar?
To know which is the most suitable crowd for Perhentian Besar, you should first know what kind of resorts are mostly found here. The resorts on Besar are more upscale and cater mostly to couples, families or newlyweds with some money to spend. Of course, cheaper options exist but these tend to be on the rarer side. Everywhere you go, you'll see families and couples enjoying peaceful time in the sun.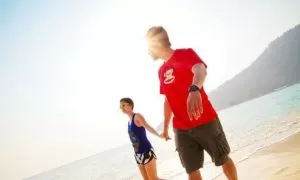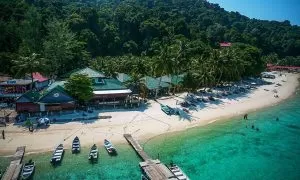 Compared to it's smaller cousin Perhentian Kecil, Perhentian Besar is more suitable for families, couples or laid-back folk. If your goal on holiday is to get out of all the noise and bustle, then Perhentian Besar is the place to be. Snorkelling is terrific, the views are serene and the beaches lie almost untouched as if waiting for the first human being to set foot on them. This is largely due to the smaller crowds and a large number of long, sandy beaches. It is not hard to find private areas on the island that provide a sense of total seclusion.
---
Perhentian Besar Attractions
1. Teluk Pauh Beach 
Teluk Pauh (PIR Beach) is one of the most popular beaches in the Perhentian Islands. The water is crystal clear here with wide, sweeping views of the sea and the sky. Travellers can easily see many fishes crowding near the jetty stilts. For more personal encounters, feel free to jump into the water at the western end of the beach in front of Coral View Island Resort, or just directly from Perhentian Island Resort itself. Initially, the seabed will be covered in sand, which is quickly replaced with rocks and coral as you swim further out from the beach. Younger children will be delighted to stay on the beach to play with its white, pristine sand and gentle waves.
Snorkelling here, you can find giant clams, parrotfish, tamarin wrasse, damselfish, butterflyfish and huge green humphead parrotfish here.
2. Teluk Keke
Teluk Keke is small but most importantly, away from the crowds and great for relaxation. The waters here are calm and shallow – perfect for families with younger children. This also means visibility is excellent, and the corals beneath are abundant with marine life.
If you come to Teluk Keke (or Keke Bay) when the tides are low, you can snorkel here to your heart's content. This is a safe, calming place to relax with the family, including small children. Plus, the waves are known to be quite 'polite'! For further fun, you can attract local marine life by feeding a bit of bread, which will attract loads of colourful little fish to swim about your feet. In addition to the adorable fish, you'll also be able to see the beauty of the surrounding coral gardens.
Be warned though, that when the tides are high, Teluk Keke can get quite deep and unsuitable for younger children.
3. Lata Air Berani
Lata Air Berani is a unique Perhentian Besar attraction. This freshwater brook spills down the hillside and accumulates in a natural well right on the beach. It has been on Perhentian Besar for a long time and has never dried!
You'll see people drenching themselves with the water, especially after snorkelling in the ocean nearby. There is also a pretty wood structure and rock base nearby for travellers to take photos with. Nothing beats a splash of cool, spring water on your body to wash off all that saltiness of the sea – just like a cool drink on a hot day!
4. Trekking
Jungle trekking on Perhentian Besar is truly a fantastic experience and like its sister island Perhentian Kecil, offers some eye-opening experiences for travellers. This is a good trekking plan that you can follow:
First, spend some time around the beach path from Tuna Bay to Teluk Keke beach. When you're ready, begin your trek through the jungle from Teluk Keke beach to Arwana beach, this will take around 40 minutes. Then, you can continue on from Arwana beach to Perhentian Island Resort (PIR), where PIR Beach is located. This will be another 45 minutes. The PIR Beach is the perfect spot for eating, beach activities and snorkelling. So make sure you spend some time here before leaving.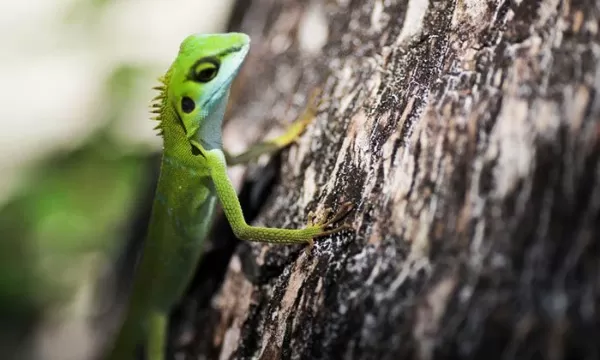 If you want to go on further, or are departing from PIR, go for a 30-minute jungle trek across the island to Teluk Dalam beach. This beach is significantly quieter than the famous Teluk Pauh and is fantastic for a relaxing swim. Then, continue for another 20 minutes to Love Beach before heading back to Perhentian Island Resort via a 45-minute trail that offers beautiful beach views throughout.
5. Snorkelling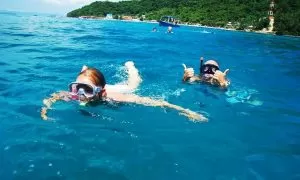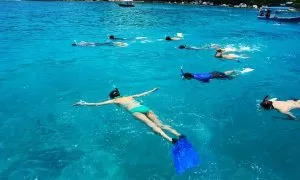 The underwater world landscape of Perhentian Island is quite mesmerizing. The beauty of its corals and marine habitats have been often described as resembling a painting. Most of Perhentian Island's best snorkelling spots can be found in the vicinity of Perhentian Besar. These include places like Blue Lagoon, Turtle Point, Shark Point and Coral Garden.
Turtle Point is known for having lots of turtles around, so you are pretty much guaranteed a sighting. The ocean floor here is sandy, perfect for grazing turtles. Shark Point, as its name suggests, offers travellers the opportunity to boast that they have swum with sharks! Don't worry, though, as these are just baby Blacktip Reef sharks which are overall very harmless. Seeing a shark swim across in front of you is the dream that you never realized you had.
To see more Perhentian Island Attractions, click here!
---
Perhentian Besar Tips
Here are some travel tips for your next holiday in Perhentian Besar:
Everything is offered on the island, from snorkelling and scuba diving packages to boat services for you to enjoy the beautiful scenery of the island to your heart's content
The dry season occurs from March to November. This is the best time to visit Perhentian Island as water visibility is perfect and the waves are calm
Don't forget to try to attract the colourful little fish here by feeding them a piece of bread
Perhentian Besar is ideal for honeymooners due to its peaceful environment and lesser crowds
You can still visit Perhentian Besar if you're staying at Perhentian Kecil; and vice versa. You just need to hire a water taxi to ferry you across
Try not to bring large luggage with wheels as it will be difficult to transport by boat
Please bring enough cash when going to Pulau Perhentian, either Besar or Kecil. There are no ATMs here although you can use your card for most things related to the resort (including snorkelling, activities, and food). You can confirm with us first before-hand what is offered in the package
If you come to Pulau Perhentian for snorkelling, you should bring your own waterproof camera or rent one nearby. Helps you remember your lovely memories with the sharks, turtles or Nemo fish
There are many good dive operators on both Besar and Kecil. It is a good chance to get your PADI diving license here for a cheap and good experience
Survey resorts that are strategically located near the best snorkelling spots so you won't have to travel far via boat every time
Bring large bottles of mineral water and budget in 3 days you need to drink how many litres of mineral water. The weather on Pulau Perhentian is quite hot and you need to drink enough to stay hydrated. Expensive water prices (RM4/bottle!! do not help)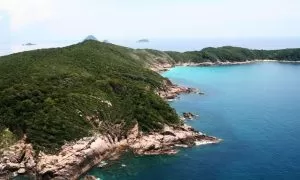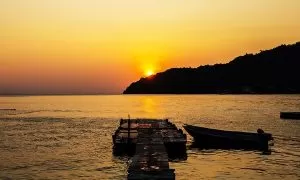 ---
Popular Perhentian Island Tours