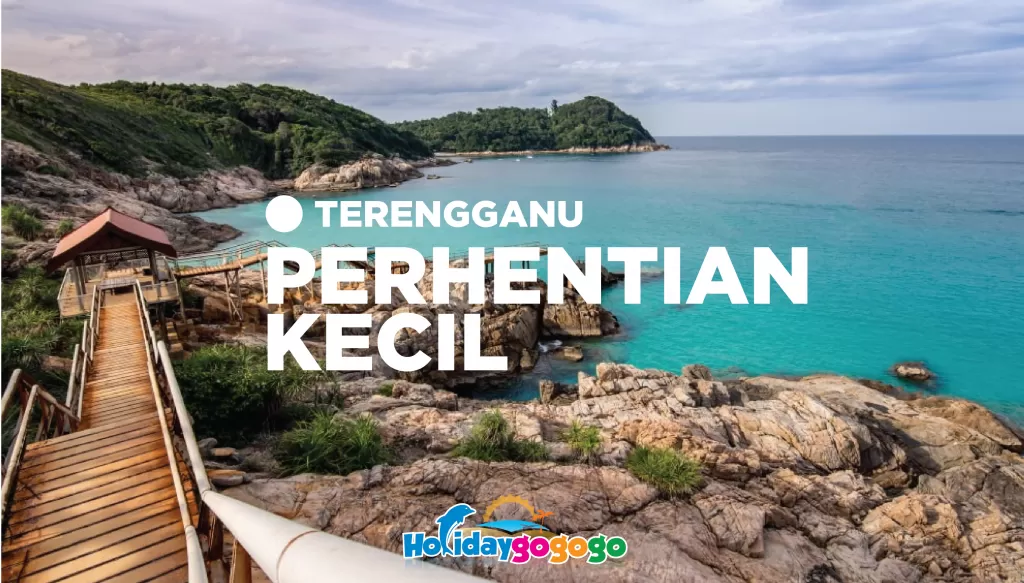 The Perhentian Islands are made up of two islands located snugly amongst a cluster of paradise islands in the Pulau Redang National Marine Park, off the coast of Terengganu.
Perhentian Kecil ("Lesser Perhentian", or Perhentian Small when translated from Malay) is the smaller island that stands opposite its larger counterpart – Perhentian Besar. But don't be fooled by the name. Being lesser has not diminished its status at all as a world-class holiday destination.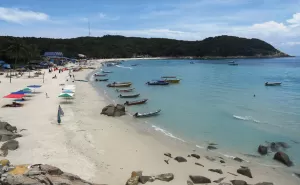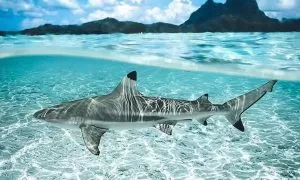 [lwptoc min="2″ depth="1″ hierarchical="1″ hideItems="0″]
---
Who should visit Perhentian Kecil?
If you're all about that energetic atmosphere, then Perhentian Kecil just might be the place for you.
Perhentian Kecil promises fun, thrills and terrific sweeping views for adventurous travellers. Some time ago, the island was known as a backpacker's haven. Its countless beach bars, night parties and cheap accommodation options have long appealed to budget travellers looking for a good time.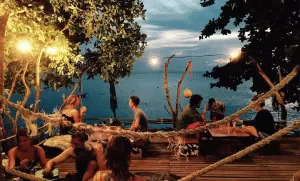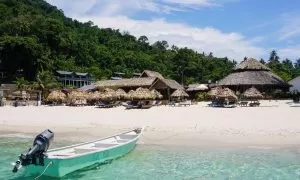 Party your days (and nights) away, make new friends, explore beautiful trails and gorgeous views. This is the liveliest island this side of the coast!
In recent times, more upscale resorts have opened their doors on Perhentian Kecil. Nowadays, the island is a welcoming destination for travellers of all kinds, from families, solo travellers, couples and more who don't mind an upbeat atmosphere and a happening beach scene.
---
Perhentian Kecil Attractions
1. Snorkel and dive
With thriving reefs, colourful marine life and beautiful weather during the dry season, Perhentian Kecil is an underwater paradise. The island is an excellent spot to snorkel and scuba dive. Most resorts on Perhentian Kecil provide their own snorkel rentals and day-long snorkelling trips, which are definitely well worth the price.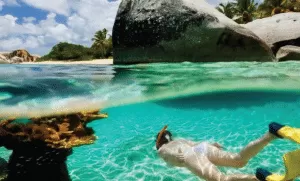 2. Long Beach
The star of the island is the undisputed king of lively beaches – Long Beach. The beach is home to a significant number of chalets and hostels that cater to a backpacker audience. During the day, you'll see many foreigners sunbathing and relaxing to the sound of the waves.
But come nightfall is when this beach truly comes alive. Fire shows, dining sessions, parties, beach bar dances, and more will take place here. For travellers who still find themselves energetic after a whole day of water exploration, this is the place to be.
3. Canoes and Kayaks
Canoes and kayaks are also available for rent anywhere around the island. Tired of all the people and the noise? This is an excellent way to explore private beaches or secluded spots around the island. Along the way, don't forget to peek below as the crystal-clear waters at Perhentian and the many pockets of thriving marine wildlife below promise a beautiful underwater sight.
It is possible to kayak around the entire 14-kilometre circumference of Perhentian Kecil in around 3 to 5 hours. Do note, though, that the current can prove a challenge if it is windy.
4. Fishermen Village
During the day, you may want to stop by Fishermen Village (Kampung Nelayan), the island's township, to see the locals going about their daily activities. The village offers travellers cheap dining as well, with authentic Malay flavours and delicacies.
5. D'Lagoon Perhentian Windmill
Another must-visit spot is the famous viewpoint of the Perhentian Islands, D'Lagoon Perhentian Windmill (Kincir Angin). D'Lagoon Windmill is actually a generator that supplies electricity to the island's locals. But it's not just an ugly, functional device.
On the contrary, it has become a popular instagrammable spot on the island! The view from the top of Kincir Angin is the most beautiful that you can find in all of Perhentian. A short 40-minute climb up some stairs later, you'll find yourself at the top marvelling at the magnificent landscape of the island. Tip: Start your climb from 5 pm to 5:30 pm as the scenery is fantastic and the weather isn't that hot.
6. Trekking
Perhentian Kecil is impressive on the inside as well, where lush forests and primitive rocks reside. There is good hiking through the jungles and around the circumference of Kecil. With small trails that join all the beaches around Perhentian Kecil, you'll be able to enter from one end of the path and emerge on another new unexplored beach.
Discover lush foliage and rare wildlife as you trek within the confines of the Perhentian Kecil's primitive jungles. Along the way, expect to see monitor lizards, spiders, and geckos.
To see more Perhentian Island Attractions, click here!
---
Perhentian Kecil Tips
Here are some travel tips for your next holiday in Perhentian Kecil:
The dry season occurs from March to November. This is the best time to visit Perhentian Island as water visibility is perfect and the waves are calm
It can be slightly more crowded in Perhentian Kecil compared to Perhentian Besar due to its backpacker population
Food prices are the cheapest here in Kecil, among the two Perhentian Islands
For some tasty local delicacies, check out Mama's Café, Maya, and Amelia Café
Trekking trails connect the entire island in a circle. You can travel the whole island on foot without taking water taxis. However, you'll need to be quite fit for this!
You can walk from Long Beach to Coral Bay (1km), from Long Beach to Fisherman Village (3,2km) and from Long Beach to the Wind Mills on top of the hill (2km)
It is possible to kayak around the entire 14-kilometre circumference of Perhentian Kecil in around 3 to 5 hours
Regular, covered clothes are important to bring as well. Please bring appropriate clothes if you are visiting the village area, as it is strictly forbidden to wear clothes that are 'eye-catching' (revealing) like a bikini in the village area
Try not to bring large luggage with wheels as it will be difficult to transport by boat
Teluk Keke is a good spot to camp under the stars on a soft, sandy beach
Coral Bay on Perhentian Kecil is known for the most spectacular sunsets
Nightly Fire Shows on Long Beach begin from 10:30PM – 11 PM
There are no ATMs on the island. So bring enough cash for stuff like rentals, outside food and groceries
Getting to the Perhentian Islands requires purchasing a speedboat ticket in Kuala Besut. As it only takes 45 minutes to reach the island, some service operators have speed boats that depart every hour (every half hour during peak season). A return adult ticket is 70RM plus a 5RM marine conservation charge (valid for the duration of your stay)
Accommodation ranges from extremely cheap fan rooms to air-conditioned suites and villas that come with televisions, hot showers and seaside views. Prices range from RM40/night all the way to above RM800 per night
For the best sunset views, visit Coral Bay
If you do not plan for jungle trekking, I recommend wearing slippers or something like Crocs. But if you plan to climb the Windmill stairs or explore the jungle trails, you can bring shoes
Bring large bottles of mineral water and budget in 3 days you need to drink how many litres of mineral water. The weather on Pulau Perhentian is quite hot and you need to drink enough to stay hydrated. Expensive water prices (RM4/bottle!! do not help)
---
Popular Perhentian Island Tours