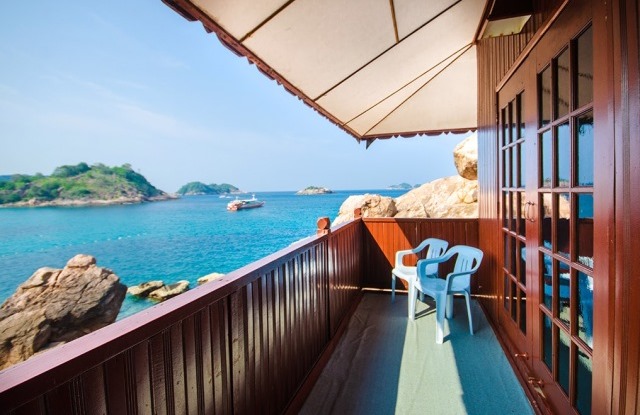 The soothing sound of waves crashing on the shore gently awaken you from your sleep…
---
It's morning in an island paradise. You open your eyes and think that there is nothing better than waking up to the sight of Redang Island's blue, gleaming waters and the gentle strokes of a cool ocean breeze.
Not all resorts offer this experience, though. In fact, it is common for resort buildings to build inward (vertically towards the mainland) instead of parallel to the sea to optimize land usage. So, which resorts should you pick for the best sea view rooms at Redang Island?
[lwptoc numeration="none"]
1. The Taaras Redang Resort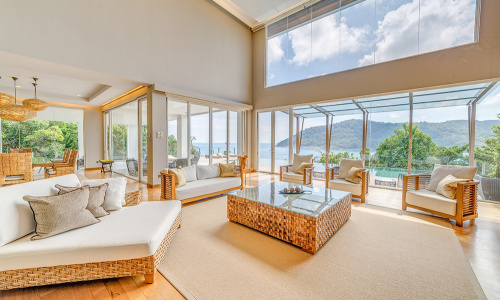 The Taaras Resort houses 190 stylish suites and rooms, with some options for rooms perched on cliffs overlooking the ocean and resort below.
We recommend the Ocean Front and Cliff Premier rooms that offer spectacular views over the resort to the white sands and crystal clear waters of Redang Island, and beyond. The interiors are tastefully designed with island-inspired furniture and fabrics to give you a truly luxurious stay. Relax and enjoy the view from the freestanding spa bathtub, or from a private balcony that's both spacious and clean. This makes for a truly memorable Redang Island sea view room experience.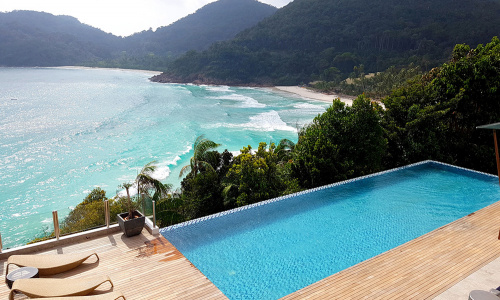 For the ultimate vacation experience, take a look at The Taaras Villa. Resembling a house more than a 'room', this private clifftop, the five-bedroom villa overlooks the resort with sweeping views out to the South China Sea. The Taaras Villa comes with a private infinity pool, breakfast chef and butler, and security service. Have you just found the perfect luxurious private getaway? Quite possibly so!
2. Laguna Redang Resort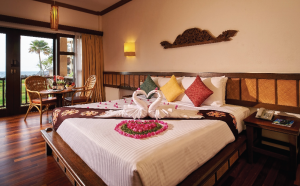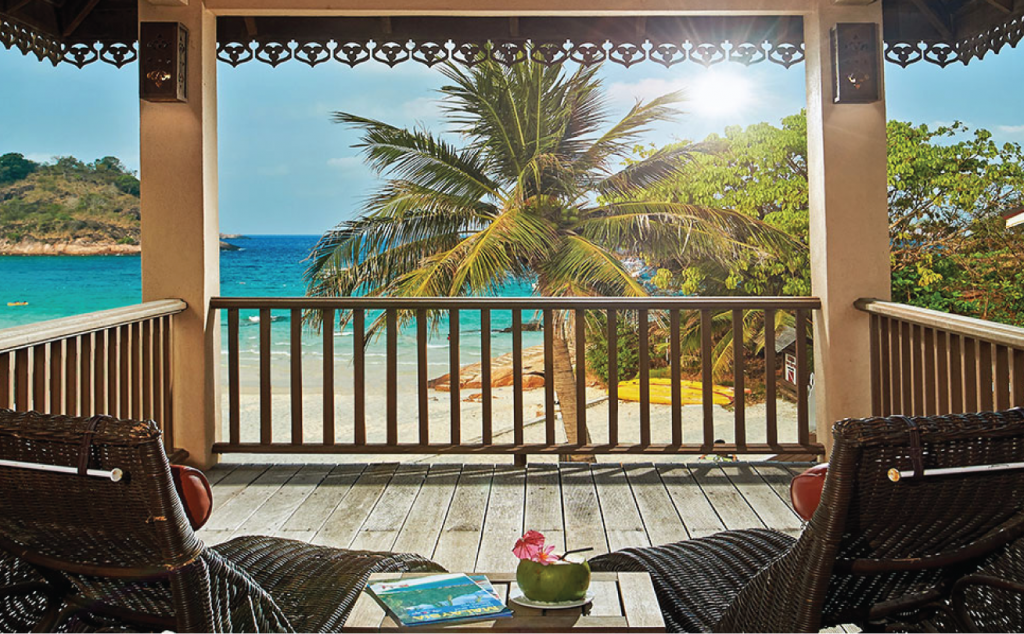 Located along the beach overlooking the South China Sea, Laguna Redang Island Resort offers comfortable accommodation with free Wi-Fi in public areas. Its location is super convenient as it is near to other attractions on the island.
The resort's sea view rooms are the Deluxe Sea, Premier Sea and Laguna Suite. These rooms feature breathtaking views of the white sandy beach and deep blue sea. The Laguna Suite is the largest of the three, with an equally large balcony that overlooks the stunning ocean. This makes it one of the best Redang sea view rooms in our book!
As a bonus, the restaurant here also features some really great views of the sea. Area 'A' at the restaurant is the coveted spot where the dining area is built outward, promising a good view of the sea. However, keep in mind that during hotter days, this area will heat up slightly as there are no blinds to block the sunlight.
3. Redang Holiday Beach Villa
Redang Holiday Beach Villa is the ideal spot to unwind, soul-search and relax. Spectacularly built on the edge of a stunning lagoon, the resort is quite possibly Redang Island's most picturesque and charming establishment. Its traditional rustic Malay style architecture, built of quality local hardwood, blends in perfectly with the lush, green landscape of the island.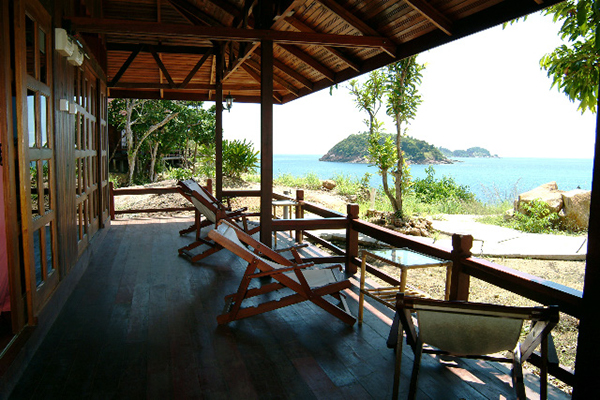 The air-conditioned rooms each have their own private balcony and en suite bathroom. But where you want to head to is the Semi-D Bungalow Sea View. The views here are almost unobstructed and you can see everything! Nothing beats sitting out on the verandah over the water and peacefully enjoying a cool, refreshing drink as you watch the evening sunset hues of amber melt into the darkening ocean expanse.
4. Redang Island Resort
Redang Island Resort marks its glimmering presence in Teluk Siang, south of Redang Island. Nestled within an extensive bay with glittering waters, its fantastic location provides access to thrilling island adventures while simultaneously allowing for a peaceful and rejuvenating escapade.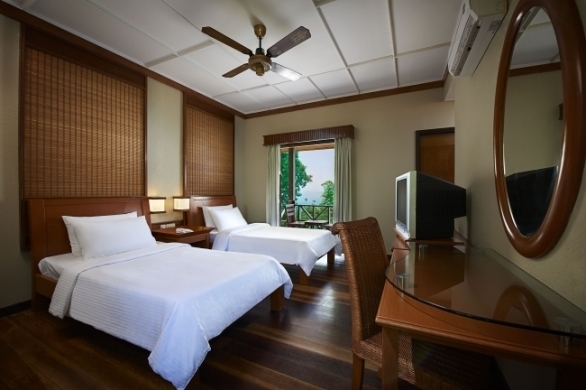 The resort has two offerings for sea views: the Seaview Chalet and Family Room. Whichever you choose, they are air-conditioned and equipped with modern amenities such as a private terrace and an ensuite bathroom. By staying at a sea-view room here, you are promised mindblowing views of the sea via a spacious terrace that is also perfect for you to lounge in.
*Note: Redang Island Resort is temporarily closed until 28 February 2021. Operations will resume from 1 March 2021 onwards.
5. Redang Reef Resort
Redang Reef Resort proudly boasts spectacular views of crystal clear waters and wide and long white sandy beaches from every corner of its property. This doesn't seem like such a wild claim once you realize that the resort is actually perched on top of a rocky ledge between a coral bay and the best beach on Redang Island – Long Beach (Pasir Panjang).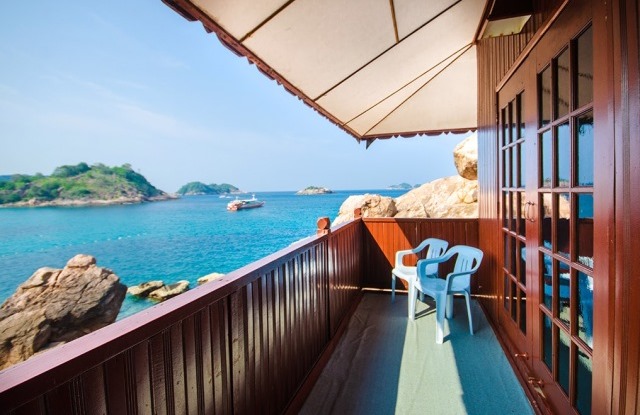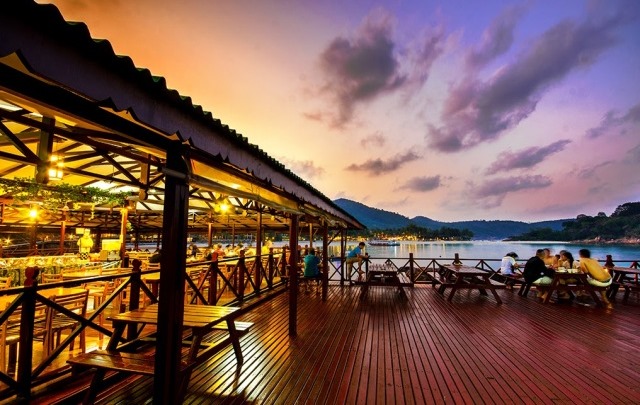 The quiet and secluded resort is better known for its more budget-friendly options. Fortunately, that doesn't mean that we'll have to skimp on the fantastic sea views (or air conditioning)! The resort's air-conditioned sea view rooms are built right on the rocks, offering guests a complete picture of the entire beach. The rooms are spacious and come with their own private balcony for you to relax in and absorb the breathtaking views.
6. Sari Pacifica Resort & Spa
Sari Pacifica Resort & Spa is "a land of joy", or so it is written on their website. The resort does go out of its way to enforce this image. Friendly and outgoing hotel staffs will greet you with warm smiles every time, making this resort one of the most welcoming resorts on the island.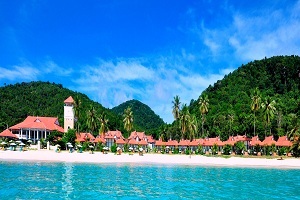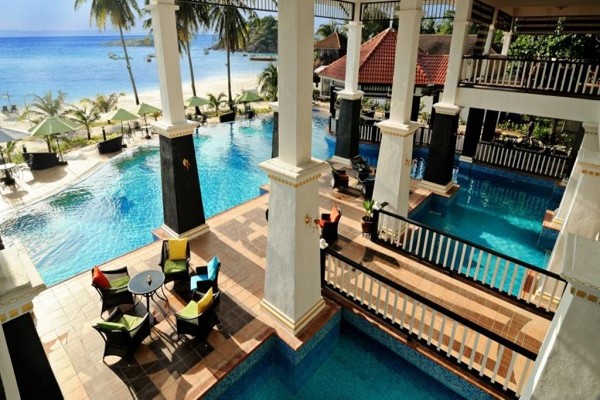 But of course our focus today is on the sea view rooms. Sari Pacifica does not disappoint here. With exclusive one-step-away access to Long Beach, the resort's 17 Seafront Villas are terrific for ocean views. The villas come with a private balcony furnished with loungers and tables. Rooms are also equipped with air conditioning, LCD TV, mini-refrigerator, dressing table, walk-in closet, bathtub, personal safe and bathroom amenities.
Apart from merely feasting your eyes on the magnificent sea view, you can simply open the door and walk right out to it within seconds! Does that sound amazing to you? It certainly does to us.
Suggested Read: 6 Things Every Traveller Needs To Know About Redang Island
---
Was this article helpful to you? We hope you now have a clearer picture of all the Redang resorts with sea view rooms. Let us know what you think via Whatsapp or email.
Popular Redang Packages