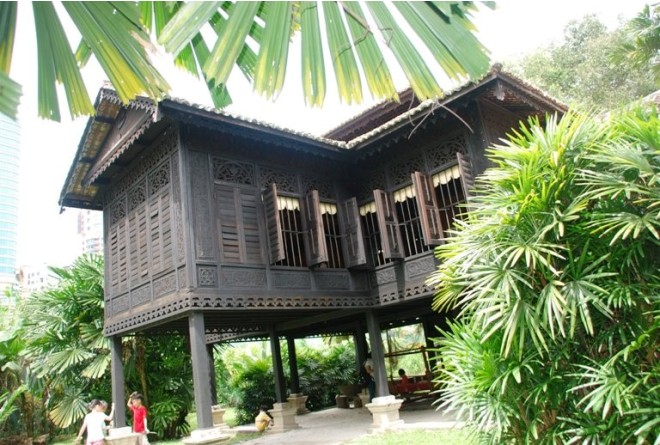 Rumah Penghulu Abu Seman in Kuala Lumpur is the heritage home of a Chief Villager, named Abu Seman, who purchased the original building from a notable Malay figure Tok Taib. The house that was of a typical Malay traditional abode was abandoned after Abu Seman's son, the late Ibrahim Abu Seman. In 1995, the Malaysian Heritage Society acquired the house with hope to restore it back to its glorious form. Originally located in Bandar Baharu, Kedah, a lot of effort of restoration, relocation and reconstruction was required before completion in 1996 at its current location, Jalan Stonor in Kuala Lumpur.
Visitors to this house will walk through 3 sections, namely Rumah Ibu, Dapur and Balai, all built on stilts. Rumah Ibu, or the main residence in loose translation, was built in 1916 and consisted of 2 rooms, a verandah and a hall. Consistent within the Malay architecture tradition, this section of the house is built at the highest from the ground to prevent flood waters from reaching the house. This is also where guests are entertained. Lying behind the main house is the kitchen, or "dapur" in Malay, which was built in 1920s. It was used as a dining hall and for culinary purposes. Balai, or simply, a hall, was added in 1930s. This is where the chief villager's office was located and from which administration, meetings are held and issues are discussed. A Balai is not a mainstay of a Malay traditional house and is often present in houses of notable figures. The house, particularly windows, is filled with intricate designs.
Rumah Penghulu Abu Seman is a place for visitors to appreciate the delicate and beautiful work of art that is the Malay traditional house.
How to get there
Rumah Penghulu Abu Seman is located at Jalan Stonor, about 5.5 kilometres or 10 minutes drive from the Petronas Twin Towers.
Opening hour and entrance fee
The guided tour is available at 11am and 3pm,  the tour is provided with a minimum donation of RM 10 per person.
Recommended Hotels in Kuala Lumpur City Centre
1. Traders Hotel by Shangri La
Nice sky bar and nice room overlooking the Petronas Twin Towers!
Reserve through Agoda.com
2. Corus Hotel
Value for money for a 4 stars hotel and its location.
Reserve through
Agoda.com
3. Fraser Place Kuala Lumpur
Studio and apartment type of accommodation, suitable for both family and business travelers.
Reserve through
Agoda.com
4. G Tower Hotel
Located in the vibrant city center with plenty of dining and shopping options.
Reserve through
Agoda.com
Browse all Hotels in Kuala Lumpur City Centre >>