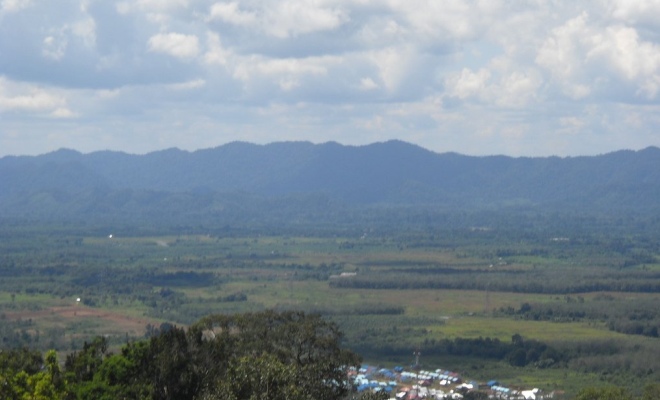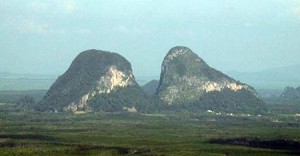 Gunung Medan is a twin 100-metre limestone outcrop in Perlis located about 8 kilometres from Kangar town. Tourists would be able to take a look at Gunung Medan from as far as the Wang Kelian State Park, which is a border town of Perlis. From the peak of the mountain, tourists are able to have a beautiful scenic view of Perlis as a whole. Tourists would be able to have a panoramic sight of Perlis of its nearby rural area with its paddy fields, forests and the vast sugar cane farm in Chuping.
Gunung Medan, roughly 300 feet high above, has a pathway for visitors to climb up to the peak. Being part of the many recommended tourist attractions available in Perlis, broad set-ups of stairways and walkways are constructed for the convenience of visitors to have a pleasant and memorable trip. Also, while visitors use the constructed networks, they would be able to take advantage of it and look at the breath-taking sight of Perlis. This allows visitors to appreciate nature as an escape from the hectic city life. The view from Gunung Medan enables tourists to find peace and serenity within themselves and reduce the stress as everything there is calm.
For visitors that wish to spend more time at the peak of Gunung Medan, designated areas are built for them to have picnics and unwind. These designated areas overlook the stunning countryside of Perlis. Apart from paddy fields and the sugar cane plantations, visitors with a sharp sight would be able to spot the bunches of islands to the west and as well as south, which makes Langkawi Island the most outstanding.
Despite Perlis being the smallest state in Malaysia, the view from Gunung Medan proves that there is no need for a state to be entirely large to be worth traveling, as the view from the peak of Gunung Medan clearly establishes that Perlis has its own unspoilt beauty and is definitely one of the tourist spots to stopover.
For foreigners, it may be a new surrounding to them, as nature like paddy fields and plantations may not be a common sight for them. The idea of looking at a new point of view from the peak of Gunung Medan would be a remarkable experience as the setting is naturally bright and crisp.
In a nutshell, Gunung Medan is worth a stop when one is in Perlis, besides shopping and cave visit in Gua Kelam.