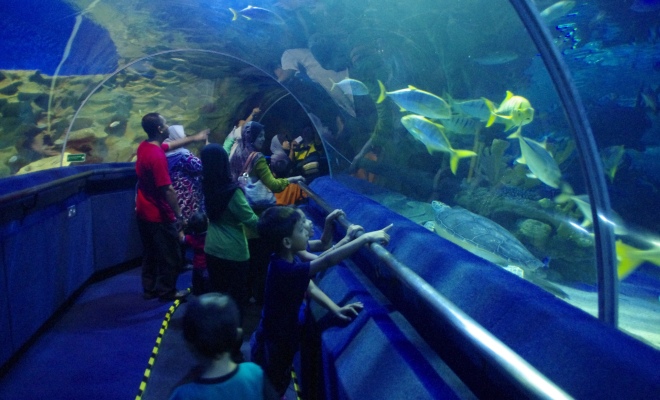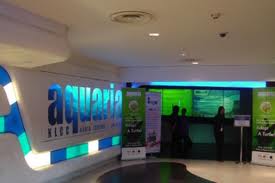 Aquaria KLCC is not only displaying marine species but also exhibit land animals for educational awareness. At the vicinity of well known shopping complex – Kuala Lumpur Convention Centre (KLCC), there is a spot within the shopping complex where visitors can have a look on sea creatures.
You may surprised that Piranha, notorious for hunting human's blood  which originally found in South American rivers can be spotted here;  same with  Arapaima from the same rivers, it is  surely be interesting to see one of the largest fish species swimming across the big aquarium. Still remember how adorable is 'Paul the Octopus'? The one in here, Giant Pacific octopus might not good in predicting the next world cup winner, yet it mimics the gesture of little toddler who play with items, moving little fingers and etc. Other worth-to-see species are the Giant Blotched Fantail Ray, Otter, water rat, potbelly seahorse, Coati Mundi, and Moon Jelly.
Who does not like food? And apparently, feeding time is the best moment for visitors to see aquatic animals to be in action to get their food. They will tend to be more active and come out from hiding places. The oceanarium is not only limiting visitors to learn about tropical water species, but it also aim to bring basic educational awareness that the sea and jungles are interconnected system. Aquaria KLCC has created a section of 'The jewels of the Forest' to showcase the ancient rainforest trees and habitats such as lizard, frogs and poisonous snakes. With collaboration with state museum, the two-level mock marine-forest place portrays the replica of the possible insects-butterfly on display board.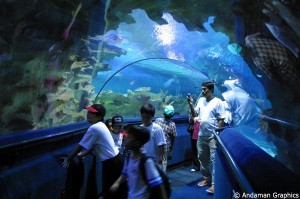 Fear not that the educational journey will bore you as if you are in museum or archive, as the approach is more to story-telling rather than serious business. If you are a serious person and looking forward for conservation work, a few more months, the authority will launch the Rimbaria. Rimbaria will provide the preview of one of Malaysia's oldest rainforest- The Belum-Temengor, Endau Rompin National Parks with its conversational value to over 30 species of fauna and a few of endangered species in world. The most awaiting spot will also cater a trail to uncover caves mystery-its formation and structures.
A whole journey walk can be soothed by in-house fish spa treatment at Aquazone Fish Therapy Centre. Children will love it for the thrilling ticklish feeling as the Garra Rufa fish is sucking away the dead skin with their lips. Women will definitely rejoice as their feet look younger and smoother!
Recommended Hotels in Kuala Lumpur City Centre
1. Traders Hotel by Shangri La
Nice sky bar and nice room overlooking the Petronas Twin Towers!
Reserve through Agoda.com
2. Corus Hotel
Value for money for a 4 stars hotel and its location.
Reserve through
Agoda.com
3. Fraser Place Kuala Lumpur
Studio and apartment type of accommodation, suitable for both family and business travelers.
Reserve through
Agoda.com
4. G Tower Hotel
Located in the vibrant city center with plenty of dining and shopping options.
Reserve through
Agoda.com
Browse all Hotels in Kuala Lumpur City Centre >>