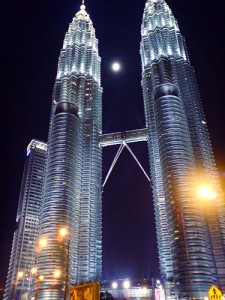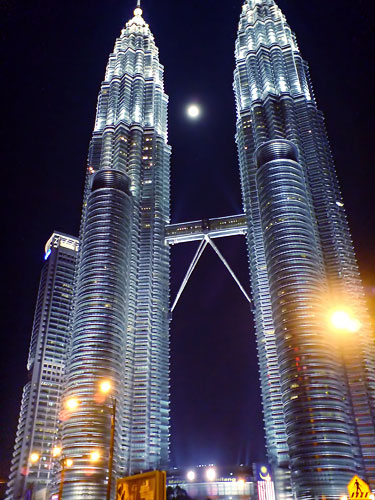 When you come to Kuala Lumpur, one of the tourist destinations most commonly seen on every tourist must-see list is the Petronas twin towers. Nestled in the heart of the city, the towers which are the fourth tallest towers in the world today stands magnificent as the proud symbol of Malaysia's advancement in today's world.
It is the tallest twin building towers in the world. Standing at 1483 feet above the ground, these towers of super high-strength reinforced concrete is a magnificent sight to behold, especially when the lights come on at night. Malaysians have the fourth Prime Minister, Tun Dr. Mahathir to thank because he was the leader who pioneered the vision of the building. The towers were completed in the year 1998 and have 88 floors to each tower.
One feature of these towers that have become a great attraction is the sky bridge. It joins the towers on the 41st and 42nd floor of the buildings. This attraction is actually a safety feature, in case of an emergency whereby people can be evacuated from one tower to another if ever the need may rise. In the initial years, getting across from tower to tower was free for all visitors but today, you need to buy tickets to get across. So, if you wish to get this once in a life time experience of walking on such heights, you may want to make your way as early as possible as tickets are only limited to 1000 a day. You are allowed to either visit the sky bridge or go all the way up to the 86th floor to catch a bird's eye view of the entire city.
At the bottom of the two towers is the suria KLCC. An exciting shopping destination which features many up market designer stores. The Petronas twin towers are also the destination if you wish to go to the underwater aquarium. Besides that, the towers is also the place to be in if you wish to go to the science centre. The Petronas Philharmonic Hall is also strategically situated right here in the towers.
The Petronas towers are a great place to visit while having vacation in Kuala Lumpur. It is a one stop destination for activities for the entire family.
Recommended Hotels in Kuala Lumpur City Centre
1. Traders Hotel by Shangri La
Nice sky bar and nice room overlooking the Petronas Twin Towers!
Reserve through Agoda.com
2. Corus Hotel
Value for money for a 4 stars hotel and its location.
Reserve through
Agoda.com
3. Fraser Place Kuala Lumpur
Studio and apartment type of accommodation, suitable for both family and business travelers.
Reserve through
Agoda.com
4. G Tower Hotel
Located in the vibrant city center with plenty of dining and shopping options.
Reserve through
Agoda.com
Browse all Hotels in Kuala Lumpur City Centre >>