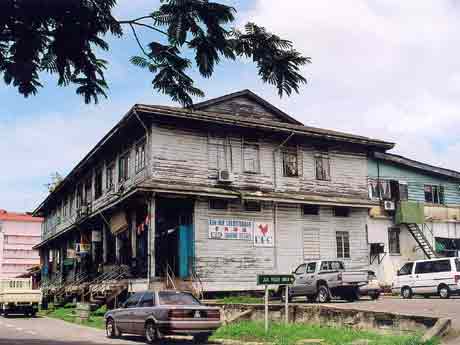 Beaufort is a name given to a town after a former British Governor LP Beaufort and is residing in the Interior District of Sabah in East Malaysia . Beaufort means "The Beautiful Fort" in old French language. The population is comprised of Malays, Chinese, Bisaya and Kandazans. During the era of World War II, the prosperity of Beaufort was to produce rubber but with time and changes it now produces palm oil. The shops and houses are built on high roads to avoid the periodic floods that arise from the Padas River . Beaufort is also a train station residing between the railway line which extends from Tanjung Aru to Tenom.
Things to do in Beaufort
The people who enjoy whitewater rafting will enjoy visiting Beaufort. The water rafting trips are made on the Padas River and are organized by many local tour companies in Sabah. If you haven't got any booking with any company, you can easily find an agent around the town that can easily hook you up with a tourist group who share the same interest on this adrenaline filled activity.
The other exciting thing to do while you are in Beaufort is to take an old train to or from Tenom. A diesel locomotive carries the coaches and the ride is relatively slow; hence provide visitors a better chance to enjoy the sight of rural life in Sabah villages, a view of River Padas (occasionally you can also see people rafting on it) and a sight of lush green rainforest. The coaches of train are packed with the residents of the town and you will have enough time on the ride to learn few things about the town from them.
Things to see in Beaufort
There are not many attractions in Beaufort except for the beauty that is a gift to the town from nature. Wooden shop and houses give an awesome view to the visitors along with the scent of water from the Klias River . There is an open- air market which is held weekly from Friday afternoon to Saturday afternoon and it is commonly known as "Tamu". Groceries and local production like poultry and dairy stuff are sold here. Beaufort is famous for its Chinese dish called "Beaufort Mee"; famous for its oranges.
Where to stay in Beaufort:



When it comes to accommodation in Beaufort, there are limited options in the town; hotels that are worth to mention is the Beaufort Hotel and the Mandarin Inn. If you can consider travel to Kota Kinabalu , then consider this option; otherwise the hotels here in Beaufort are limited.
Get in and around in Beaufort:



Visitors can visit Beaufort by car, train or bus. It's a 97km drive from Kota Kinabalu via the main highway that extends from Sabah and Sarawak . Buses can be taken from nearby towns to reach Beaufort too. If you are considering going through train, so , Beaufort resides as major station in the Sabah Railway. Same routes can be taken to get out of the city. While you are in Beaufort, you don't need any public transport to scale the town. Walking is the best way to explore this beautiful place, Beaufort.