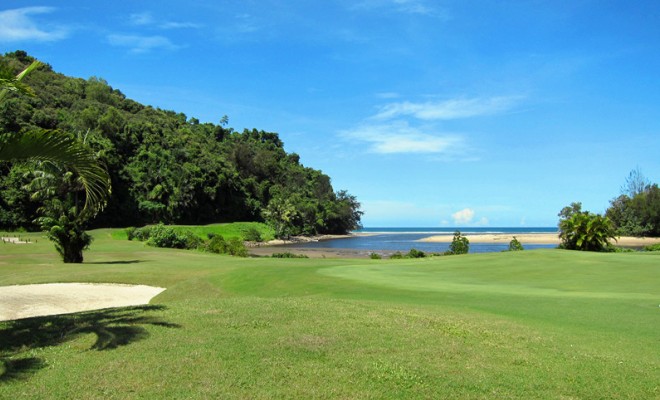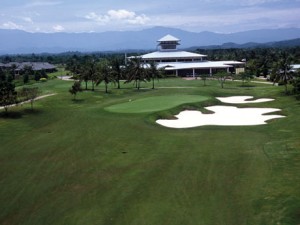 For travelers who wish to go places which feature more nature and fresh, tropical beauty, rather than the fast paced city and shopping type of holiday, look no further. Sabah, also known as the Land Below the Wind, has many natural wonders just waiting to be discovered. Travelers can take their pick from island hopping, forest or jungle trekking, climbing up the famous Mount Kinabalu, or even a short stay at one of the many beach resorts or clubs around the coastal beaches of Sabah.
One such club or resort is the Borneo Golf and Country Club (BGCC), situated at Beaufort, about an hour drive (equivalent to 69 KM) from Kota Kinabalu, the main city area of Sabah. To get there, just hop on the Beaufort highway which begins at Bongawan, and it's mostly a straight road, with picturesque views of smaller village homes and paddy or vegetable fields. The Borneo Golf and Country Club is a unique resort simply because its 18-hole, par 5 gold course, was also designed by the famous golfer Jack Niklaus, and to top it off, this club, also known as The Pride of Borneo, is strategically located at the edge of the South China Sea.
The acreage of the golf course itself will surely delight avid golfers, as it spans 6546 meters of championsheep tees, offering ample playing ground. The resort itself boasts an area range of 900 acres, and it must be noted that 200 acres is devoted to the golf course itself, which has superb natural features such as lagoons, terrains which feature water hazards, wastelands, and bunkers. All these landmarks combined together results in a a bold outlook which helps to pinpoint its strong features, thus earning it a nickname also known as the 'Golden Bear' golf course.
It is also worth mentioning that the clubhouse facilities are all top notch, as it includes a golfer's lounge, a golfing shop, locker rooms, driving range, a spacious practice area, resident pro and putting green, and other facilities for the non-golfers such as a karaoke lounge, a billiard area, swimming pool, tennis court, and a fishing area.
It is a truly a dream course for those who enjoy golfing, and for those who wish to stay longer or need a place to stay for business-cum- golf trips, the Prescott Resort Hotel, situated just beside the clubhouse, will be a convenient location for such trips.
Recommended Area to Stay in Sabah:
Kota Kinabalu
From city's heritage exploration to islands escape, accommodation option in KK is countless.
Mount Kinabalu
For visitors looking to discover mother nature and access to the highest mountain in South East Asia.
Semporna
Gateway to the islands paradise (Mabul Island, Sipadan Island, Kapalai Island and more!).