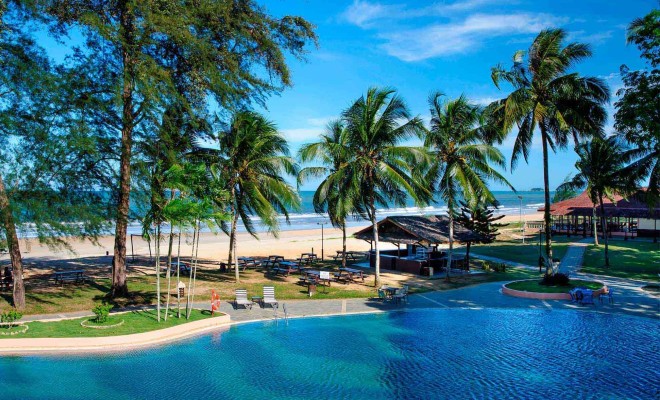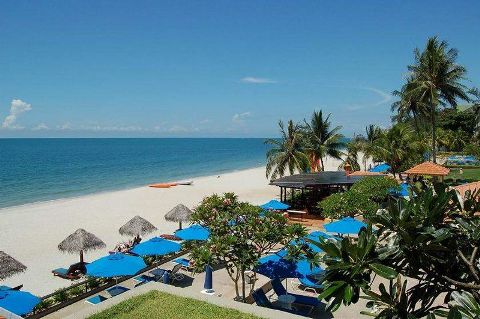 A town famous with its beach, water sports and nature exploration, Cherating is a well preferred tourist destination in Pahang after Tioman Island . Not only a preferred destination for tourists, Cherating is also a popular spot for corporate event and company team-building. Great diversity of resorts ranging from budget to mid range and luxury, Cherating is a place for travelers with every budget.
Things to do in Cherating
Beach activity is not doubt the best thing to do in Cherating. Swimming, kayaking, yachting or simply strolling on the long stretch of white sandy beach will offer you the peace and calm that is long missed in the bustling city. beach during Monsoon season, the waves here will sure fascinate you as a surfer.
The next best thing to do in Cherating is to visit the Turtle Sanctuary located next to ClubMed. Here, you will get the chance to see abundance of turtles in actions, and if you wish, you can also buy some souvenirs from the onsite souvenir kiosk If you are into nature exploration, join a boat tour to Cherating River to see the beautiful scenery with thousands of fireflies surrounding the trees. Visitors who joined this tour agreed that the fireflies sanctuary here is the best after the one in Kampung Kuantan.
For visitors who just want a quiet getaway, the beach bar in the town is the right place to have a glass of chilled beer. Horseback riding is also a fun activity that allows you to stroll around the beach to enjoy the peaceful surroundings that Cherating has to offer.
Attractions in Cherating:



Where to stay in Cherating
With diversified of accommodation options available in the town, visitors should not worry on where to stay in Cherating. Ranging from affordable lodges to all inclusive resorts, accommodation here is available to suit all types of budget. If you prefer to stay near to the beach , the beach resorts here are simply magnificent, if you prefer to stay away from beach but like to swim, there are also resorts and hotels with gorgeous and spacious swimming pools.
The resorts and hotels in Cherating can get quite full during the peak holiday seasons and Monsoon season when most surfers hit the beach here. It is always good to reserve the room in advanced to avoid disappointment.