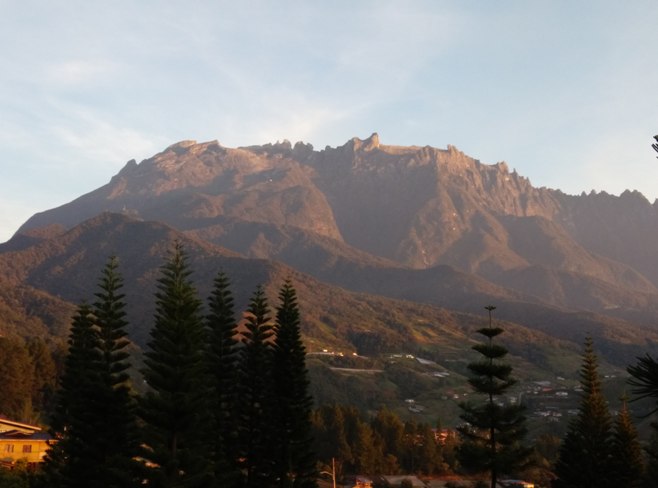 Mount Kinabalu view from Kundasang
Recognized as the highest mountain in Borneo, Mount Kinabalu is the 4th highest mountain in the Malay Archipelago. The mountain is an ultra-prominence peak with 4,095 meters of prominence, making it the 20th most prominent mountain on earth.
There are 2 trails to get to the summit of Mount Kinabalu, via the Timpohon Trail or Mesilau Trail. While you do not need to have special skills to reach the peak, but it is recommended to get yourself equipped with the basic fitness level. Both trails offer magnificent view and the opportunity to encounter amazing tropical floras. both trails will meet at Layang-Layang at 2,740 m (or 4 Km from Timpohon Gate).
Apart from reaching the top via mountain climbing, visitors can also experience the Mountain Torq, the world's highest and Asia's first Via Ferrata or 'iron road' at 3,200m to 3,800m above sea level. The different routes on the northern rock faces of Mount Kinabalu consists of a 'trail' that is made up of iron rungs, palettes, cables and rails. Depending on the preferred difficulty level, visitors can participate in various activities such as the intro to single pitch or multi pitch sports climbing, intro to rappelling (abseiling) and introduction to rope ascending.
Sample Itinerary for 3 days Mount Kinabalu Climbing
Day 1
Overland transfer to Kinabalu Park for registration and briefing. Check in to respective accommodation in Kinabalu Park or Mesilau.
Day 2
Wake up at 6am in the morning and take breakfast. Start climbing at 9.30am via Timpohon Gate or Mesilau to Laban Rata. Check in to respective accommodation in Laban Rata and enjoy the chilling weather at 3,273m above sea level.
Day 3
Wake up at 1am in the midnight and take supper. Continue hiking to the summit of Low's Peak. Climber must reach Sayat-sayat check point before 5am. Upon reaching at the summit, take a rest and enjoy the spectacular view of sunrise (in good weather). Descend back to Laban Rata for check out and continue the trek down to Timpohon for certificate collection.
Your Mount Kinabalu climbing journey ends after the ticket collection.
Important note for Mount Kinabalu Summit climb
To reach the summit is totally depending on climber's fitness level, no tour company nor the mountain guide is able to guarantee the climber to reach the summit.

In bad weather, the ranger will stop the hike to prevent accident.

Climber must reach Sayat-Sayat check point before 5am.

Bring only warm gears such as headlamp, drinking water, snacks, camera and personal medicine to Summit.

Summit temperature is chilling and can be in negative 3 degree C with regular wind chill. Climber should wear 2 – 3 layers of clothes if needed.

Climber can bring hiking stick for Summit climb to ease the hike. But the climber should shorten the stick and put in the backpack at rope climb area.
Things to bring/wear for climbing from Timpohon/Mesilau to Laban Rata
Wear Lightweight Clothing: Dry-fit T-shirt, Light Trek Pant OR Short Trek Pant | Whistle – in case you need immediate attention

Wear Good Hiking / Walking Shoe with good grip ( Porter use rubber shoe call "Adidas Kampung" )

Bring Hiking Pole / Stick – Important for balancing support throughout the climb especially descending.

Bring Disposable Raincoat – Ideally 2-3 set. Mount Kinabalu is water catchment site with 4000cm rain a year.

Bring Water – 1.5L for Timpohon & 2L for Mesilau to prevent dehydration, boiled water can be refill at Laban Rata café.

Bring Light Energy Foods – raise, energy bar, your own favorite snacks in you are hungry after pack lunch.

Bring Small First Aid Kit – Altitude sickness pill, muscle relief, pain killer, personal medication, nail cutter.

Bring Small Towel & 1 Set Light Shirt & Pant – for you to change at Laban Rata if your porter still far behind. This always happens!

Bring Waterproof Backpack – if you don't have, pack everything in double plastic bag. Limit Weight less than 7 KG

Bring Toilet Paper – there simple toilet along the trail. | Bring Personal Toiletries – soap * toothbrush & paste for mountain hut use.

Bring Warm Clothing & Extra Socks – for you to change at 3,273M's mountain hut & warm sleep.
Things to bring/wear for climbing from Laban Rata to Summit of Low's Peak
Wear Warm Clothing – T-Shirt + Long Sleeve Shirt + Water Proof Wind Breaker | Balaclava Mask – Protect face from strong wind.

Wear Warm Clothing – 1 – 2 Layers Trousers / Trek Pants, Thick Sock, Good Shoe,

Wear Waterproof Hand Glove – Important in cool weather. Most of the time you will hold on rope and rocks, they are Wet!

Wear Headlamp – Important for dawn climb in total darkness. Light up your way and safe paths.

Bring 500ML Water, Energy Food / Snacks, Camera | Use Waterproof Backpack – leave other un-need item in the hut.
Other important notes
Climber is not recommended to take return flight during the descending day. This is to avoid missed flight due to accident, bad weather, land slide and etc during the trek down journey.

Climber should be medically checked before the climb.
Mount Kinabalu Climbing Packages:



2d1n Mount Kinabalu Climb (via Timpohon/Mesilau)
3d2n Mount Kinabalu Climb (via Mesilau)
3d2n Mount Kinabalu Climb (via Timpohon)