Last Updated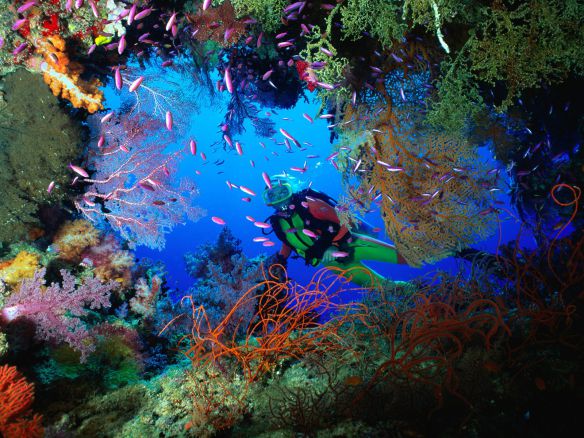 The perfect destination for travellers who like adventurous activities, Malaysia is filled with plenty of things to do and see. A tropical paradise for those who enjoy the outdoors, this beautiful country with its spectacular biodiversity is quick becoming one of the tourist most preferred destinations on earth. Biologically intense in underwater as well as on land, Malaysia provides nature enthusiasts an ideal environment to see diversified of wildlife species in their natural territory.
One of the perfect ways to experience Malaysia's gorgeous underwater marine life is through a scuba diving tour. Scuba diving is one of the most popular activities in Malaysia, with many tour companies and travel agents now providing underwater tours and excursions. Plenty of dive companies offering different diving tours can be found throughout the country, and scuba diving facilities in Malaysia are now up to the international standard. With proficient PADI instruction courses as well as top notch dive shops with diving gears rental services, scuba diving in Malaysia has approach to a new peak.
Huge groups of fish species, a wonderful range of underwater marine life and a perfect water temperature throughout the year, simply meant that scuba diving conditions in Malaysia are close to perfect. While some of the islands in Malaysia does not offer much diving opportunity due to the low underwater visibility. However, in islands such as Sipadan Island, Mabul Island and Layang-layang Island on the east Malaysia, scuba diving here is truly fantastic. Diver gets the chance to see barracuda and big-eye trevally, swimming alongside white-tip reef sharks and turtles.
In Peninsular, there are several magnificent scuba diving zones that are worth for a dive. Visit the Langkawi Island and the Perhentian Island and you will be treated with thriving coral reefs and some fantastic underwater sights. These two islands home to a large quantity of marine life off their coast, where scuba diver can encounter blacktip reef shark, barracuda, jacks as well as the usual reef fishes. Perhentian Island is said to be one of the best diving destinations in Malaysia with 20 dive sites around the island that are accessible within a short boat ride. Home to diversify of fish and coral species, this little island is one of the best scuba diving spots in Malaysia.
Off the east coast of Peninsular Malaysia in Pahang, Tioman Island is another best diving destinations in the Peninsular. Due to its popularity, the island can become very crowded especially during the peak seasons, but scuba diving in Tioman Island is a real treat and you can expect to see a good diversity of hard coral.
Popular Diving Tour Packages
---
Whatsapp us to get more details!
Please WhatsApp us by clicking the WhatsApp Button.

We are reachable by call too:
+6010-2396385
+6016-3796385
+6010-2216385
You may also fill up the Inquiry Form below: