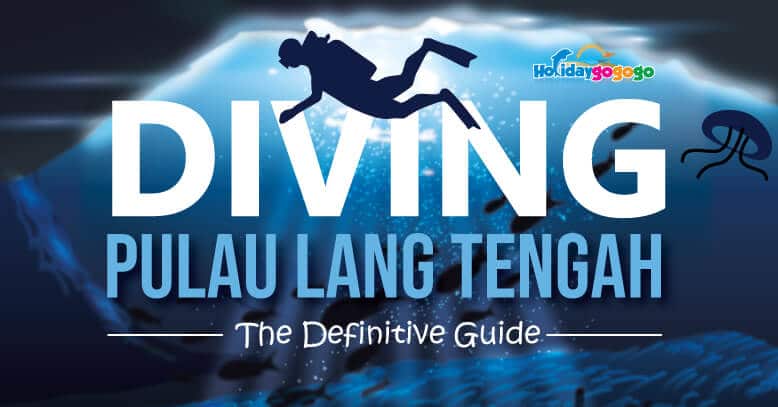 With crystal-clear waters, dreamy white beaches and excellent visibility, Lang Tengah Island is a tiny, undiscovered island that attracts all sorts of travellers. You'll see families and solo backpackers to scuba divers and island hoppers enjoying its sandy beaches and untouched marine life.
But above all, it is an idyllic scuba diving paradise. Its excellent reefs with an abundance of marine life present a vast playground for divers to navigate. Read on for our definitive guide where we will cover everything you need to know about diving in Lang Tengah Island!
[lwptoc]
---
The diving experience
Lang Tengah Island is the perfect environment for diving. Visibility is fantastic, and the lack of strong currents makes for immersive dives. And because it's still relatively unknown compared to its larger neighbours like Redang Island or Perhentian Island, you'll find fewer tourists or divers at this secret paradise.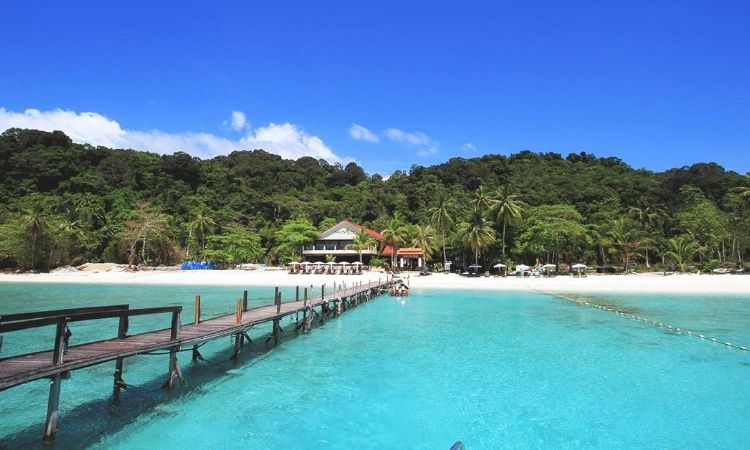 Each resort has its own dive centre or facility which offer dive excursions to sites all around the island. If you haven't dived before, you can also take your first PADI Open Water course here. Prices are more or less the same for beginner courses. Check out our guide to help you get started with diving in Malaysia.
Beyond that, diving rates vary with different dive operators and tour agents. Generally, the further the diving site is from the jetty, the more you might have to pay. This is based on the distance the boat has to travel.
Lang Tengah also has lovely beaches for your non-diver friends or family to enjoy. Besides diving, snorkelling is a great past-time here.
Marine life & environment
The marine life at Lang Tengah Island is stunning. The reefs circling the island are in pristine condition while marine life is abundant and extraordinarily vivid.
Lang Tengah Island offers diving experiences up to 30 meters, with guaranteed sightings of large shoals of snappers, fusiliers and rabbitfish. The island is mainly known for its common sightings of various friendly shark species, including blacktip, white tip, leopard and bamboo sharks. It is also reasonably easy to find giant turtles and shovel-nosed rays as you go about the island. Encounters with resident schools of jacks and barracudas are almost assured too as you dive around this tiny but diverse coral island.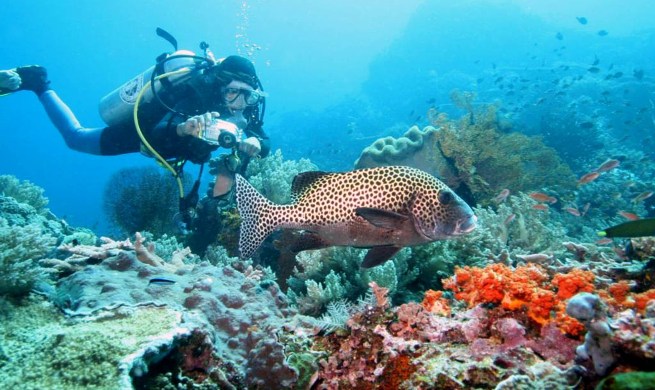 Should you prefer night diving, there are a few shallow bays with an abundance of nocturnal reef animals and crustaceans. Night diving at Lang Tengah Island introduces you to elusive creatures like cuttlefish smaller than your palm, catsharks, a variety of crabs, translucent baby shrimps, rays and more. An excellent spot to night-dive is House Reef towards the south of the island.
Keep an eye out for turtles, colourful corals and sponges, groupers, bamboo sharks, shovel-nosed rays, nurse sharks, leopard sharks, butterflyfish, barramundi cods, rabbitfish, wrasses, fusiliers, snappers, and much more.
Top Lang Tengah dive sites
There are 15 dive sites around the island, ranging from a depth of 7-26 metres. They are easily accessible within 5-15 minutes' boat ride from the resorts.
Some more popular dive sites are Tanjung Nibong Laut (26m), Yellow Reef (Terumbu Kuning, 25m), Batu Bulan, Tanjung Telunjuk, Karang Nibong, and House Reef. Other sites include Batu Broker, Terumbuh Putih, Batu Kapal, Batu Kuching, Karang Bahar, Batu June, Blue Coral, Batu Nayak, and Goby Garden.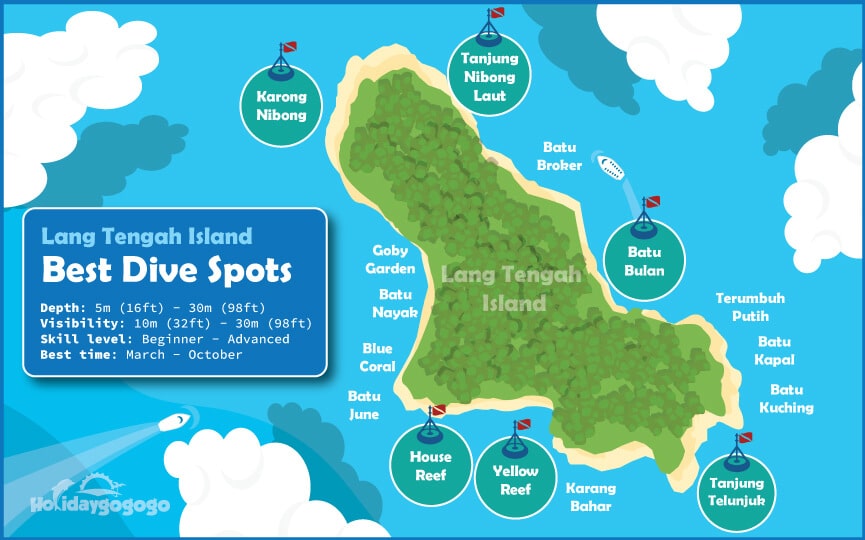 Yellow Reef (Terumbu Kuning): Conveniently located close to two resorts, Terembu Kuning is an easily accessible rocky outcrop that slopes out at about 20 metres.
As its name suggests, Yellow Reef is named after the yellow-coloured black coral trees that grow in abundance toward the bottom of the reef. It is also inspired after the many yellow butterflyfish that call it home. The reef is covered by hard corals which supply shy groupers and barramundi cods with refuge. Look closely to find nurse sharks hiding in the crevices. Small marine life such as shrimps, flatworms, nudibranchs, gobies and pipefish are also easy tyo find. As you swim out to the blue water, you'll find batfish, jacks and fusiliers swimming about freely.
Tanjung Telunjuk: Dive into beautiful coral formations, colourful soft corals and sponges. Tanjung Telunjuk is home to various sea fans, harp corals, blue and green anemone and more.
Karong Nibong: Amidst a sandy seafloor rises an underwater mound comprising a pile of enormous rocks. Karong Nibong is an angular shaped rock that bottoms out at around 25m near the seafloor. It is on the tip of the island, making it a perfect place for some drift diving action (you know, the sort that usually attracts pelagics such as barracudas, jacks, trevallies, and the majestic whale shark!). Even if you don't get to see a whale shark, keep an eye out for turtles and bamboo sharks sleeping under the rocks. This dive site is home to lovely nudibranchs, too. Look beneath the corals that resemble leather saucers to surprise some moray eels in their natural habitat. Move on to the coral gardens to spot colourful butterflyfish, wrasses and rabbitfish.
House Reef: If you're a night diver, you'll like House Reef. In the sandy areas, you can find cuttlefish, octopus and moray eels. Non-divers can put on their snorkel masks and interact with handsome blacktip reef sharks that patrol the southern end of the beach.
If you want to explore further, you can visit nearby Redang, Perhentian or Bidong Island. Venturing into these neighbouring islands unlocks over 40 dive sites for you to explore!
However, although travelling directly to nearby islands via boat is possible, we don't recommend this method. Because it is not on a regular route, prices will be much higher. The cheapest option is still to take the boat back to Merang Jetty, then a taxi to Kuala Besut and then set out from there to your island of choice.
Diving conditions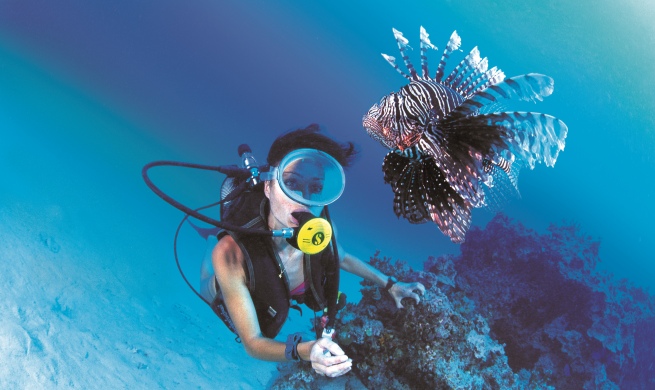 Lang Tengah Island offers some excellent reefs and marine life. It is known for smooth currents, abundant coral and plentiful pelagics such as whale sharks, reef sharks and barracudas. It also helps that visibility is relatively good on the island and its surrounding waters.
Visibility: You can expect 10m – 30m depending on the season. Monsoon season visibility is understandably much lower (Nov – Feb).
Current: Depends on where you dive, but mostly low. The monsoon season will bring in strong currents that will break some coral.
Average Water Temperature: Ranges from 27 °C – 31°C year-round
Depth: 5 – 30m
Number of dive sites: 15
Non-Diver Friendly: Yes
Wrecks: Yes
Malaysia and the Coral Triangle
Malaysia lies within the Coral Triangle. This is an important piece of information that you should know.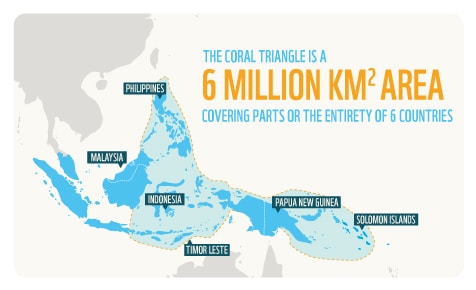 Image: WWF Coral Triangle Facts
In case you didn't know, the Coral Triangle, also known as the "Amazon of the seas" is a region in the Indo-Pacific Ocean that contains more marine species than anywhere else on the planet. I bring this up because it does lend a considerable advantage to Lang Tengah's fantastic diving experience.
The waters in the area contain at least 500 species of reef-building corals (roughly 75% of the world's known coral species!) and the highest reef fish diversity (37% reef fish species). Six of the world's 7 marine turtle species are housed within this massive area. The triangle is also home to whales, dolphins, porpoises and whale sharks as they eat, breed and migrate within this thriving ecosystem.
Of course, this rich marine biodiversity is shared across multiple countries. One country or island can't house it all (we can only dream). Still, it gives you an idea of what to expect when diving at Lang Tengah Island or any other island around Malaysia's gorgeous shores.
How to get there
Lang Tengah Island is accessible via a 35-minute boat ride from Merang Jetty in Kuala Terengganu. Because the jetty is out in the middle of nowhere, you'll need to book a Grab from Kuala Terengganu city centre for around RM40.
To get to Kuala Terengganu from Kuala Lumpur (KL), you can take a bus or fly domestically. Buses depart daily from Puduraya Bus Station or Pudu Sentral in KL. Alternatively, you can take daily flights which will help save time.
Best time to visit Lang Tengah island
The best time to visit Lang Tengah is between March and October. Visibility is great, and it is the driest period too. You may encounter sudden rain showers, but they don't last long enough to disrupt your dives or holiday experience.
There is a fairly fierce monsoon season between the end of October and the end of February that forces the resorts on the island to close (same goes for the other tropical islands in the area). The jetty will be closed during this time and access all but restricted. Visibility will be horrible for diving anyway, so we recommend you to stay away during this time.
Where to stay while diving at Lang Tengah Island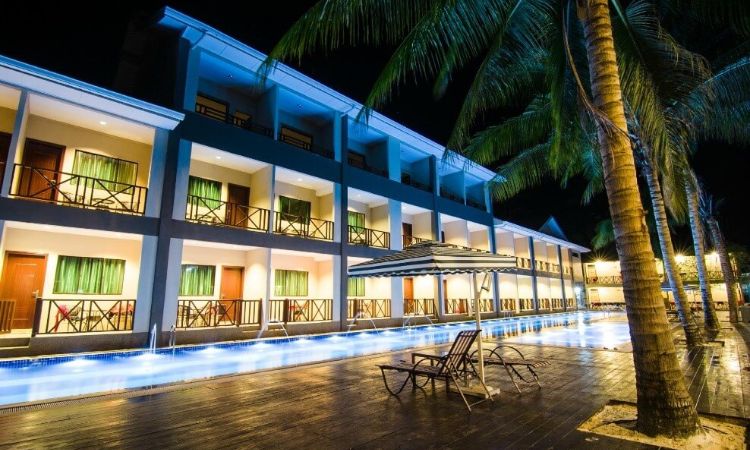 Accommodation options are limited on Lang Tengah itself. You can choose from 3 resorts: D'Coconut Lagoon Resort, Sari Pacifica Beach Resort & Spa, and Summer Bay Lang Island Resort. All the resorts offer good dive facilities for diving guests. Here's a quick rundown:
D'Coconut Lagoon Resort: Located along the southern shores of the island, D'Coconut Lagoon Resort is the only Lang Tengah resort that has two separate wings, east and west, which are accessible to each other via a short road through the lush tropical jungle in between. The major attractions here are snorkelling and scuba diving trips. Sea kayaking and island hopping are available at the resort, if you want something less challenging but are still up for something adventurous.
Sari Pacifica Beach Resort & Spa: This Lang Tengah resort sits elegantly by the white sandy beach and is surrounded by a lush tropical jungle. It is the perfect getaway surrounded by dense greenery. Sari Pacifica has its very own dive centre offering PADI courses as well as dive excursions. Besides diving and snorkelling, you can engage in many beach sports, including beach volleyball, beach futsal, fishing, and island hopping.
Summer Bay Lang Island Resort: Summer Bay provides excellent hotspots for snorkelling where tourists can experience closer access to the thriving coral reef and marine life of the island. It is also the newest resort on the island. A diving and snorkelling center for scuba divers and snorkellers is one of its key attractions. It also offers night dives, if that's your thing. Non-divers can choose to go fishing, canoeing, and island hopping. Excursions to view the beautiful blue tears by the beach at night are also available.
Which is the best resort for your dive holiday? Read our full breakdown of all 3 resorts here.
How to book a Lang Tengah diving package
You'll find a wide range of diving packages here, including beginner lessons and night dives. Holidaygogogo offers diving packages to help you get diving immediately without worrying about all the hassle of planning and coordinating your trip. A typical diving tour package includes:
2 ways transfer (Merang Jetty-Lang Tengah Island-Merang Jetty)
2 ways land transfer (KT City Hotel / KT Airport – Merang Jetty)
Accommodation
Full meals with tea breaks
Complimentary shore and boat diving trips
For a hassle-free diving holiday at Lang Tengah Island, you may book with us here or scroll to the bottom of this page to view our packages.
Other activities at Lang Tengah Island besides diving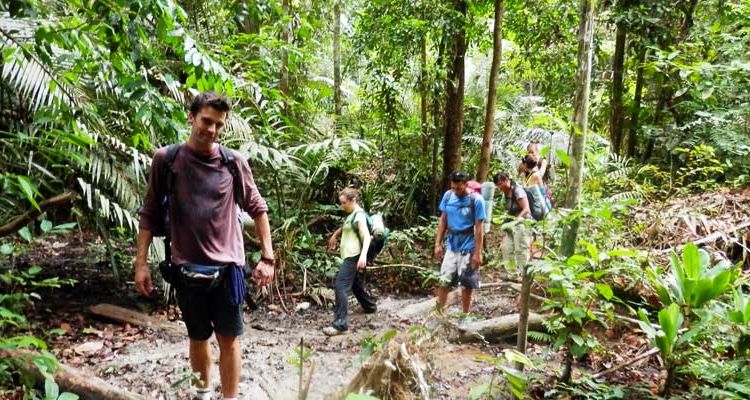 Lang Tengah is a tiny island compared to Perhentian and Redang, and people mostly visit the island to dive and snorkel (and relax at the beautiful secluded beaches). On the island, there are no roads (except for a couple of jungle paths); so the only way to get around is by sea or trekking.
Most visitors stay at their resort and spend the entire duration of their holiday there. You can do some light hiking or kayaking besides the regular snorkeling and diving trips. Resorts also include tasty meals at their own restaurants. Compared to its neighbouring islands, Lang Tengah is quieter as fewer visitors visit the island. This makes it the perfect place to just relax and tan yourself with a good book.
Suggested Read: 8 Activities to Help You Forget Life's Worries at Lang Tengah Island!
---
Popular Lang Tengah Dive Packages