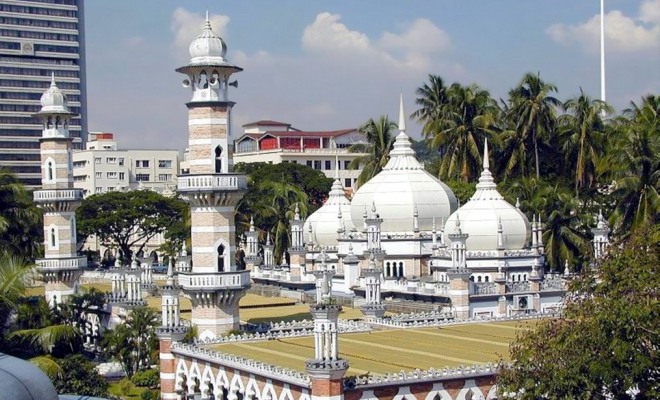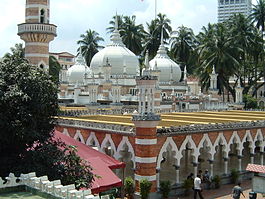 The Jamek Mosque (Masjid Jamek) which stands as one of the oldest mosques in Malaysia is certainly a must see attraction. It stands in the vicinity where the Gombak River and the Klang River meet. You would certainly pass the location of the mosque on your way to the more obvious tourist attractions. However, if you are the type of tourist who loves going off the beaten track, the mosque is one destination you might want to consider.
The mosque was established in the early 1900s and was officially opened by the sultan of Selangor at that time. Before the mosque was replaced by the National Mosque later on, where most Muslims would make their way here to worship. It still is a religious sanctuary for many Muslims today. When you reach the mosque you would surely notice a Moorish type of architecture is used. The architecture of the mosque is certainly a unique and magnificent one as it stands out from the usual concrete landscape.
Either take a cab to the mosque or hop on board the LRT train service to alight at the Masjid Jamek station on the Kelana Jaya line. An alternative line would be the Ampang line.
Tourists who visited the mosque also made their way to the Islamic Arts Museum nearby. This is the right place to be if you are interested in immersing yourself in the Muslim culture of the nation. Do call +603-9235 4848 for more information on visiting the mosque before making your way there. Then, once you have completed a tour of the mosque you could go over to view the Sultan Abdul Samad building in the near vicinity.
Recommended Hotels in Kuala Lumpur City Centre
1. Traders Hotel by Shangri La
Nice sky bar and nice room overlooking the Petronas Twin Towers!
Reserve through Agoda.com
2. Corus Hotel
Value for money for a 4 stars hotel and its location.
Reserve through
Agoda.com
3. Fraser Place Kuala Lumpur
Studio and apartment type of accommodation, suitable for both family and business travelers.
Reserve through
Agoda.com
4. G Tower Hotel
Located in the vibrant city center with plenty of dining and shopping options.
Reserve through
Agoda.com
Browse all Hotels in Kuala Lumpur City Centre >>