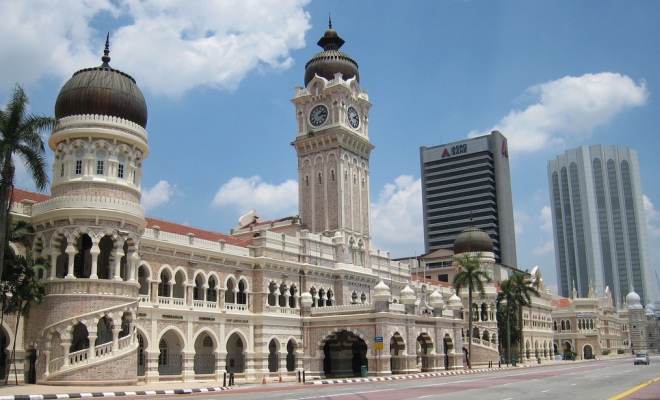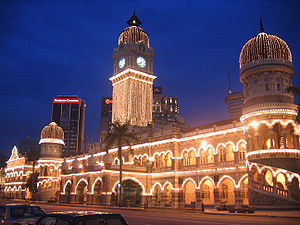 Kuala Lumpur is an interesting city, with many attractions, sights and places to explore and see . The Sultan Abdul Samad Building along Jalan Raja is one such attraction in the city. Located in front of the Independence Square and the Royal Selangor Club , the building which takes the name from one of the nations reigning sultans of Selangor; was built way back in 1893. Before construction began, the building was actually initially meant to be the State Government of Selangor's house. But then, the house was instead used as the Federated Malay State administration place.
Oriental Style
If you take a look at the building, you can notice that an oriental style; the Moorish style with a mixture of European and Islamic forms were chosen for the building. This building is only two stores high and has a veranda around both floors. arch in the building was made in different forms, making the entire building a unique display in its own special way. From the roof, the outside of this building and even to the floor of the building, this red-bricked building will never fail to mesmerize you with its own unique beauty and magnificence. The building is more than a century old. Yet, it has been well-maintained till this day!
History
The building has stood magnificently for many years now, silently witnessing many historical events in front of it from a nearby distance. Among these historical events is the celebration of independence of Malaya on the 31st of August 1957 by Tunku Abdul Rahmanas. to the faithful day when our Malaysian soldiers lowered the British flag to raise the Malaysian flag in the field. Every year, Independence Day is celebrated in front of this building, with a grand and festive parade and march- past!
Today, the building is also a place that is the focal point for thousands of people to usher in the New Year! So, if you are in Kuala Lumpur during this season, this is the right place to be for the celebration. could just visit the building in the other day, to fully capture the renaissance of that period.
Recommended Hotels in Kuala Lumpur City Center
1. Traders Hotel by Shangri La
Nice sky bar and nice room overlooking the Petronas Twin Towers!
Reserve through
Agoda.com
2. Corus Hotel
Value for money for a 4 stars hotel and its location.
Reserve through
Agoda.com
3. Fraser Place Kuala Lumpur
Studio and apartment type of accommodation, suitable for both family and business travelers.
Reserve through
Agoda.com
4. G Tower Hotel
Located in the vibrant city center with plenty of dining and shopping options.
Reserve through
Agoda.com
Browse all Hotels in Kuala Lumpur City Center >>