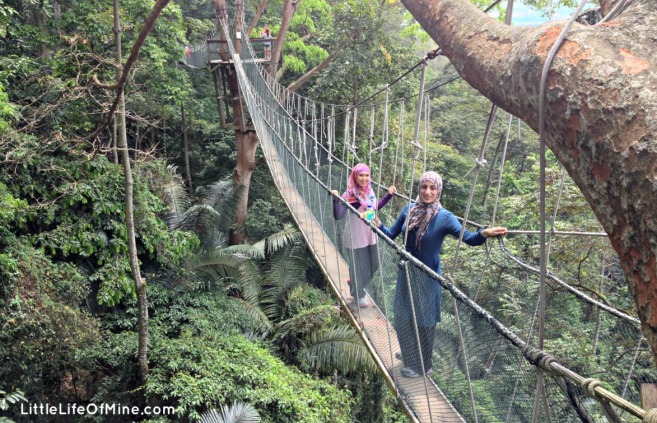 The Forest Research Institute of Malaysia (FRIM) is located within a 544 hectare campus within the Bukit Lagong Forest Reserve. Apart from the purpose of research, the forest reserve is opened to public for recreation purposes.
Visitors can anticipate wholesome fun and relaxation as there are plenty of activities here. The most prominent attraction here is the canopy walk. With entry charged at an affordable RM 10, visitors will walk through 150 meters of forest reserve at a height of 30 meters. Throughout the walkway there are stops for visitors to catch the beautiful of the forest and city. Birders will find the canopy walk to be haven. FRIM caters to outdoor avid with 30 kilometres of cycling track and mountain bikes for rent and a 300 square-metre camp site for visitors to experience the full grandeur of an outdoor stay. Visitors who are more akin to a slower pace can stroll through several relaxing nature trails. There are 6 nature trails from which to choose, each carved through different vegetation and difficulty. Walking will be the perfect time look at the various flora and fauna within the reserve. Where it lacks in water-based activities, it makes up for in availability of waterfalls that provide visitors with cool dips and relaxing picnic areas.
FRIM is definitely one of the few refuge of greenery in the hustle bustle of the city and a must visit for nature lovers. The reserve is well preferred by visitors from Kuala Lumpur and Selangor due to its easy access.
How to get there
FRIM is located in Kepong, along the MRR2 expressway and is about 20 kilometres (or 30 minutes drive) from the Kuala Lumpur city centre. FRIM is also located in close proximity with Batu Caves.
Opening hour and entrance fee
FRIM opens daily from 8am to 6pm, while camping / staying is permitted with prior approval.
Entrance fee for Canopy Walk is charged at RM5 (Malaysian) and RM10 (Non Malaysian), the canopy walkway is open from 9.30am to 2.30pm and closed on Monday and Friday.
Recommended Area to Stay in Selangor
Sunway
Gateway to theme park, shopping malls, entertainments and eateries.
Bandar Utama/Kota Damansara
From budget inns to mid range and luxury hotel, perfect for shoppers and leisure travelers.
Batu Caves
Range of budget hotels and provide easy access to Batu Caves, Bukit Tinggi and Genting Highlands.
Sepang / KLIA Airport
Perfect for visitors on transit.